Ukraine anti-corruption activist attacked with green liquid
KIEV (Reuters) - A top Ukrainian anti-corruption activist said he suffered chemical burns on Tuesday when an assailant threw green liquid in his face as he took part in a demonstration outside a prosecutor's office in Kiev. Most of Vitaliy Shabunin's face and his left hand were covered in bright green stains similar to marks left by a green solution, known as 'zelyonka', which is sold locally as an antiseptic. 'I'm sorry my eyes are closed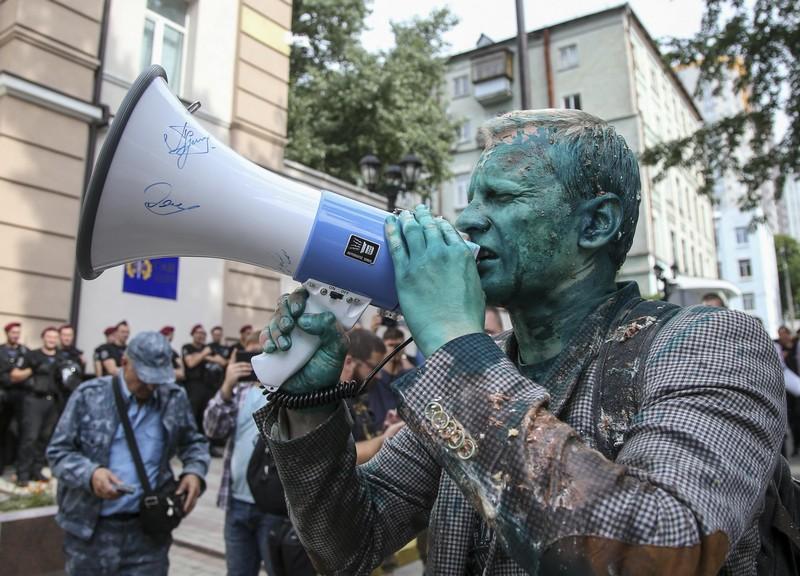 KIEV (Reuters) - A top Ukrainian anti-corruption activist said he suffered chemical burns on Tuesday when an assailant threw green liquid in his face as he took part in a demonstration outside a prosecutor's office in Kiev.
Most of Vitaliy Shabunin's face and his left hand were covered in bright green stains similar to marks left by a green solution, known as "zelyonka", which is sold locally as an antiseptic.
"I'm sorry my eyes are closed. I have a chemical burn," the head of the non-governmental Anti-Corruption Action Center said in a video posted online.
The incident continues a spate of violence against activists and minority groups, which non-governmental groups and Ukraine's Western allies have said highlights a culture of impunity at odds with commitments from the authorities.
Transparency International Ukraine said the attack against Shabunin, which also involved assailants pelting him with cake, represented a "a negative tendency: escalation of unpunished violence against anti-corruption activists".
"This situation is a shame for the law enforcement system. We demand that the management of law enforcement agencies pay attention to these cases and report on their investigation," it said in a statement.
The Interior Ministry did not immediately respond to a request for comment.
Since the pro-European leadership came to power in 2014, Ukraine has received billions of dollars in financial aid from Western allies in exchange for promises to eliminate corruption and conform to international democratic and human rights standards.
At Tuesday's protest, Shabunin and a small group of activists were calling for the resignation of the special anti-corruption prosecutor over a decision to close an investigation into Interior Minister Arsen Avakov's son.
The ministry has said the case was politically motivated, while Avakov has denied his son embezzled state money.
(Reporting by Alessandra Prentice and Natalia Zinets; Editing by Alison Williams)
This story has not been edited by Firstpost staff and is generated by auto-feed.
Find latest and upcoming tech gadgets online on Tech2 Gadgets. Get technology news, gadgets reviews & ratings. Popular gadgets including laptop, tablet and mobile specifications, features, prices, comparison.
World
By Guy Faulconbridge and Kate Holton LONDON (Reuters) - Rich countries could be back to close to normal by late 2021 if a COVID-19 vaccine works, is ready soon and distributed properly at scale, Microsoft founder Bill Gates said on Tuesday. "By late next year you can have things going back pretty close to normal - that's the best case," Gates, 64, told The Wall Street Journal CEO Council. "We still don't know whether these vaccines will succeed," Gates said.
World
By Rupam Jain (Reuters) - Taliban and Afghan government-backed negotiators have agreed on a broad code of conduct to advance the intra-Afghan peace talks in Qatar, even as key differences between the two warring sides remain, three official sources told Reuters on Tuesday.
World
MOSCOW (Reuters) - Russian rights groups on Tuesday called on the authorities to stop using home searches as a tactic to intimidate opponents after a journalist set herself on fire following a police raid of her apartment last week. Irina Slavina, editor-in-chief at a small news outlet in the city of Nizhny Novgorod, self-immolated in front of the local branch of the interior ministry in Nizhny Novgorod last Friday after blaming Russian authorities for her death in a Facebook post