UK will push options to Brexit backstop for future trading
LONDON (Reuters) - Britain will pursue alternative arrangements to the Irish backstop - the most contentious part of the Brexit withdrawal deal - in its future trading relations with the European Union, Brexit minister Stephen Barclay said on Tuesday. The 'Malthouse Compromise', which has been championed by Conservative lawmakers from the party's pro and anti-EU wings, seeks to use technology to replace the Irish backstop, an insurance policy designed to stop a return to a hard border between EU-member Ireland and Northern Ireland, part of the UK. The backstop has become the main point of contention in exit talks, which have reached an impasse with less than six weeks until Britain leaves the bloc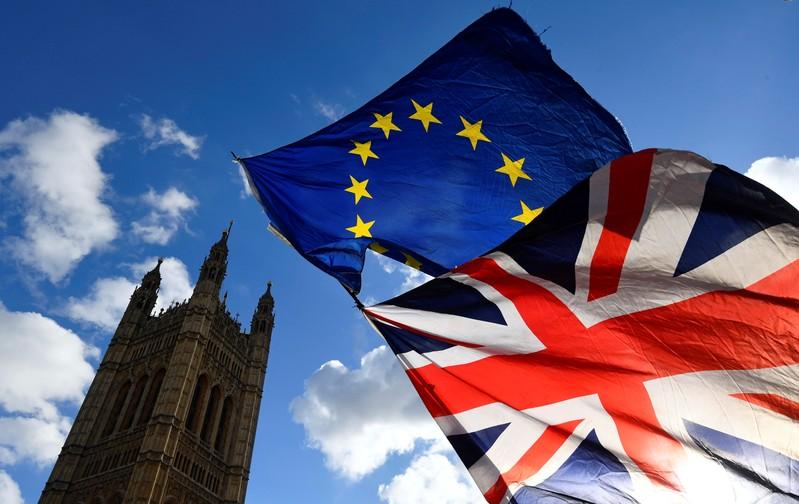 LONDON (Reuters) - Britain will pursue alternative arrangements to the Irish backstop - the most contentious part of the Brexit withdrawal deal - in its future trading relations with the European Union, Brexit minister Stephen Barclay said on Tuesday.
The "Malthouse Compromise", which has been championed by Conservative lawmakers from the party's pro and anti-EU wings, seeks to use technology to replace the Irish backstop, an insurance policy designed to stop a return to a hard border between EU-member Ireland and Northern Ireland, part of the UK.
The backstop has become the main point of contention in exit talks, which have reached an impasse with less than six weeks until Britain leaves the bloc.
Earlier on Tuesday, reports said the Malthouse Compromise would not be included in Brexit talks between British Prime Minister May and European Commission President Jean-Claude Juncker on Wednesday.
However, Steve Baker, a member of a eurosceptic group in May's ruling Conservative Party, said the Malthouse Compromise was "alive and kicking" after a meeting with May on Tuesday.
"The Secretary of State for Exiting the EU can provide details," Baker said. "We look forward to further precision about exactly what we will be asked to vote for."
Barclay told the BBC that the proposals could replace the backstop further down the line in negotiations about Britain's future relations with the bloc, but he did not mention it being part of any change Britain is seeking in the agreement about its withdrawal in only 38 days.
"This is existing technology that we can deploy, it is part of the future relationship that we will have and it will avoid the need for the backstop by having that future economic partnership," he said.
May needs the support of her whole party to get a Brexit deal through parliament at the second time of asking. In January her exit deal was overwhelmingly rejected as both wings of her party voted against it.
However, the EU has made it clear that it will not reopen the Brexit withdrawal agreement, including the backstop, and it will not accept alternative arrangements.
Asked about May's visit at a public forum in Stuttgart on Tuesday, Juncker said: "I don't know if she'll make any progress. I think more likely not. But you didn't hear that from me."
(Reporting by William James and Paul Sandle in London and Thomas Escritt in Berlin; editing by Kate Holton/Guy Faulconbridge and Richard Chang)
This story has not been edited by Firstpost staff and is generated by auto-feed.
World
ATHENS (Reuters) - Greek police used teargas and water cannon to disperse people who had gathered in central Athens on Saturday to protest against mandatory COVID-19 vaccinations. More than 4,000 people rallied outside the Greek parliament for a third time this month to oppose mandatory inoculations for some workers, such as healthcare and nursing staff.
World
ISTANBUL (Reuters) - Two Turkish soldiers were killed and two were wounded in an attack on their armoured vehicle in northern Syria, and Turkish forces immediately launched retaliatory fire, Turkey's defence ministry said on Saturday. "Our punitive fire against terrorist positions is continuing," the statement on Twitter on said. It did not specify where the attack occurred, but media reports said it was in the al-Bab area.
World
By Marcelo Rochabrun SAO PAULO (Reuters) - Protesters took to the streets in several Brazilian cities on Saturday to demand the impeachment of far-right President Jair Bolsonaro, whose popularity has fallen in recent weeks amid corruption scandals against the backdrop of the pandemic. This week, news broke that Brazil's defense ministry told congressional leadership that next year's elections would not take place without amending the country's electronic voting system to include a paper trail of each vote. Bolsonaro has suggested several times without evidence that the current system is prone to fraud, allegations that Brazil's government has denied