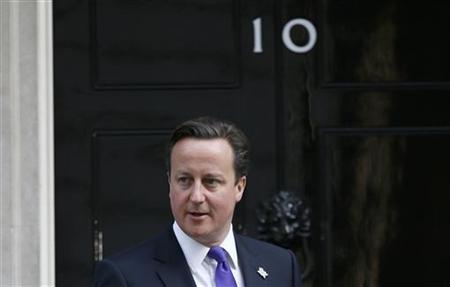 LONDON (Reuters) - Plans to boost digital surveillance powers have pushed Britain's government into a row it can ill afford, after a week of gaffes that have raised questions over Prime Minister David Cameron's leadership.
The plan involves monitoring all phone calls, texts, emails and online activities to help tackle crime and militant attacks, a move condemned even by some within Cameron's Conservative Party and labelled by critics as a "snooper's charter".
The opposition Labour Party has made political capital out of the furore sparked by the proposals, after a week of embarrassment over mixed messages on a hot food tax and how to handle a fuel strike.
"I say to the prime minister: he has got to get a grip on this government. He has got to get a grip on the way his government operates and the way that policy is made," Labour leader Ed Miliband said on Tuesday.
More damaging for Cameron is criticism from members of his own party and from the Liberal Democrats, the junior partner in Britain's coalition administration.
The government says it is introducing the measures for the security services to be able to keep up with new communication technologies, and insists the plan will not give it powers to access the contents of phone calls and emails without a warrant.
Currently, British agencies can monitor calls and emails of specific individuals who may be under investigation, after obtaining ministerial approval. The new powers are expected to extend that remit to all Britons.
"It is vital that the police and security services are able to obtain communications data in certain circumstances to investigate serious crime and terrorism and to protect the public," the Home Office, or interior ministry, said.
"UNMITIGATED NONSENSE"
Senior Conservative lawmaker and former party leadership candidate David Davis said that was "unmitigated nonsense".
He warned that data caches as envisaged by the government were open to being hacked, giving the example of recent data breaches at Sony 6759.T and Microsoft (MSFT.O), and also warned of the risk that government could use the data to hunt down whistleblowers.
"What you're creating is this enormous, high-reward, effectively easy-to-hack-into database, which would be very useful to lots of people," Davis told Reuters, adding that "gaffe" was too mild a term for the plan.
In recent weeks, including over last month's annual budget, in which a gradual phasing out of a type of tax relief for pensioners was portrayed as a "granny tax" to help pay for tax cuts for high earners.
Cameron and finance minister George Osborne, also a Conservative, have struggled to shake off an image of privileged upper class politicians out of touch with ordinary Britons.
"This does raise questions about media and political management right at the top of the party, and it does seem as if they have lost their grip in the last two or three weeks," said Tim Bale, politics professor at the University of Sussex.
The Labour party had tried to boost digital surveillance powers when it was in government, but later dropped the plan amid fierce opposition by rival parties.
The current coalition government says its plans are different from Labour's, because it is not creating a large centralised database, which some fear could be easily accessed by government officials fishing for information.
The plan to have several databases held by various telecommunications firms and accessible only on request is seen by some as less open to abuse.
The government already requires phone operators to store some data on phone usage, but the new proposed powers are expected to cover more recent technologies such as internet voice traffic, the video calling service Skype and the social network site Facebook.
"REPRESSIVE REGIME"
Apart from the substance of the data surveillance proposals, the way they have been handled has also attracted criticism. The plans were leaked to a Sunday paper with little detail on the ramifications for telecommunications firms or civil liberties.
"Because there has not been clarity, people are getting upset, quite rightly, about some of the worst things that might happen. I think we urgently need to see what is actually being proposed," Liberal Democrat Julian Huppert told Reuters.
Huppert is a member of parliament's Home Affairs Committee, which monitors the interior ministry, and has called on Home Secretary Theresa May to appear before the committee to answer questions about the proposals.
The press freedom group Reporters Without Borders said it was "shocked" by the plan, and that systematic monitoring of communications would put Britain on a par with the "planet's most repressive regimes".
Media reports speculate that the proposals will feature in the Queen's Speech in May, through which the government traditionally announces new policies.
Both Huppert and Davis said uncertainty over the plan could harm industry, given that telecoms firms may have to shoulder the costs of collecting more customer information, while other firms could think twice about basing operations in Britain if they feel their communications are not secure.
"If the government wants to get this to work, you can't rush it. This needs to be properly consulted on," said one senior telecommunications industry source.
The Internet Services Providers' Association called for a the plans to be "widely consulted upon in an open and transparent manner".
(Additional reporting by Georgina Prodhan; Editing by Kevin Liffey)
Updated Date: Apr 04, 2012 03:00 AM