UK police say total of climate activists arrested passes 750
LONDON (Reuters) - More than 750 climate change activists blocking roads at some of London's most famous landmarks have been arrested over the last six days, police said on Saturday, up from a Friday total of 682. The protests, organised by climate group Extinction Rebellion, have for several days disrupted travel through parts of central London, including at Marble Arch and Waterloo Bridge. The activists had also blocked the Oxford Circus shopping district, but by 1700 GMT the roads had been cleared by police and traffic was flowing again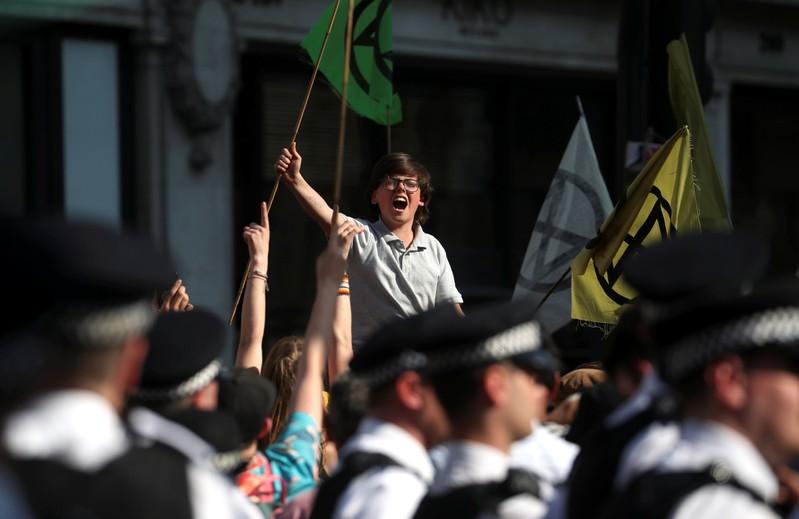 LONDON (Reuters) - More than 750 climate change activists blocking roads at some of London's most famous landmarks have been arrested over the last six days, police said on Saturday, up from a Friday total of 682.
The protests, organised by climate group Extinction Rebellion, have for several days disrupted travel through parts of central London, including at Marble Arch and Waterloo Bridge.
The activists had also blocked the Oxford Circus shopping district, but by 1700 GMT the roads had been cleared by police and traffic was flowing again.
Extinction Rebellion has called for non-violent civil disobedience to force the British government to reduce net greenhouse gas emissions to zero by 2025 and stop what it calls a global climate crisis.
Twenty-eight of those arrested had been charged with offences, London's Metropolitan Police said in a statement.
Metropolitan Police Commissioner Cressida Dick told BBC News that the protests had caused "miserable disruption". She said there were now 1,500 police officers, up from 1,000 previously, working to clear the roads.
On Waterloo Bridge, which connects south and central London, a Reuters journalist said police had cleared away banners and obstructions like bales of hay and even a sofa.
But as of 1720 GMT, the area was still packed with activists, who remained good-humoured.
The police reiterated that protests were only allowed to continue at Marble Arch.
"I've got one message for the protesters and that is: Please, go to Marble Arch where you can protest lawfully. Stop your unlawful protest, and if you don't want to go to Marble Arch, then go home," Dick said.
On Friday, well-known actor Emma Thompson joined activists at Oxford Circus, at the heart of one of the capital's most popular shopping districts, to read poetry praising Earth's bounties.
(Reporting by Simon Dawson, writing by Andy Bruce; Editing by Alison Williams and David Holmes)
This story has not been edited by Firstpost staff and is generated by auto-feed.
Find latest and upcoming tech gadgets online on Tech2 Gadgets. Get technology news, gadgets reviews & ratings. Popular gadgets including laptop, tablet and mobile specifications, features, prices, comparison.
World
By Nathan Frandino SANTA ROSA, Ca. (Reuters) - The coronavirus pandemic has forced California officials to rethink how they train for and fight wildfires to avoid spreading the virus among firefighters and the public. In Sonoma County north of San Francisco, firefighters now receive training at the station level to maintain social distancing instead of coming together in large groups at their St.
News & Analysis
NEW DELHI (Reuters) - India on Monday banned 59, mostly Chinese, mobile apps including Bytedance's TikTok and Tencent's WeChat in its strongest move yet targeting China in the online space since a border crisis erupted between the two countries this month. India's technology ministry issued an order stating the apps are "prejudicial to sovereignty and integrity of India, defence of India, security of state and public order".
World
(Attention to strong language in paragraph 5 some readers may find offensive) TAIPEI (Reuters) - Hundreds of people thronged a central square in Taiwan's capital Taipei for a Pride event on Sunday, unfurling a giant rainbow flag in front of the main memorial hall for late autocratic leader Chiang Kai-shek before being ushered away by police.