UK police arrest 155 in anti-lockdown protests in London
LONDON (Reuters) - Police in London said on Saturday that they had made 155 arrests as they tried to break up anti-lockdown and anti-vaccine protests. The police said the arrests had been made for different offences including assaulting a police officer, possession of drugs and breaching coronavirus restrictions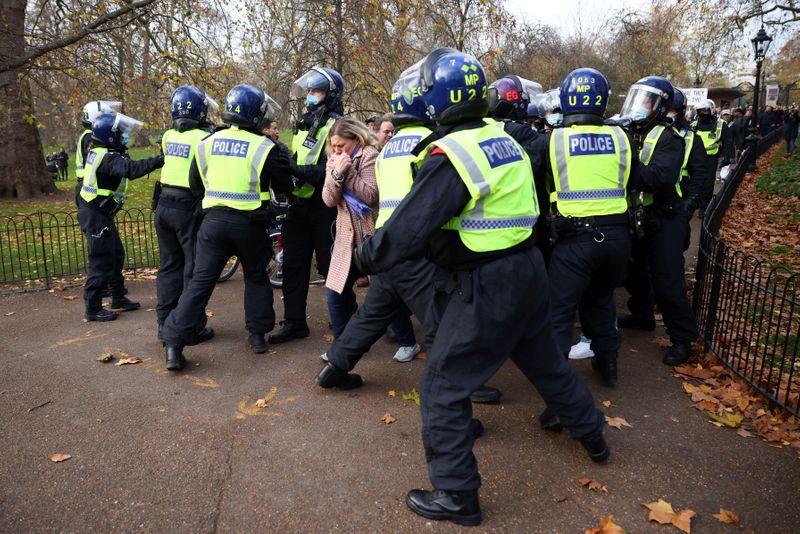 LONDON (Reuters) - Police in London said on Saturday that they had made 155 arrests as they tried to break up anti-lockdown and anti-vaccine protests.
The police said the arrests had been made for different offences including assaulting a police officer, possession of drugs and breaching coronavirus
restrictions. England's current lockdown ends on Dec. 2.
Earlier police lined up in a number of streets in central London's West End shopping district and confronted crowds of protesters in St James's Park, near Westminster. The anti-lockdown protesters were joined by groups who oppose a COVID-19
vaccine.
One police officer estimated the protesters, who held up signs saying "Defend Freedom, Defend Humanity", "No more lies, no more masks, no more lockdowns", numbered between 300 and 400.
London's Metropolitan Police said they had intercepted and turned back coaches full of people wanting to join the demonstrations.
"Our policing plan will continue well into the evening and I would urge anyone who hasn't already dispersed to go home," said chief superintendent Stuart Bell in the statement.
(Reporting by Yann Tessier, Henry Nicholls and Natalie Thomas, Writing by Sarah Young; Editing by James Drummond and Christina Fincher)
This story has not been edited by Firstpost staff and is generated by auto-feed.
Find latest and upcoming tech gadgets online on Tech2 Gadgets. Get technology news, gadgets reviews & ratings. Popular gadgets including laptop, tablet and mobile specifications, features, prices, comparison.
World
By Lisa Barrington DUBAI (Reuters) - Arab states boycotting Qatar could resume travel and trade links with Doha within a week under a U.S.-backed deal, but restoring diplomatic ties requires more time as parties work to rebuild trust, a United Arab Emirates official said on Thursday. Gulf powerhouse Saudi Arabia announced the breakthrough in ending a bitter dispute at a summit on Tuesday, with its foreign minister saying Riyadh and its allies would restore all ties with Doha severed in mid-2017. UAE Minister of State for Foreign Affairs Anwar Gargash told a virtual news conference that measures to be implemented within a week of the agreement "include practical measures of airlines, shipping and trade".
World
By Tracy Rucinski (Reuters) - U.S airlines and law enforcement agencies have bolstered security at Washington-area airports on Thursday after supporters of President Donald Trump caused mayhem in the U.S. capital in an attempt to overturn his election loss.
World
By Jonathan Landay, Patricia Zengerle and David Morgan WASHINGTON (Reuters) - U.S. Speaker Nancy Pelosi called on Capitol Police Chief Steven Sund to resign on Thursday, after officers of the federal force charged with protecting Congress allowed supporters of President Donald Trump to storm the Capitol, sending lawmakers fleeing