UK imposes more lockdowns as mutated COVID variant causes record cases
LONDON (Reuters) - The British government on Wednesday said huge swathes of England would be placed under its strictest COVID-19 restrictions as a highly infectious virus variant sweeps the country, pushing the number of cases to a record level. Britain reported almost 40,000 new infections as the mutated variant of the coronavirus, which could be up to 70% more transmissible than the original, causes the number of cases and hospital admissions to soar. The number of recorded deaths - 744 - was also the highest figure since April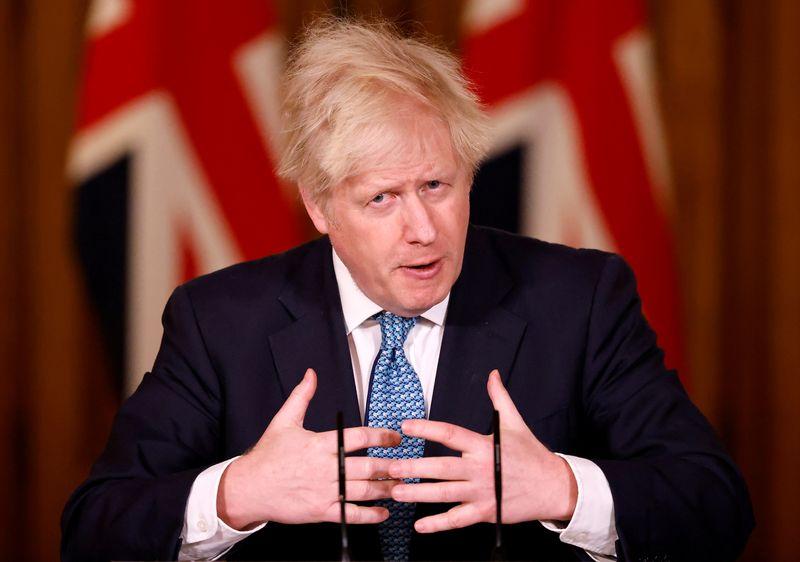 LONDON (Reuters) - The British government on Wednesday said huge swathes of England would be placed under its strictest COVID-19
restrictions as a highly infectious virus variant sweeps the country, pushing the number of cases to a record level.
Britain reported almost 40,000 new infections as the mutated variant of the coronavirus
, which could be up to 70% more transmissible than the original, causes the number of cases and hospital admissions to soar.
The number of recorded deaths - 744 - was also the highest figure since April.
"Against this backdrop of rising infections, rising hospitalizations and rising numbers of people dying from coronavirus
, it is absolutely vital that we act," health minister Matt Hancock told a media briefing. "We simply cannot have the kind of Christmas that we all yearn for."
On Saturday, tight social mixing restrictions measures were brought in for London, southeast England and Wales while plans to ease curbs over Christmas across the nation were either dramatically scaled back or scrapped altogether.
Hancock said from Dec. 26, many more parts of southern England would be also be added to the highest level of social mixing restrictions, joining the 16 million already in Tier 4, while other areas across the country currently in lower tiers would also face tighter curbs.
The governments in Scotland and Northern Ireland have already announced that nearly everyone living in those countries would be subjected to the highest level of restrictions after Christmas.
Hancock said there was on average 1909 COVID hospital admissions a day, with 18,943 people currently in hospital with the coronavirus
, levels not seen since the peak of the first outbreak in April.
(Reporting by Kate Holton and Guy Faulconbridge, writing by Michael Holden, editing by Elizabeth Piper and Toby Chopra)
This story has not been edited by Firstpost staff and is generated by auto-feed.
Find latest and upcoming tech gadgets online on Tech2 Gadgets. Get technology news, gadgets reviews & ratings. Popular gadgets including laptop, tablet and mobile specifications, features, prices, comparison.
World
By William James LONDON (Reuters) -British Prime Minister Boris Johnson said on Sunday tougher lockdown restrictions were probably on the way as COVID-19 cases keep rising, but that schools were safe and children should continue to attend where permitted. COVID-19 cases in Britain are at record levels and the increase in numbers is fuelled by a new and more transmissible variant of the virus
World
By Maher Nazeh BAGHDAD (Reuters) - Tens of thousands of supporters of Iranian-backed Iraqi paramilitary groups chanted anti-American slogans in central Baghdad on Sunday to mark the anniversary of the U.S. killing of Iranian general Qassem Soleimani and an Iraqi militia commander.
World
By Nathan Layne and Joseph Ax CUTHBERT, Ga. (Reuters) -Control of the U.S. Senate – and with it, the likely fate of President-elect Joe Biden's legislative agenda – will be on the ballot on Tuesday when voters in Georgia decide twin runoff elections