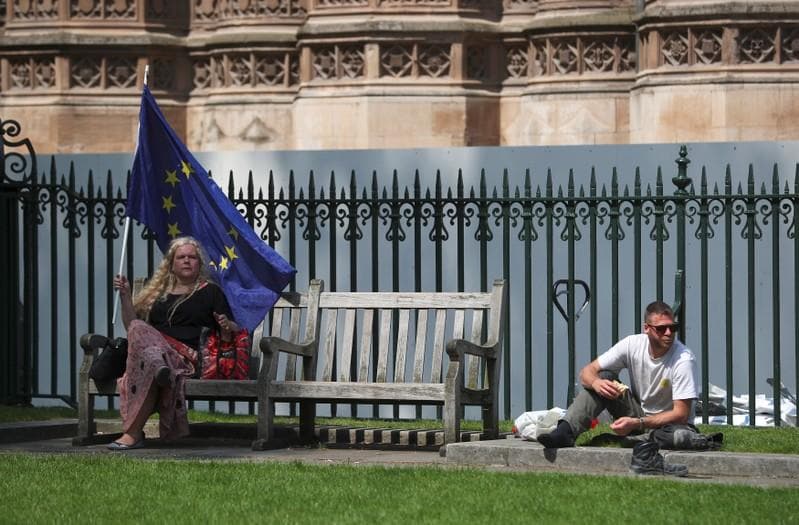 LONDON (Reuters) - Prime Minister Theresa May was dealt a new defeat by Britain's upper house of parliament on Tuesday over her main Brexit legislation, this time opposing her plans to leave EU agencies.
This is the 11th time in recent weeks that the government has been defeated in the House of Lords on the draft legislation that will formally terminate Britain's EU membership.
Opposition parties in the Lords and rebels in May's Conservative Party voted 298 to 227 in favour of the amendment that means Britain should participate, or have formal relations, with EU agencies after leaving the bloc next year.
The government has proposed retaining membership of some EU agencies for medicine, chemicals and aviation while leaving others after Brexit.
Britain is likely to leave the EU police agency Europol and lose automatic membership to bodies like the European Maritime Safety Agency and the European Environment Agency.
"Setting up our own institutions requires a lot of time, expense and expertise, which actually we are very short of," said Simon Haskel, a member of the upper house for the opposition Labour party.
"This amendment goes someway to ensuring that our quality of life as citizens won't suffer."
The vote can be overturned by the lower house, the House of Commons, but underscores the deep divisions over Brexit across parliament and could encourage lawmakers hoping to derail May's plans to forge a new relationship with the EU.
Agencies that oversee Europe's banks and pharmaceutical sector have announced they will move from London to cities on the continent after Brexit, highlighting potential job losses for Britain's economy from leaving the EU.
After the Lords, the bill will return to the House of Commons. Both houses have to agree on the final wording of the bill before it can become law.
(Reporting By Andrew MacAskill; editing by Alistair Smout and Janet Lawrence)
This story has not been edited by Firstpost staff and is generated by auto-feed.
Firstpost is now on WhatsApp. For the latest analysis, commentary and news updates, sign up for our WhatsApp services. Just go to Firstpost.com/Whatsapp and hit the Subscribe button.
Updated Date: May 09, 2018 00:07:24 IST