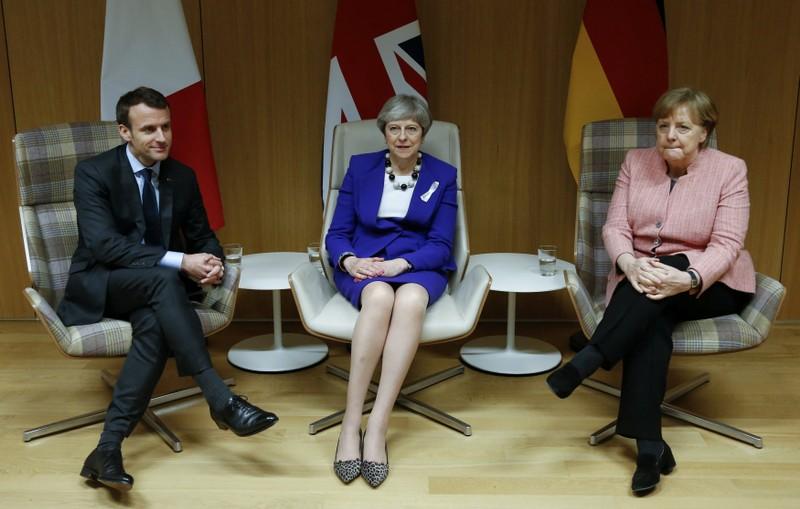 By David Milliken
LONDON (Reuters) - Britain, Germany and France urged the United States not to take steps that would make life harder for other countries that still want to stick to the Iran nuclear deal that U.S. President Donald Trump spurned on Tuesday.
Trump announced that he is pulling America out of the 2015 deal worked out by the United States, the three European countries, other international powers and Iran to ease sanctions in exchange for Tehran limiting its nuclear programme.
"We urge the U.S. to ensure that the structures of the JCPOA (deal) can remain intact and to avoid taking action which obstructs its full implementation by all other parties to the deal," the leaders of Britain, Germany and France said in a joint statement provided by Prime Minister Theresa May's office.
May spoke by telephone with France's President Emmanuel Macron and German Chancellor Angela Merkel after Trump made his statement and the United States said it intended to reimpose sanctions on Iran.
In the joint statement, the three leaders said that they took note of Trump's decision "with regret and concern".
"Our governments remain committed to ensuring the agreement is upheld, and will work with all the remaining parties to the deal to ensure this remains the case, including through ensuring the continuing economic benefits to the Iranian people that are linked to the agreement," they said.
A German business association said it feared that European companies that traded with Iran would risk U.S. fines.
The European joint statement also urged Iran "to show restraint" in response to the U.S. decision.
"Iran must continue to meet its own obligations under the deal, cooperating fully and in a timely manner with IAEA (International Atomic Ebergy Agency) inspection requirements," the three European leaders said.
"There must be no doubt: Iran's nuclear programme must always remain peaceful and civilian."
Concerns about Iran's ballistic missile programme and activities in Syria, Iraq and Yemen also needed to be addressed further, the leaders said.
(Reporting by David Milliken; Editing by Hugh Lawson and David Goodman)
This story has not been edited by Firstpost staff and is generated by auto-feed.
Updated Date: May 09, 2018 02:06 AM