UK foreign secretary to warn France, Austria of costs of no-deal Brexit
LONDON (Reuters) - British Foreign Secretary Jeremy Hunt will visit Paris and Vienna this week to discuss Brexit and warn of the costs to Britain and the European Union of failing to reach a transition deal, his office said on Tuesday. Hunt was in Beijing on Monday, where China offered Britain talks on a post-Brexit free trade deal, reaching out to London as Beijing remains mired in an increasingly bitter trade war with Washington. On his return to Europe, Hunt will travel to France and Austria, meeting their foreign ministers Jean-Yves Le Drian and Karin Kneissl, and trying to gain support for Brexit proposals set out by Prime Minister Theresa May earlier this month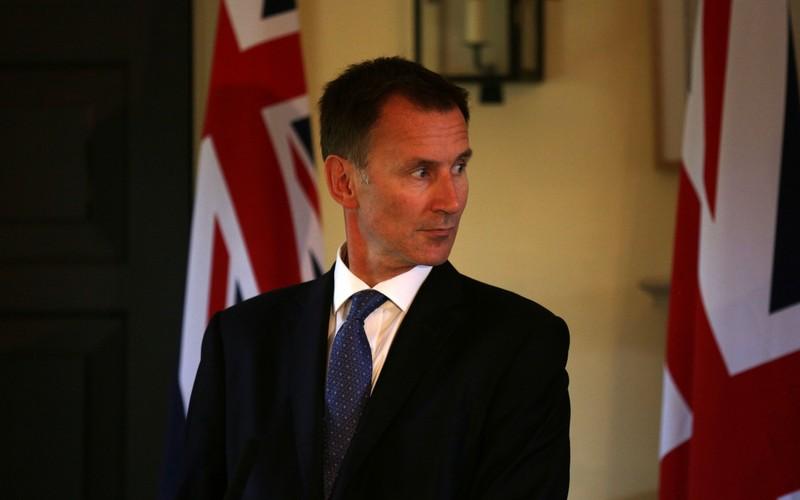 LONDON (Reuters) - British Foreign Secretary Jeremy Hunt will visit Paris and Vienna this week to discuss Brexit and warn of the costs to Britain and the European Union of failing to reach a transition deal, his office said on Tuesday.
Hunt was in Beijing on Monday, where China offered Britain talks on a post-Brexit free trade deal, reaching out to London as Beijing remains mired in an increasingly bitter trade war with Washington.
On his return to Europe, Hunt will travel to France and Austria, meeting their foreign ministers Jean-Yves Le Drian and Karin Kneissl, and trying to gain support for Brexit proposals set out by Prime Minister Theresa May earlier this month.
"I will be explaining to my counterparts in Paris and Vienna that it is time for the EU to engage with our proposals, or we potentially face the prospect of a no-deal by accident, which would be very challenging for both the UK and EU," Hunt said.
Britain is due to leave the EU on March 29 next year, but has yet to finalise a transition deal or agree the outlines of a longer-term trade relationship with its biggest overseas market.
French Finance Minister Bruno Le Maire said time was running out for a Brexit deal, and that this was hurting business, when he visited London earlier this month.
While in Vienna, Hunt will also meet the head of the International Atomic Energy Agency to discuss the future of the Iran nuclear deal, which the United States withdrew from in May.
British PM May met Austria's Chancellor Sebastian Kurz on Friday, discussing Brexit and confirming that the topic would be on the agenda of a meeting of EU leaders chaired by Austria in Salzburg in September.
On Monday her official spokesman denied media reports that the government was planning for the army to deliver food if a 'no-deal' Brexit led to delays importing goods from Europe.
(Reporting by David Milliken; Editing by Hugh Lawson)
This story has not been edited by Firstpost staff and is generated by auto-feed.
Find latest and upcoming tech gadgets online on Tech2 Gadgets. Get technology news, gadgets reviews & ratings. Popular gadgets including laptop, tablet and mobile specifications, features, prices, comparison.
World
OTTAWA (Reuters) - Canadian Prime Minister Justin Trudeau on Friday said he will continue to stand up against China's "coercive diplomacy" and its human rights abuses in Hong Kong and Xinjiang after being rebuked by Beijing for similar comments earlier this week. "We will stand up loudly and clearly for human rights all around the world, whether it is talking about the situation faced by the Uighurs, whether it is talking about the very concerning situation in Hong Kong, whether it's calling out China for its coercive diplomacy," Trudeau said in a news conference. (Reporting by Steve Scherer and Julie Gordon, Editing by Franklin Paul)
World
By Caroline Pailliez PARIS (Reuters) - Solene Tissot, a 19-year-old student in Paris, will obey the curfew imposed to fight COVID-19, but she has one request for her country's leaders: don't blame young people for the second wave of the virus. "There's been this kind of assigning guilt to young people," she said on Friday, hours before the new curfew was to come into force in Paris and major French cities. "I reject that." After a lull over the summer, the rates of transmission of coronavirus are going up in many parts of Europe and officials have identified social interactions between young people as a source of the resurgence.
World
By Adrian Portugal and Eloisa Lopez MANILA (Reuters) - Jailed Philippine activist Reina Mae Nasino wanted to hold her three-month-old daughter for the last time before she was laid to rest on Friday but she could not. Heavily armed prison officials guarding her refused to uncuff her despite pleas from her family and human rights supporters, who have decried what they described as inhumane treatment of Nasino and other mothers in Philippine jails.