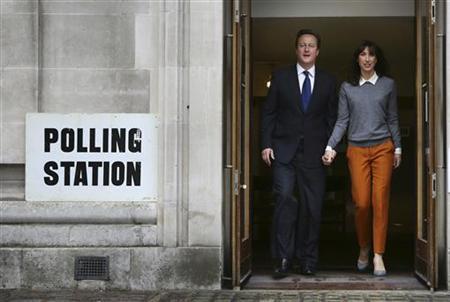 LONDON (Reuters) - British voters showed their anger against the government's failure to revive the economy in local elections that saw Prime Minister David Cameron's Conservatives outflanked on the left by Labour and on the right by anti-European fringe party UKIP.
Cameron blamed the defeat on the "difficult times" facing Britain after it slipped back into a recession last week, while Labour said the results were a wake-up call for the government to soften its flagship deficit-cutting agenda.
"There aren't easy answers," said Cameron, whose party lost seats to Labour in the rural constituency he represents in parliament. "What we have to do is take the difficult decisions to deal with the debt, deficit and broken economy that we have inherited."
Cameron hopes a likely win for his party's flamboyant London mayoral candidate, incumbent Boris Johnson, will deliver some positive headlines later on Friday. But the bigger story was the potential damage to his centre-right party's electoral prospects at national level.
"People are hurting, people are suffering from the recession, people are suffering from a government that has raised taxes for them and cut taxes for millionaires. I think that's what we saw last night," said Ed Miliband, leader of centre-left Labour.
Britain's return to recession was bad news for a government that has staked its reputation on economic competence. Two years into a painful austerity drive, a recent cut in the income tax rate for high earners upset millions struggling with high unemployment, above-target inflation and weak wage growth.
"ARROGANT POSH BOYS"
Derided as "arrogant posh boys who don't know the price of milk" by a rebel from within their own ranks, Cameron and his finance minister George Osborne have struggled with a view that they are out of touch. This was reinforced by a row about the so-called "pasty tax", a sales-tax rise that pushed up the price of pasties, a cheap and popular snack.
With results declared in 165 of the 181 councils being contested across the country, Labour had gained 696 new councillors while the Conservatives had lost 374 and their Liberal Democrat coalition partners were down by 246.
Foreign Secretary William Hague sought to play down the scale of the Conservatives' defeat, saying it was "perfectly common" for governments to suffer losses at mid-term local elections.
"You wouldn't look at this and say Labour was on track to win a general election," he told BBC radio. A national vote will be held in 2015.
UKIP, which stands for UK Independence Party, was contesting only a fraction of the total seats up for grabs but where it did field candidates, it averaged a record 14 percent of the vote.
This translated into just eight councillors because UKIP's support is geographically scattered, which makes it hard for the party to win any individual ward.
However, UKIP's surge was a clear threat to the Conservatives, who need to increase their popular support before the next national election.
"What they're scared of is that this trickle of support that has come to UKIP could turn into a flood," UKIP leader Nigel Farage told Reuters on Friday.
Philip Davies, a Conservative member of parliament, told Reuters there was no doubt that UKIP was taking votes from the Conservatives and that it was "a massive threat".
"They will undoubtedly stop us from winning seats that we would otherwise win (in 2015), and given how difficult it is for us to win an overall majority, every seat counts," he said.
At the last national parliamentary election, in 2010, the Conservatives fell short of an overall majority even though Labour were unpopular after 13 years in power. Cameron was forced to form an uneasy coalition with the Liberal Democrats.
"A MACHINE THAT'S NOT WORKING"
Vociferous right-wingers within the Conservative Party have always maintained that Cameron should have done more to appeal to the party's traditional supporters by attacking the European Union and talking tough on crime and immigration.
UKIP's success at the local elections is sure to embolden those Conservative right-wingers. Calls for Cameron to hold a referendum on whether Britain should leave the EU will become more strident, as will opposition to his decision to legalise gay marriage.
"So far he's tended to treat his party like a general, a field-marshal. But he has to realise it's not his party and listen to other voices in the party," influential online Conservative activist Tim Montgomerie told Reuters.
"Until he shows he's an electoral success, he won't command loyalty. The Conservative Party is an election-winning machine and right now it's a machine that's not working."
Adding to Cameron's woes, his cherished policy of strengthening local democracy by introducing elected mayors was heading for the rocks.
Cameron said on the eve of the polls that he wanted to see "a Boris in every city" but voters in Manchester, Nottingham, Bradford and Coventry voted "no" to the idea in referendums. Results in six other cities were due later.
The picture was equally bleak for the Liberal Democrats, whose support has collapsed since they went into government. The local election results in England were the worst in their history, with the number of Lib Dem councillors dipping below 3,000 for the first time.
"Obviously our future electoral prospects at local and European elections in the next two years will depend on whether there is real new growth across the United Kingdom," deputy Lib Dem leader Simon Hughes told Reuters.
THE BORIS VS KEN SHOW
Labour, which had struggled to capitalise on the coalition's problems, captured 38 percent of the national vote, up three points, according to a BBC projection, versus 31 percent for the Conservatives, down four points. The Lib Dems were unchanged on 16 percent.
Among other trophies, Labour seized control of Birmingham, Britain's second-biggest city, and the Welsh capital Cardiff, previously the Lib Dems' flagship council.
However there were doubts about whether these victories reflected genuine enthusiasm for Labour or rather deep dissatisfaction with the governing parties.
In Scotland, a traditional Labour stronghold where council election results were due later in the day, the pro-independence Scottish National Party (SNP) made some early gains. Labour also fared better, at the expense of the Conservatives and Lib Dems.
In another mood-dampener for Miliband, whose leadership has been under constant fire since he took over the Labour Party in 2010, Conservative maverick Johnson looked poised to retain London City Hall in the most high-profile individual result.
The London race was a contest of big personalities between Johnson, an upper-class eccentric with a comic talent, and Ken Livingstone, Johnson's Labour predecessor as mayor and a stalwart of the London left for three decades.
(Additional reporting by Matt Falloon; Writing by Estelle Shirbon and Peter Griffiths; Editing by Angus MacSwan)
Updated Date: May 05, 2012 00:00 AM