Uber CEO says he was wrong to call Khashoggi killing a 'mistake'
RIYADH (Reuters) - Uber's chief executive said on Monday the murder by Saudi Arabia, a major investor in his company, of journalist Jamal Khashoggi last year could not be excused and that he was wrong to have described the killing as a 'serious mistake'. Dara Khosrowshahi was backtracking from comments he made in an interview with 'Axios on HBO' aired earlier in which he compared the Washington Post columnist's murder by Saudi agents inside the kingdom's Istanbul consulate to a fatality caused by one of his company's self-driving cars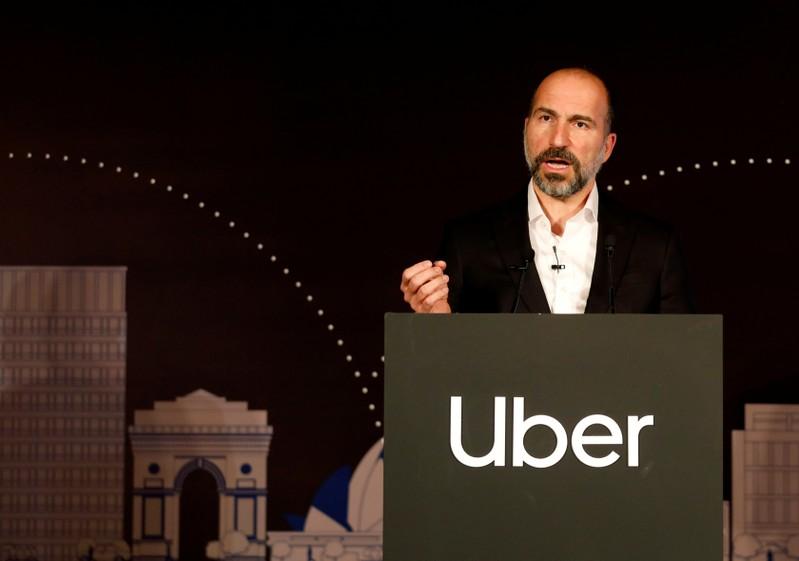 RIYADH (Reuters) - Uber's chief executive said on Monday the murder by Saudi Arabia, a major investor in his company, of journalist Jamal Khashoggi last year could not be excused and that he was wrong to have described the killing as a "serious mistake".
Dara Khosrowshahi was backtracking from comments he made in an interview with "Axios on HBO" aired earlier in which he compared the Washington Post columnist's murder by Saudi agents inside the kingdom's Istanbul consulate to a fatality caused by one of his company's self-driving cars.
"It's a serious mistake. We've made mistakes too, with self-driving, and we stopped driving and we're recovering from that mistake," Khosrowshahi said in the interview. "So I think that people make mistakes. It doesn't mean they can never be forgiven. I think they've taken it seriously..."
Khosrowshahi later said on Twitter: "There's no forgiving or forgetting what happened to Jamal Khashoggi & I was wrong to call it a 'mistake.'"
"I said something in the moment I don't believe. Our investors have long known my views here & I'm sorry I wasn't as clear on Axios."
Khashoggi's killing sparked a global uproar, tarnishing the image of Saudi Crown Prince Mohammed bin Salman.
The CIA and some Western governments have said they believe the crown prince ordered Khashoggi's killing. Prince Mohammed has denied that but said he bore ultimate responsibility as the country's de facto leader.
Asked about the CIA's assessment of the crown prince's involvement, Khosrowshahi said: "I didn't read that part of the CIA report ... but I think from a Saudi perspective, they're just like any other shareholder."
Saudi sovereign wealth fund PIF acquired a 5% stake in Uber in 2016 worth $3.5 billion. Its chairman sits on the board.
(Reporting by Stephen Kalin; Editing by Edmund Blair and Mark Potter)
This story has not been edited by Firstpost staff and is generated by auto-feed.
Find latest and upcoming tech gadgets online on Tech2 Gadgets. Get technology news, gadgets reviews & ratings. Popular gadgets including laptop, tablet and mobile specifications, features, prices, comparison.
World
ADDIS ABABA, Ethiopia/UM RAKUBA, Sudan (Reuters) - Government forces captured two towns from rebel forces in Ethiopia's northern Tigray region, the government said on Friday, and Tigrayan fighters fired rockets at an airport in a neighbouring region. The rocket attack on Bahir Dar, capital of Asmara region, raised concerns that the two-week-old conflict between the Tigrayan rebels and the central government could spiral into a wider war. The United Nations meanwhile said it was making plans for as many as 200,000 refugees fleeing into neighbouring Sudan.
World
(Reuters) - The number of coronavirus cases in Europe surpassed the 15 million mark on Friday, according to a Reuters tally, as the region sees a surge in infections with the onset of winter, reporting a million new infections about every four days. Europe has so far witnessed at least 15,046,656 reported infections and 344,401 reported deaths caused by the novel coronavirus, accounting for a quarter of global infections and deaths reported.
World
BUDAPEST (Reuters) - Hungary could receive up to one million doses of coronavirus vaccine from China in the coming months, Foreign Minister Peter Szijjarto told state news agency MTI on Friday after a phone call with his Chinese counterpart. Hungary earlier announced it also plans to import Russia's Sputnik V vaccine. The European Commission said on Thursday that Hungary's plan raises safety concerns, opening a new front in the EU's fraught relations with Budapest.