U.S. warns Congo's Kabila that 'time for posturing is over'
By Michelle Nichols UNITED NATIONS (Reuters) - The United States said on Thursday it regrets that Democratic Republic of Congo President Joseph Kabila has failed to publicly state that he will not run for re-election in a planned December election, warning him that 'the time for posturing is over.' Kabila said in a speech a week ago that a presidential election in December would go ahead, but he declined to say whether he would defy term limits to stand for re-election. Some of his allies have in recent weeks advanced a legal argument they say would justify his candidacy. 'He is not eligible under Congolese law to seek a third term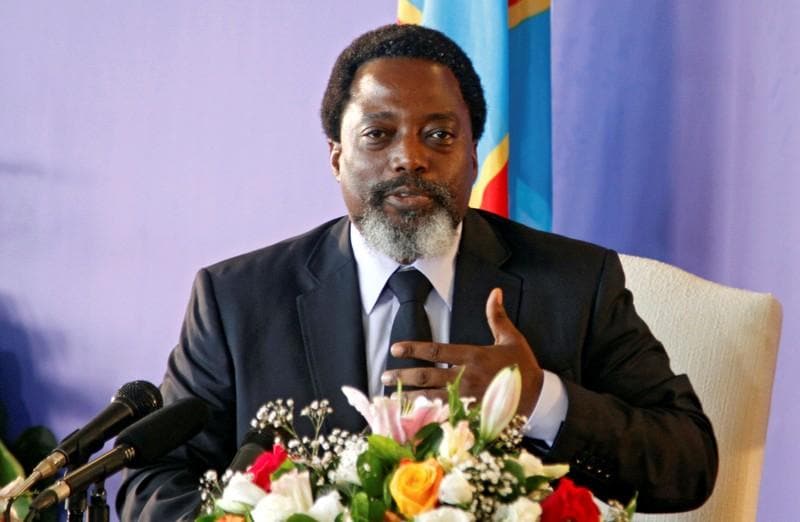 By Michelle Nichols
UNITED NATIONS (Reuters) - The United States said on Thursday it regrets that Democratic Republic of Congo President Joseph Kabila has failed to publicly state that he will not run for re-election in a planned December election, warning him that "the time for posturing is over."
Kabila said in a speech a week ago that a presidential election in December would go ahead, but he declined to say whether he would defy term limits to stand for re-election. Some of his allies have in recent weeks advanced a legal argument they say would justify his candidacy.
"He is not eligible under Congolese law to seek a third term. The United States regrets that President Kabila did not use his July 19th address to parliament to resolve the uncertainty regarding his intentions," U.S. Deputy U.N. Ambassador Jonathan Cohen told the United Nations Security Council.
International pressure on Kabila, who succeeded his assassinated father in 2001, to leave office has grown since a November 2016 election was postponed. That sparked violent protests in which security forces have killed dozens of people.
The United States and European Union have sanctioned several close Kabila allies accused of overseeing the crackdowns and obstructing the electoral process, moves Kabila denounced.
The U.N. Security Council and the African Union Peace and Security Council last week jointly "called upon all political parties, their supporters, and other political actors to remain committed to the 31 December 2016 Agreement, which is the only viable path out of the current political situation."
Under an accord struck on Dec. 31 between Kabila's representatives and opposition leaders, Kabila is barred from trying to change the constitution to seek a third term.
"President Kabila has committed repeatedly to respect the constitution and implement the December 2016 agreement. We're a mere five months away from election day. The time for posturing is over," Cohen said.
France and the United States questioned Congolese plans to use untested electronic voting machines and pushed authorities to state what assistance they need from the U.N. peacekeeping mission in the country, known as MONUSCO, to organize the polls.
"MONUSCO cannot afford to wait until the last moment to put a plan into action," Cohen said.
Kabila put off a planned visit earlier this month by U.N. Secretary-General Antonio Guterres and refused to see U.S. Ambassador to the United Nations Nikki Haley, who diplomats said had also separately planned to visit Kinshasa.
U.N. Security Council envoys are planning to visit Congo in October, diplomats said.
(Reporting by Michelle Nichols; Editing by Susan Thomas)
This story has not been edited by Firstpost staff and is generated by auto-feed.
Find latest and upcoming tech gadgets online on Tech2 Gadgets. Get technology news, gadgets reviews & ratings. Popular gadgets including laptop, tablet and mobile specifications, features, prices, comparison.
World
By Paul Carrel BERLIN (Reuters) - European Union sanctions against 40 officials in Belarus are "a small victory" but should be widened, opposition leader Sviatlana Tsikhanouskaya said on Monday, adding she would press Germany's Angela Merkel to do more at a meeting on Tuesday. Tsikhanouskaya fled her homeland for Lithuania amid a police crackdown in Belarus following an Aug. 9 presidential election, which official results said incumbent Alexander Lukashenko won, but which Tsikhanouskaya's supporters say was rigged
World
WASHINGTON (Reuters) - White House Press Secretary Kayleigh McEnany said on Monday she tested positive for COVID-19, while several U.S. media outlets reported that a number of other White House staff members also were confirmed to have been infected with the novel coronavirus
World
WASHINGTON (Reuters) - U.S.