U.S. vows all-out defence against 'grave' North Korean threat | Reuters
WASHINGTON The United States vowed on Wednesday to do 'whatever is necessary' to defend itself, South Korea and other allies against the 'grave' threat posed by North Korea, which has conducted two nuclear tests and a series of missile launches this year.U.S. Defense Secretary Ash Carter said at the start of talks in Washington between the foreign and defence ministers of the United States and South Korea that the U.S. commitment to provide 'extended deterrence, guaranteed by the full spectrum of U.S
WASHINGTON The United States vowed on Wednesday to do "whatever is necessary" to defend itself, South Korea and other allies against the "grave" threat posed by North Korea, which has conducted two nuclear tests and a series of missile launches this year.U.S. Defense Secretary Ash Carter said at the start of talks in Washington between the foreign and defence ministers of the United States and South Korea that the U.S. commitment to provide "extended deterrence, guaranteed by the full spectrum of U.S. defence capabilities" was "unwavering."The term "extended deterrence" refers to the U.S. nuclear umbrella that protects non-nuclear allies South Korea and Japan in East Asia. "The recent dramatic increase in North Korean nuclear tests and ballistic missile launches remind us of the grave threat it poses to our collective security," Carter told reporters."In light of these provocative acts, our combined defence posture must be robust and our deterrence must be credible." U.S. Secretary of State John Kerry said "there should be no doubt that the United States would do whatever is necessary to defend ourselves and to honour the security commitments that we have made to allies, including the Republic of Korea."
Kerry said that as part of this effort, the United States would deploy the Terminal High Altitude Area Defense anti-missile system to South Korea "as soon as possible."South Korean Foreign Minister Yun Byung-se said North Korea was nearing the "final stage of nuclear weaponization" and called for "an updated U.S.-Korean comprehensive response strategy." He said the allies should mobilise "all tools in the toolkit" to defend themselves."What is most important is to continuously demonstrate our capability and deterrence with our commitment and actions so that Pyongyang can feel the panic under their skins," he said.
South Korean Defense Minister Han Min-koo said the North Korean nuclear and missile program was "like a dagger against our throats."Carter said the United States and South Korea would "continue to modernize our alliance, seize new opportunities and address evolving threats."South Korea's Yonhap news agency quoted Yun as saying on Tuesday that said the two sides would discuss ways "to specify and institutionalize extended deterrence."
It said this could include permanently deploying U.S. "strategic assets" in the South, such as nuclear-capable B-52 and B-1B bombers, F-22 stealth fighter jets and nuclear-powered submarines.The Pentagon did not immediately respond when asked about the possibility of such deployments. (Reporting by David Brunnstrom, Arshad Mohammed and Lesley Wroughton; Editing by Chris Reese and Tom Brown)
This story has not been edited by Firstpost staff and is generated by auto-feed.
World
Russia is set to host the Taliban and other Afghan factions for talks Wednesday in a move that reflects Moscow's efforts to expand its clout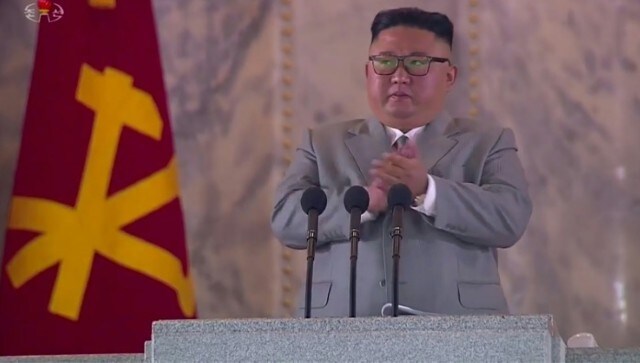 World
Kim also accused South Korea of hypocrisy because it criticises North Korea's weapons development as provocations while spending heavily to increase its own military capabilities
India
With no more than 10,000 Indians eligible for green cards a year, a vast majority of applicants have no choice but to wait for their turn