U.S. threatens sanctions against NATO ally Turkey over American pastor
By Lesley Wroughton and Daren Butler WASHINGTON/ISTANBUL (Reuters) - U.S. President Donald Trump on Thursday threatened to slap 'large sanctions' on Turkey unless it freed an American pastor, prompting an immediate and angry response from Ankara and further escalating tensions between the two NATO allies.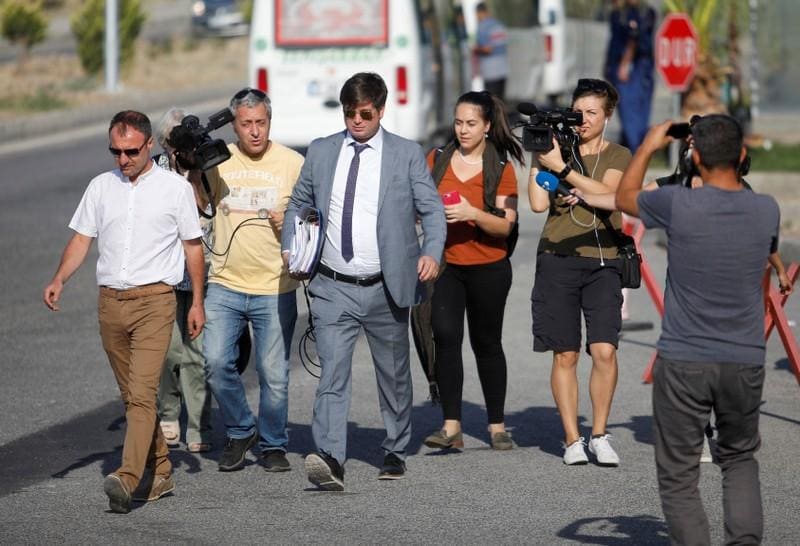 By Lesley Wroughton and Daren Butler
WASHINGTON/ISTANBUL (Reuters) - U.S. President Donald Trump on Thursday threatened to slap "large sanctions" on Turkey unless it freed an American pastor, prompting an immediate and angry response from Ankara and further escalating tensions between the two NATO allies.
A spokesman for Turkish President Tayyip Erdogan said Washington's threats were unacceptable and damaging to the U.S.-Turkey alliance.
"The United States must reconsider its approach and adopt a constructive position before inflicting further damage to its own interests and its alliance with Turkey," Erdogan's spokesman, Ibrahim Kalin, said in a written statement.
Turkish Foreign Minister Mevlut Cavusoglu spoke to U.S. Secretary of State Mike Pompeo on Thursday, according to Turkish foreign ministry sources. Details were not immediately available.
The Trump administration escalated the pressure campaign to free Andrew Brunson a day after a court ordered that he be moved to house arrest after 21 months in detention. He is on trial for terrorism charges.
"The United States will impose large sanctions on Turkey for their long time detainment of Pastor Andrew Brunson, a great Christian, family man and wonderful human being," Trump wrote in a tweet.
"He is suffering greatly. This innocent man of faith should be released immediately!"
Shortly before, Vice President Mike Pence, a devout Christian, levelled a similar threat directly at Turkey's president.
"To President (Tayyip) Erdogan and the Turkish government, I have a message on behalf of the president of the United States of America: release Pastor Andrew Brunson now or be prepared to face the consequences," Pence said at a religious freedom event hosted by the U.S. State Department.
Neither Trump nor Pence elaborated on the type of sanctions that the United States could impose.
The threat of sanctions prompted a downturn in Turkey's financial markets. There was no immediate comment from U.S. lawmakers who have threatened to withhold weapons sales to Turkey as strains have escalated over Brunson's detention.
Turkey's lira currency briefly weakened to 4.89 to the dollar following reports of Pence's comments, but recovered later to stand at 4.8420 at 11:01 a.m. EDT (1501 GMT). The Istanbul bourse <.XU100> fell as much as 1.75 percent before picking up slightly.
Brunson, who is from North Carolina and has worked in Turkey for more than 20 years, has been accused of helping the group Ankara says was behind a failed military coup in 2016. The pastor, who has denied the charges, faces up to 35 years in jail if found guilty.
Erdogan has in the past linked Brunson's fate with that of the U.S.-based Muslim cleric Fethullah Gulen. Ankara accuses Gulen of masterminding the failed coup, and has long sought his extradition to Turkey. Gulen has denied any role in the coup attempt, in which 250 people were killed.
"You have a pastor as well, give him to us," Erdogan said last September, in response to Washington's calls for Brunson to be released.
Brunson's detention deepened a rift between Washington and Ankara, which are also at odds over the Syrian war and Turkey's plan to buy missile defences from Russia.
On Wednesday, Brunson was escorted out of prison in the coastal city of Izmir, and left in a convoy of cars. His lawyer said he was ordered to wear an electronic monitoring bracelet.
U.S. and Turkish officials had been working on a deal that would lead to Brunson's release, and Washington had expected him to be freed at his trial last week, a source in the United States familiar with developments told Reuters on Wednesday.
U.S. officials had been under the impression that the deal was in place, the source said, adding that when Brunson was not released, Pence spoke with Trump and the two agreed harsh new policy measures were needed to force the issue.
Addressing Brunson's daughter in the audience, Pence said: "I promise you, as I told your father yesterday, President Trump and I will continue to fight to secure your father's full release until he is restored to his family and returns to the United States of America."
The Christian right, an important component of Trump and Pence's voting base, has been pressuring the administration on the Brunson case.
(Additional reporting by Dominic Evans, Steve Holland and Tulay Karadeniz; Writing by Susan Heavey and Mary Milliken; Editing by Jonathan Oatis and James Dalgleish)
This story has not been edited by Firstpost staff and is generated by auto-feed.
Find latest and upcoming tech gadgets online on Tech2 Gadgets. Get technology news, gadgets reviews & ratings. Popular gadgets including laptop, tablet and mobile specifications, features, prices, comparison.
World
By Paul Carrel BERLIN (Reuters) - European Union sanctions against 40 officials in Belarus are "a small victory" but should be widened, opposition leader Sviatlana Tsikhanouskaya said on Monday, adding she would press Germany's Angela Merkel to do more at a meeting on Tuesday. Tsikhanouskaya fled her homeland for Lithuania amid a police crackdown in Belarus following an Aug. 9 presidential election, which official results said incumbent Alexander Lukashenko won, but which Tsikhanouskaya's supporters say was rigged
World
WASHINGTON (Reuters) - White House Press Secretary Kayleigh McEnany said on Monday she tested positive for COVID-19, while several U.S. media outlets reported that a number of other White House staff members also were confirmed to have been infected with the novel coronavirus
World
WASHINGTON (Reuters) - U.S.