U.S. Supreme Court tosses ruling that revived suit against Iran central bank
By Andrew Chung WASHINGTON (Reuters) - The U.S. Supreme Court on Monday threw out a lower court ruling that revived a $1.68 billion lawsuit against Iran's central bank by families of troops killed in the 1983 bombing of the U.S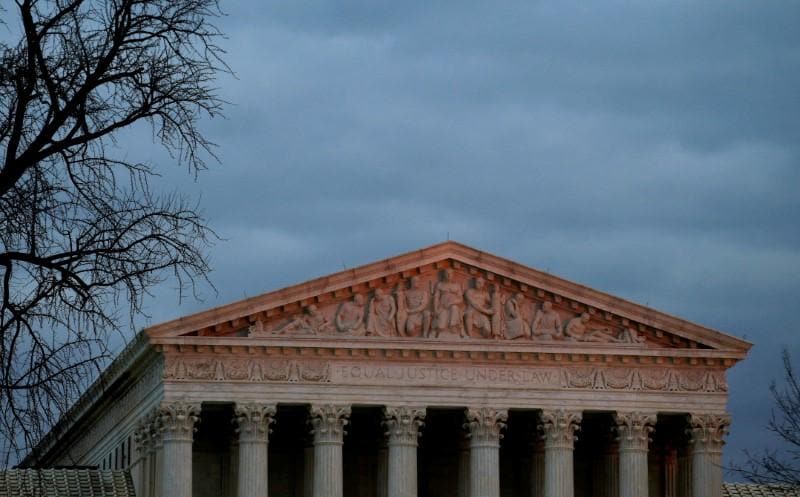 By Andrew Chung
WASHINGTON (Reuters) - The U.S. Supreme Court on Monday threw out a lower court ruling that revived a $1.68 billion lawsuit against Iran's central bank by families of troops killed in the 1983 bombing of the U.S. Marine Corps barracks in Lebanon in light of a new federal law that could help the plaintiffs recover damages.
Though Bank Markazi, as well as banks in Luxembourg and Italy, were contesting the lower court ruling that the families could try to seize Iranian assets held outside the United States, the justices directed a lower court to consider the new law that could give the families access to the funds.
The law, signed by President Donald Trump on Dec. 20 as part of the National Defense Authorization Act, removes hurdles for courts to seize assets held abroad to satisfy U.S. court judgments against Iran.
The Supreme Court acted on the case at a time of high tensions between the United States and Iran, with Trump ordering a drone strike in Baghdad that killed a senior Iranian military commander on Jan. 3, and Iran retaliating by filing missiles at bases housing U.S. forces in Iraq. Iran's clerical rulers were also facing a third day of protests on Monday after authorities acknowledged shooting down a passenger plane by accident last week. [nL8N29I18P]
The 1983 car bombing attack at the Marine Corps barracks in Beirut killed 241 U.S. service members. The cases stem from efforts by the families of those killed to secure compensation from Iran after a federal court in Washington deemed them victims of state-sponsored terrorism and awarded $3.8 billion in damages.
The families in 2013 sought to seize bond proceeds allegedly owned by Bank Markazi and processed by Clearstream Banking S.A., based in Luxembourg, and Banca UBAE S.p.A, an Italian bank, to partially satisfy the court judgment.
The legal dispute centers on a 1976 law called the Foreign Sovereign Immunities Act (FSIA), which generally shields foreign governments from liability in American courts but carves out certain exceptions, including for claims against countries like Iran that have been designated by the United States as state sponsors of terrorism.
A federal trial court dismissed the families' claims, saying the assets were located in Luxembourg and thus, under the FSIA, immune from seizure. But in 2017 the New York-based 2nd U.S. Circuit Court of Appeals disagreed, reviving the suit.
Bank Markazi appealed to the Supreme Court, saying that the 2nd Circuit ruling violated international law and "threatens the U.S. assets of U.S. companies by exposing them to reciprocal treatment by foreign courts."
The Trump administration said the 2nd Circuit decision was flawed because it was unlikely the FSIA allowed for foreign government seizure of assets held abroad. But the administration advised the justices to send the case back to lower courts to analyze the newly passed law's effect on the case.
(Reporting by Andrew Chung; Editing by Will Dunham)
This story has not been edited by Firstpost staff and is generated by auto-feed.
Find latest and upcoming tech gadgets online on Tech2 Gadgets. Get technology news, gadgets reviews & ratings. Popular gadgets including laptop, tablet and mobile specifications, features, prices, comparison.
World
(Reuters) -Moderna Inc said on Monday it would produce at least 600 million doses of its COVID-19 vaccine in 2021, up by 100 million doses from its previous forecast, as the United States continues to roll-out the vaccine. The company was working to invest and hire in order to deliver up to 1 billion doses this year, the higher end of its production forecast, it said
World
WARSAW (Reuters) - A skating rink owner in the Polish city of Szczecin believes he has found a way to keep his business open despite coronavirus restrictions - operate as a flower shop instead. His plan is simple - the customer has to purchase access to the flower "warehouse", then chooses from a box of flowers in the middle of the rink. "You can jump, crawl or go on all fours ..
World
By Reuters Staff SANAA (Reuters) - Paralysed and severely malnourished, seven-year-old Faid Samim lies curled up on a hospital bed in the Yemeni capital Sanaa, having barely survived the journey there.  "He was almost gone when he arrived but thank God we were able to do what was necessary and he started improving. He is suffering from CP (cerebral palsy) and severe malnutrition," said Rageh Mohammed, the supervising doctor of the Al-Sabeen hospital's malnutrition ward.