U.S. Supreme Court swiftly ends Trump-backed Texas bid to upend election results
By Lawrence Hurley WASHINGTON (Reuters) -The U.S. Supreme Court on Friday rejected a long-shot lawsuit filed by Texas and backed by President Donald Trump seeking to throw out voting results in four states, dealing him a crushing setback in his quest to undo his election loss to President-elect Joe Biden. The justices in a brief order said Texas did not have legal standing to bring the case against Georgia, Michigan, Pennsylvania and Wisconsin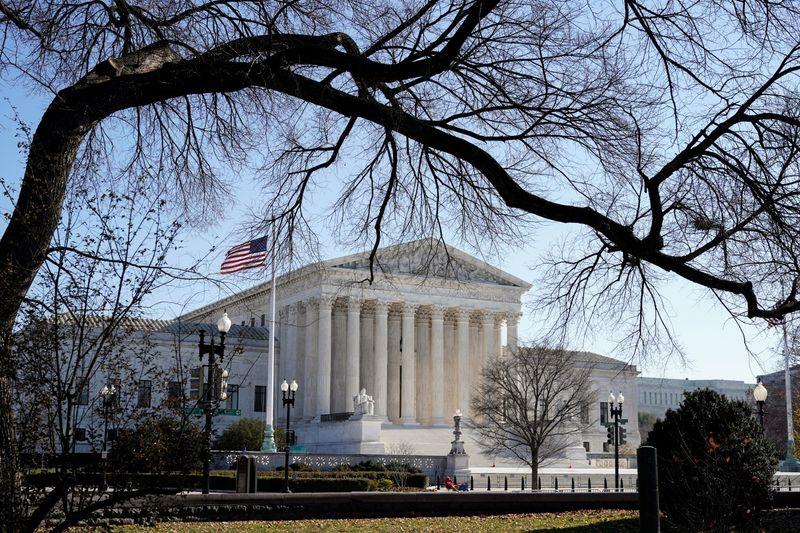 By Lawrence Hurley
WASHINGTON (Reuters) -The U.S. Supreme Court on Friday rejected a long-shot lawsuit filed by Texas and backed by President Donald Trump seeking to throw out voting results in four states, dealing him a crushing setback in his quest to undo his election loss to President-elect Joe Biden.
The justices in a brief order said Texas did not have legal standing to bring the case against Georgia, Michigan, Pennsylvania and Wisconsin.
The case was filed on Tuesday by the Republican attorney general of Texas, a Trump ally. The Republican president on Wednesday filed a motion to intervene and become a plaintiff.
The Supreme Court's 6-3 conservative majority includes three justices appointed by Trump and none of them commented in the unsigned order. Before the Nov. 3 election, Trump said he expected its outcome to be decided by the Supreme Court.
"Texas has not demonstrated a judicially cognizable interest in the manner in which another state conducts its elections," the court's order said.
Two of the court's conservatives, Justice Samuel Alito and Justice Clarence Thomas, said they would have allowed Texas to sue but would not have blocked the four states from finalizing their election results.
There was no immediate response from the White House. A Biden spokesman said it was "no surprise" the high court rejected "baseless attempts" to deny Trump lost the election.
"Our nation's highest court saw through this seditious abuse of our electoral process," Pennsylvania Attorney General Josh Shapiro, a Democrat, said on Twitter.
The four states in a filing with the court on Thursday asked the justices to reject the lawsuit, which they said had no factual or legal grounds.
Trump's campaign and his allies already had lost in numerous lawsuits in state and federal courts challenging the election results. Trump has falsely claimed he won the election and has made baseless allegations of widespread voting fraud and a system "rigged" against him. State election officials have said they have found no evidence of such fraud. Lawyers for Trump and his allies have failed to present evidence in court of the type of fraud he has alleged.
Texas had asked the justices to throw out the election results in the four states. Biden won all four states. Trump had won them in the 2016 election.
Trump and many of his fellow Republicans have made unfounded claims that the expansion of mail-in voting during the coronavirus
pandemic led to Biden fraudulently winning in election battleground states. Democrats and other critics have accused Trump of seeking to shatter public belief in the integrity of U.S. elections and sabotage American democracy by trying to subvert the will of the voters.
Trump has refused to concede the election and many Republicans have not acknowledged Biden as president-elect. Biden is due to take office on Jan. 20.
The Texas lawsuit argued that changes made by the four states to voting procedures amid the coronavirus
pandemic to expand mail-in voting were unlawful. Texas asked the Supreme Court to immediately block the four states from using the voting results to appoint presidential electors to the Electoral College, which is scheduled to formally pick the winner on Monday.
(Reporting by Lawrence Hurley; editing by Will Dunham and Grant McCool)
This story has not been edited by Firstpost staff and is generated by auto-feed.
Find latest and upcoming tech gadgets online on Tech2 Gadgets. Get technology news, gadgets reviews & ratings. Popular gadgets including laptop, tablet and mobile specifications, features, prices, comparison.
World
By Kate Holton LONDON (Reuters) - The post-Brexit woes facing Scotland's fishing industry deepened on Saturday as its biggest logistics provider, DFDS Scotland, said it would halt exports to the European Union through one of its main services until at least Wednesday. Previously the company had said it would take until Monday to resume its "groupage" export service - which allows exporters to ship multiple products in a single consignment - while it tries to fix IT issues, paperwork errors and a backlog of goods. DFDS's move represents another blow for Scottish fishermen who this week warned that their businesses could become unviable after Britain shifted to a less integrated trade deal with the EU at the turn of the year
World
VATICAN CITY (Reuters) - Pope Francis said on Saturday he planned to be vaccinated against COVID-19 as early as next week and urged everyone to get a shot, to protect not only their own lives but those of others.
World
By Rich McKay (Reuters) - A man photographed carrying off the Speaker's lectern during the Capitol Hill riots was arrested late Friday, while a top Democratic lawmaker on Saturday called on mobile carriers to preserve social media content related to the riots. Dozens of people have been charged following the storming of the Capitol on Wednesday, with the FBI asking the public for help identifying participants, given the proliferation of images of the riots on the internet.