U.S. Senator Elizabeth Warren backs reparations for black Americans
By Ginger Gibson WASHINGTON (Reuters) - U.S. Senator Elizabeth Warren, who is running for the Democratic presidential nomination, supports the federal government issuing reparations to black Americans who were economically affected by slavery, she said on Thursday. 'We must confront the dark history of slavery and government-sanctioned discrimination in this country that has had many consequences including undermining the ability of Black families to build wealth in America for generations,' Warren, who is white, said in a statement to Reuters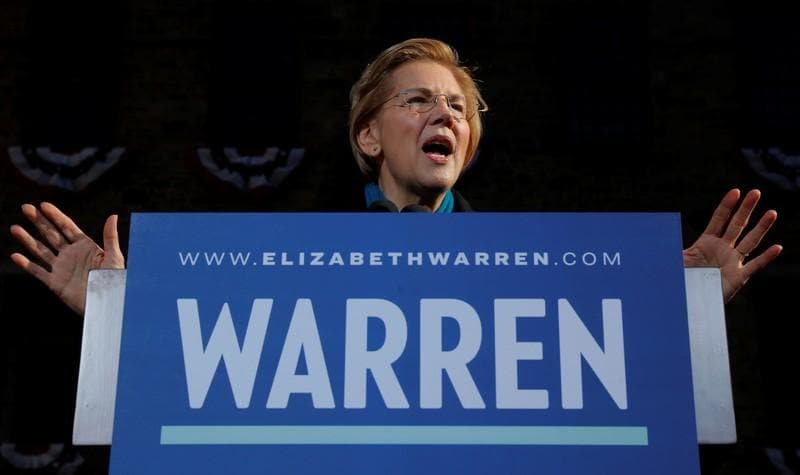 By Ginger Gibson
WASHINGTON (Reuters) - U.S. Senator Elizabeth Warren, who is running for the Democratic presidential nomination, supports the federal government issuing reparations to black Americans who were economically affected by slavery, she said on Thursday.
"We must confront the dark history of slavery and government-sanctioned discrimination in this country that has had many consequences including undermining the ability of Black families to build wealth in America for generations," Warren, who is white, said in a statement to Reuters.
She pointed to a bill she has introduced in Congress that would provide help to minorities in making a down payment on a home.
"Black families have had a much steeper hill to climb - and we need systemic, structural changes to address that," she said in the statement.
Warren first made similar comments on Thursday to the New York Times.
She is competing in a crowded field of Democrats hoping to be their party's pick to challenge Republican President Donald Trump in the November 2020 election.
U.S. Senator Kamala Harris also recently said she would support some form of reparations.
Previous Democratic Party leaders have declined to support reparations for African-Americans, including former President Barack Obama and Hillary Clinton.
Issuing reparations to all living people who are descendents of slaves or who have suffered from the ills of racial discrimination targeted at black people has been estimated to cost trillions of dollars.
The United States waged a civil war from 1861 to 1865 over legal slavery. The practice was abolished in most states in 1863 and completely at the end of the war and with the ratification of the Thirteenth Amendment to the U.S. Constitution in 1865.
The U.S. federal government has never approved reparations.
A 2016 poll by Marist College commissioned by WGBH radio station in Boston found that 68 percent of Americans do not think reparations should be paid to the descendents of slaves, compared with 26 percent who said they should. Among African-Americans, 58 percent support paying reparations and 35 percent oppose them.
(Reporting by Ginger Gibson; Editing by Dan Grebler)
This story has not been edited by Firstpost staff and is generated by auto-feed.
Find latest and upcoming tech gadgets online on Tech2 Gadgets. Get technology news, gadgets reviews & ratings. Popular gadgets including laptop, tablet and mobile specifications, features, prices, comparison.
World
MOSCOW (Reuters) - Russian President Vladimir Putin said on Wednesday he had noted what he called "sharp anti-Russian rhetoric" from U.S. Democratic presidential candidate Joe Biden, but that he had been encouraged by Biden's comments on arms control. Putin, in comments on state television ahead of the U.S.
World
By John Irish and Robin Emmott PARIS/BRUSSELS (Reuters) - France and Germany said on Wednesday they would propose European Union sanctions against Russian individuals after receiving no credible answers from Moscow over the poisoning of Kremlin critic Alexei Navalny with a nerve agent. Several Western governments have said Russia, which has denied accusations by Navalny that it was involved in the poisoning, must help in investigations or face consequences. The decision and speed with which Europe's two main powers agreed to push ahead with sanctions suggests a hardening of the bloc's diplomacy towards Moscow.
World
By Steve Holland WASHINGTON (Reuters) - U.S. President Donald Trump, under coronavirus quarantine in the White House and restricted from traveling, is seeking ways to put a spark back in his struggling re-election bid and get behind his desk in the Oval Office with four weeks left until Election Day.