U.S. Senate Republicans block bill condemning Trump over protesters
By Richard Cowan WASHINGTON (Reuters) - U.S. Senate Republicans blocked a Democratic resolution on Tuesday that would have condemned President Donald Trump for the use of gas and rubber bullets against peaceful protesters near the White House. Protests have swept U.S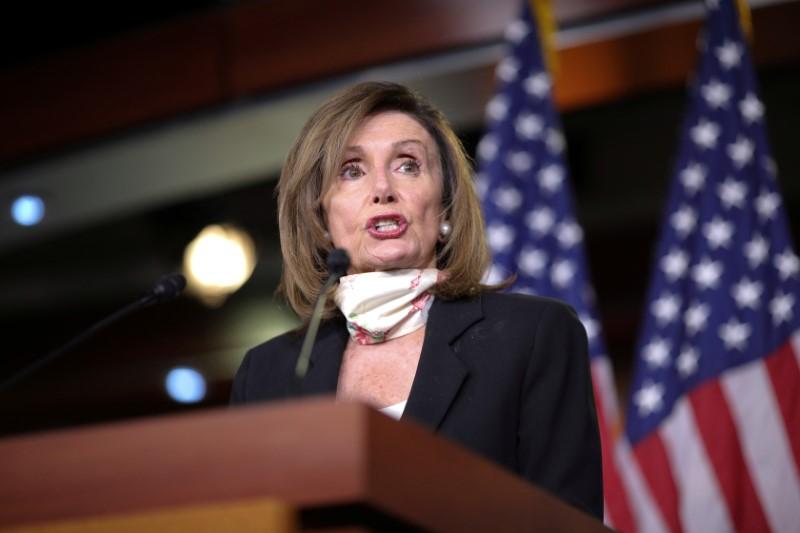 By Richard Cowan
WASHINGTON (Reuters) - U.S. Senate Republicans blocked a Democratic resolution on Tuesday that would have condemned President Donald Trump for the use of gas and rubber bullets against peaceful protesters near the White House.
Protests have swept U.S. cities, including Washington, D.C., since the May 25 killing of George Floyd, a 46-year-old African American who died after a white policeman pinned his neck under a knee for nearly nine minutes in Minneapolis.
On Monday, federal officials cleared protesters near the White House before Trump marched through to pose holding a Bible outside a boarded-up church. That, and Trump's threat to deploy troops to quell unrest, have deepened outrage among protesters.
Democrats tried to use fast-track procedures to pass the measure criticizing the Republican president by a unanimous voice vote but were stopped when Senate Majority Leader Mitch McConnell, also a Republican, objected.
"It just indulges in a myopic obsession with President Trump that has come to define the Democratic side," he said.
Democrats blocked a McConnell counterproposal that, like their own measure, condemned violent protests and a pattern of police violence against black Americans but that offered no criticism of Trump.
House and Senate Democrats also said they were preparing legislation aimed at addressing police violence against African-Americans.
Trump has been criticized for Monday's visit to St. John's Episcopal Church across Lafayette Park from the White House, including by fellow Republicans.
"I'm against clearing out a peaceful protest for a photo op that treats the Word of God as a political prop," Republican Senator Ben Sasse said in a statement.
Senator John Thune, the chamber's No. 2 Republican, told PBS NewsHour Americans needed calm, healing and reassurance and that was the tone "the president needs to project."
Democrats were harsher, with one senator, Tammy Duckworth, calling Trump "a draft-dodging, wanna-be, tin-pot dictator."
(Reporting by Richard Cowan, Susan Cornwell, Patricia Zengerle, David Morgan and Susan Heavey in Washingtin; Writing by Arshad Mohammed; Editing by David Gregorio and Matthew Lewis)
This story has not been edited by Firstpost staff and is generated by auto-feed.
Business
By Lucia Mutikani WASHINGTON (Reuters) - U.S. consumer confidence jumped to a 14-month high in April as increased vaccinations against COVID-19 and additional fiscal stimulus allowed for more services businesses to reopen, boosting demand and hiring by companies. The upbeat survey from the Conference Board on Tuesday, which also showed a strong increase in vacation plans, suggested the economy continued to power ahead early in the second quarter after what appears to have been robust growth in the first three months of the year, believed by many economists to have been the second strongest since 2003.
Business
(Reuters) - The space race between the world's two richest men went into hyperdrive on Tuesday after Tesla chief Elon Musk took a swipe at Jeff Bezos' attempt to challenge a major NASA contract. The two billionaires, who have been trying to launch long-range orbital rockets, were competing for a coveted contract from the government to build a spaceship to deliver astronauts to the moon as early as 2024. Musk won.
Business
By Shivani Kumaresan and Noel Randewich (Reuters) - The S&P 500 and Nasdaq closed at record highs on Monday, fueled by Tesla Inc and other heavyweight growth stocks ahead of a deluge of earnings reports this week. The Nasdaq's record high close confirmed the end of an 11% correction in the index that began after its previous record high close on Feb.