U.S. Senate backs massive defence bill, targets China, sets Iran vote
WASHINGTON (Reuters) - The U.S.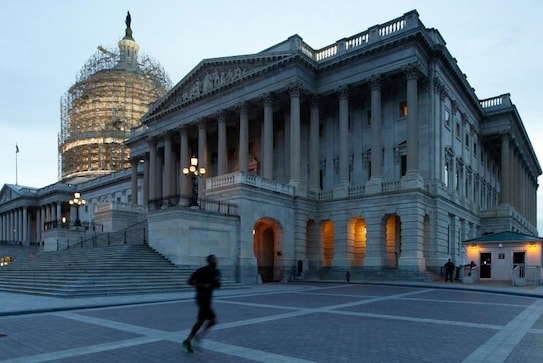 WASHINGTON (Reuters) - The U.S. Senate on Thursday passed a $750 billion defence policy bill with provisions that target China on issues from technology transfers to the sale of synthetic opioids, pushing to counter growing Chinese influence around the world.
The 973-page National Defense Authorization Act, or NDAA, passed by an 86-8 vote.
However, in an unusual procedural move, the Senate will have a separate vote on Friday on an amendment that would ban Republican President Donald Trump from attacking Iran without first obtaining congressional approval.
Despite growing tensions with Iran, the amendment is not expected to get the 60 votes needed to pass the Republican-controlled Senate.
Among other provisions, the Senate NDAA requires detailed reporting from the Department of Defense to prevent transfers of sensitive technology to China or Russia, as well as reports on access to the Arctic.
It also requires tighter screening of scholars seeking visas to the United States.
The Senate's passage of the NDAA comes as Trump prepares for a high-stakes meeting with Chinese President Xi Jinping in Osaka on Saturday on the sidelines of the G20. Many hope the meeting will help end a months-long trade war between the world's top two economies.
The NDAA is still several steps from becoming law. The Senate version must be reconciled with a version expected to come up for a vote next month in the Democratic-controlled House of Representatives.
And that compromise version, expected later this year, must pass both the Senate and House, and be signed into law by Trump.
The Senate NDAA also includes an amendment to bar federal funds from going to Chinese state-owned companies such as CRRC, the world's largest maker of passenger trains.
One of the few pieces of major legislation passed every year, the NDAA becomes a vehicle for a broad range of policy measures, as well as determining everything from military pay levels to which ships or aircraft will be modernized, purchased or discontinued.
The Senate bill includes $3.6 billion Trump requested to cover construction of the wall on the border with Mexico that the president has made a centerpiece of his hard-line stance on immigration. It does not include an additional $3.6 billion requested for the wall.
The Senate NDAA also contains an amendment to strengthen sanctions against North Korea, imposing secondary sanctions on financial institutions that do business with Pyongyang in violation of existing sanctions.
(Reporting by Patricia Zengerle; additional reporting by David Brunnstrom and Alex Alper)
This story has not been edited by Firstpost staff and is generated by auto-feed.
Find latest and upcoming tech gadgets online on Tech2 Gadgets. Get technology news, gadgets reviews & ratings. Popular gadgets including laptop, tablet and mobile specifications, features, prices, comparison.
Business
(Reuters) - Gilead Sciences Inc is nearing a deal to buy biopharmaceutical company Immunomedics Inc for more than $20 billion, the Wall Street Journal reported on Saturday, citing people familiar with the matter. A deal for Immunomedics, which last month reported positive data from a late-stage study for its breast-cancer drug, could be announced Monday if not sooner, the Journal said https://www.wsj.com/articles/gilead-nears-deal-to-buy-immunomedics-for-more-than-20-billion-11599936777?mod=hp_lead_pos2. Gilead and Immunomedics did not respond immediately to emailed requests from Reuters for comment
Business
SHANGHAI (Reuters) - China banned pork imports from Germany on Saturday after it confirmed its first case of African swine fever last week, in a move set to hit German producers and push up global prices as China's meat supplies tighten. China's ban on imports from its third largest supplier comes as the world's top meat buyer deals with an unprecedented pork shortage after its own epidemic of the deadly hog disease. The ban on Germany, which has supplied about 14% of China's pork imports so far this year, will push up demand for meat from other major suppliers like the United States and Spain, boosting global prices.
Business
CAIRO (Reuters) - Libyan commander Khalifa Haftar has committed to ending a months-long blockade of oil facilities, the U.S.