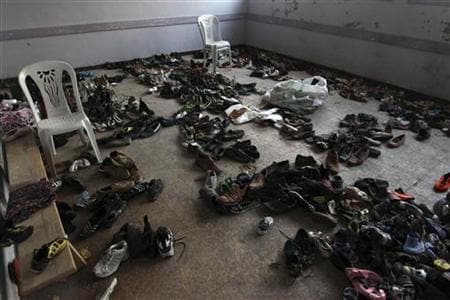 ANKARA (Reuters) - The United States pledged an extra $10 million on Friday to help supply flour to bakeries in northern Syria, but said there was not enough humanitarian aid reaching those affected by the war and it would urge other nations to contribute more.
The United Nations will convene a pledging conference in Kuwait on Wednesday to try to secure more than $1.5 billion for millions of people inside Syria who are facing what it has called a "rapidly deteriorating humanitarian situation".
"Combined, all of the assistance to date is not enough which is why we are going to Kuwait to significantly increase our assistance and to call upon all nations to step forward at this time of need and crisis for the Syrian people," said USAID Assistant Administrator Nancy Lindborg.
The flour is to go to bakeries in Syria's northern Aleppo province and help provide daily bread for around 210,000 people for the next five months.
The United Nations says 2.5 million people are going hungry inside Syria, where its World Food Programme (WFP) has only been able to feed up to 1.5 million Syrians each month because of the fighting and a lack of local partners capable of delivering aid.
The U.S. States Department said many bakeries in Syria have had to close down because the Syrian government has cut off fuel and flour supplies.
Syrian opposition activists also say government warplanes have targeted bread queues. An air strike that hit a bakery in central Syria last month killed some 60 people, activists said.
U.S. Ambassador to Syria Robert Ford, who was withdrawn from Damascus in February 2012, said Washington would also welcome assistance from Russia, Syrian President Bashar al-Assad's main supporter.
"I think the United States would welcome a large pledge from Russia to help with the Syrian refugee crisis because all countries need to work together to address this serious humanitarian crisis," Ford said.
While both countries are in contact over Syria, differences between Russia and the United States over the future of Assad continue to block a deal to end 22 months of violence that has killed more than 60,000 Syrians.
Russia has vetoed three U.N. Security Council resolutions aimed pressuring Assad to end the bloodshed, which began with a crackdown on protests in March 2011 and later escalated into civil war.
Across the region, 678,540 Syrian refugees had registered or were being processed as of Tuesday, according to UNHCR figures for Jordan, Turkey, Lebanon, Iraq and North Africa. Some 2 million Syrians are estimated to be displaced inside Syria.
(Reporting by Jonathon Burch; Editing by Jon Hemming)
Updated Date: Jan 26, 2013 02:30 AM