U.S. sanctions Venezuela's foreign minister, Venezuelan judge
WASHINGTON (Reuters) - The United States on Friday imposed sanctions on Venezuela's Foreign Minister Jorge Arreaza, saying it would pursue those in President Nicolas Maduro's government for corruption as well as officials conducting diplomacy on his behalf. Arreaza and a judge in the Court of Appeals for Caracas, Carol Padilla, were targeted in the latest round of U.S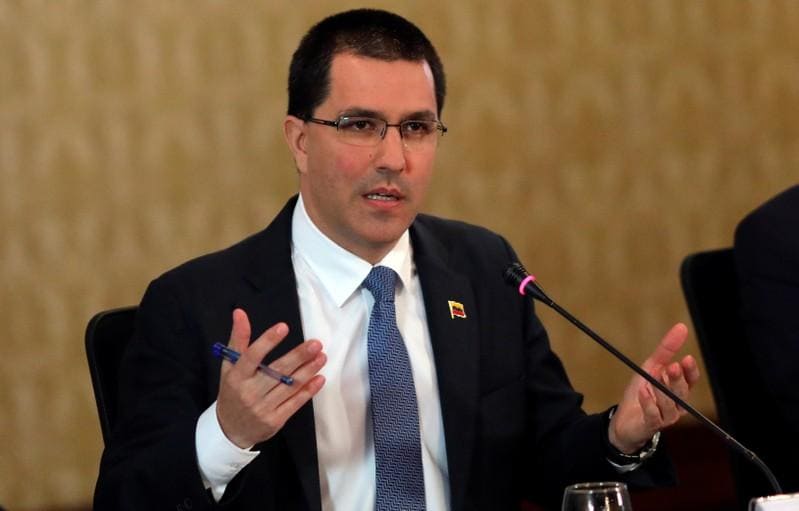 WASHINGTON (Reuters) - The United States on Friday imposed sanctions on Venezuela's Foreign Minister Jorge Arreaza, saying it would pursue those in President Nicolas Maduro's government for corruption as well as officials conducting diplomacy on his behalf.
Arreaza and a judge in the Court of Appeals for Caracas, Carol Padilla, were targeted in the latest round of U.S. sanctions against Maduro's government over the crisis in Venezuela, the Treasury Department said.
Washington blames Maduro for the country's economic collapse and for undermining democracy. The Trump administration recognised Venezuela's opposition leader Juan Guaido as the South American nation's interim president and has asked Maduro, a socialist in power since 2013, to step down.
"The United States will not stand by and watch as the illegitimate Maduro regime starves the Venezuelan people of their wealth, humanity, and right to democracy," Treasury Secretary Steven Mnuchin said in a statement.
"Treasury will continue to target corrupt Maduro insiders, including those tasked with conducting diplomacy and carrying out justice on behalf of this illegitimate regime."
In a separate statement, the U.S. Department of State said Friday's designation was "a reminder" that Venezuelan authorities have detained Guaido's top aide, Roberto Marrero, since March and that such actions would have consequences.
"If Nicolas Maduro and those aligned with him continue to use imprisonment and intimidation against the legitimate government and people of Venezuela, the United States will respond," the department said, reiterating the U.S. demand for Marrero's release.
Since the United States recognised Guaido in January, Arreaza has been a regular visitor to the United States, specifically the United Nations in New York, where he has lobbied countries to build support for Maduro.
He is married to the eldest daughter of Hugo Chavez, Venezuela's former president who died in 2013 of cancer. It was not immediately clear whether the sanctions would affect his travel to the U.N.
Arreaza has spoken at U.N. Security Council meetings on Venezuela and held lengthy press conferences. On Thursday he addressed a meeting of the 193-member U.N. General Assembly on multilateralism.
He met with U.N. Secretary-General Antonio Guterres on Wednesday and discussed the humanitarian situation in the country, a U.N. spokesman said. Arreaza also met with Iranian Foreign Minister Mohammad Javad Zarif in New York on Wednesday.
He is active on Twitter, directly taking on U.S. President Donald Trump and White House national security adviser John Bolton.
(Reporting by Susan Heavey, Makini Brice and Lesley Wroughton, and Michelle Nichols at the United Nations; Editing by Chizu Nomiyama, Jonathan Oatis and Richard Chang)
This story has not been edited by Firstpost staff and is generated by auto-feed.
World
BAGHDAD (Reuters) - Rockets hit near U.S. forces and contractors in Iraq on Wednesday, including an air base north of Baghdad and a military base at Baghdad International Airport, the Iraqi army and security officials said. The army reported at least three rockets hit Balad air base, where U.S
World
By Silvia Ognibene and Silvia Aloisi FLORENCE, Italy (Reuters) -Italian police have arrested a Chinese couple accused of running a leather goods business which exploited immigrant workers it employed to make handbags for a Burberry supplier, according to an arrest warrant seen by Reuters. Tax police in Florence said in a statement that the two Chinese nationals were arrested on Wednesday as part of an investigation into alleged labour exploitation and tax fraud and that restrictive measures had been imposed on two other family members, including a ban on them leaving Italy
World
WASHINGTON (Reuters) - The United States on Wednesday blacklisted four Nicaraguans, including a daughter of President Daniel Ortega, as Washington warned it would continue to use diplomatic and economic tools against members of the leftist government engaged in repression. The U.S. State Department called on Ortega to release detained presidential candidates as well as other civil society and opposition leaders arrested over the past week in what Washington called "an increasing wave of repression." "There are costs for those who are complicit in the regime's repression.