U.S. prosecutors talking with accused Russian agent to resolve case
By Sarah N. Lynch WASHINGTON (Reuters) - U.S.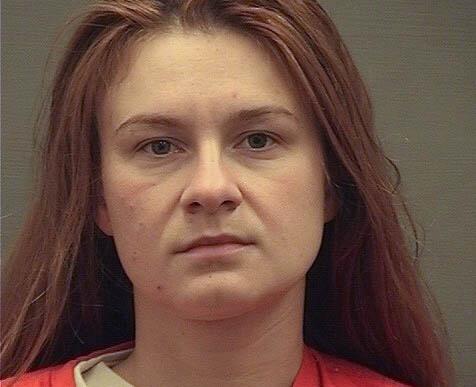 By Sarah N. Lynch
WASHINGTON (Reuters) - U.S. prosecutors and lawyers for accused Russian agent Maria Butina are engaging in negotiations, both sides said in a court filing on Friday, raising the possibility the case could be resolved with a plea deal.
Butina, a former graduate student at American University in Washington who has publicly advocated for gun rights, was charged in July with acting as an agent of the Russian government and conspiracy to take actions on behalf of Russia.
She is accused of working with a Russian official and two U.S. citizens to try to infiltrate the National Rifle Association, a powerful lobby group that has close ties to Republican politicians including President Donald Trump, and influence American foreign policy towards Russia.
Currently jailed awaiting trial, Butina has pleaded not guilty. She could face years in prison if convicted.
The parties "continue to engage ... in negotiations regarding a potential resolution of this matter," prosecutors and Butina's lawyers wrote in a joint filing on Friday, without elaborating on what resolution might materialise.
U.S. District Judge Tanya Chutkan later granted a joint request for a delay in a status hearing in the case that had been set for Dec. 6, scheduling a new hearing for Dec. 19.
After the delay was granted, defence lawyers withdrew motions they had filed on Thursday to dismiss the case.
Such talks sometimes lead to a deal in which a defendant pleads guilty to lesser charges to resolve a case.
Robert Driscoll, an attorney for Butina and who is under a media gag order imposed by the judge in the case, declined to comment when asked whether his client may plead guilty in order to resolve the case.
The prosecution has made serious missteps in the case, including erroneously accusing Butina of offering sex in exchange for a position in a special interest group. They later backed off the claim and earned scorn from the judge, who said the incorrect allegations were "notorious" and had damaged Butina's reputation.
Butina's lawyers have previously identified the Russian official with whom she was accused of working as Alexander Torshin, a deputy governor of Russia's central bank who was hit with U.S. Treasury Department sanctions in April.
They identified one of the two Americans mentioned in the criminal complaint as being Paul Erickson, a conservative U.S. political activist who was dating Butina. Neither Erickson nor Torshin have been accused by prosecutors of wrongdoing.
Questions relating to Russia have cast a shadow over Trump's presidency. Moscow has labelled the case against Butina "fabricated" and called for her release.
Prosecutors have called Butina a flight risk and said she had been in contact with Russian intelligence operatives and kept contact information for several Russian agents.
(Reporting by Sarah N. Lynch; Editing by Will Dunham)
This story has not been edited by Firstpost staff and is generated by auto-feed.
World
BAGHDAD (Reuters) - Rockets hit near U.S. forces and contractors in Iraq on Wednesday, including an air base north of Baghdad and a military base at Baghdad International Airport, the Iraqi army and security officials said. The army reported at least three rockets hit Balad air base, where U.S
World
By Silvia Ognibene and Silvia Aloisi FLORENCE, Italy (Reuters) -Italian police have arrested a Chinese couple accused of running a leather goods business which exploited immigrant workers it employed to make handbags for a Burberry supplier, according to an arrest warrant seen by Reuters. Tax police in Florence said in a statement that the two Chinese nationals were arrested on Wednesday as part of an investigation into alleged labour exploitation and tax fraud and that restrictive measures had been imposed on two other family members, including a ban on them leaving Italy
World
WASHINGTON (Reuters) - The United States on Wednesday blacklisted four Nicaraguans, including a daughter of President Daniel Ortega, as Washington warned it would continue to use diplomatic and economic tools against members of the leftist government engaged in repression. The U.S. State Department called on Ortega to release detained presidential candidates as well as other civil society and opposition leaders arrested over the past week in what Washington called "an increasing wave of repression." "There are costs for those who are complicit in the regime's repression.