U.S. prosecutors claim 'El Chapo' had unauthorized contact with wife
By Brendan Pierson (Reuters) - U.S.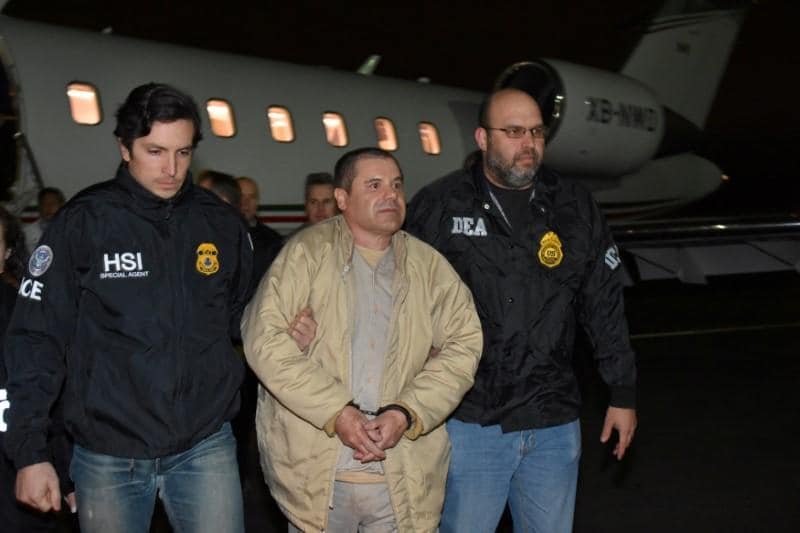 By Brendan Pierson
(Reuters) - U.S. prosecutors on Tuesday claimed that a lawyer for Joaquin "El Chapo" Guzman, who is currently on trial in Brooklyn federal court, helped arrange unauthorized contact between the accused Mexican drug lord and his wife, Emma Coronel.
In a motion filed before 2 a.m. EST, the prosecutors asked U.S. District Judge Brian Cogan to impose sanctions on Guzman's defense team. Much of the motion, including the nature of the sanctions sought, was redacted, and the lawyer accused of arranging the contact was not publicly identified.
Lawyers for Guzman were not immediately available for comment.
Guzman, 61, faces 17 criminal counts and a possible sentence of life in prison. He has been subject to exceptionally tight security protocols, known as special administrative measures or SAMs, thanks to his two escapes from high-security Mexican prisons and what prosecutors have described as a history of intimidating witnesses.
Prosecutors said in Tuesday's motion that some people, whose names were redacted, "appear to have used cellular telephones in concert with an attorney visit to the defendant following two trial days last week to facilitate unauthorized and, under the SAMs, impermissible contact between the defendant and Ms. Coronel."
Security is so stringent that Guzman was not even allowed a brief hug with Coronel at the outset of the trial.
Cogan said on Monday that Coronel had been seen using a cell phone in the courthouse, which is not allowed under court rules. In a private sidebar conference that afternoon, one of Guzman's lawyers told the judge that Coronel had been using Google Translate on a cell phone last week to understand the proceedings, because the headset she normally used to listen to an interpreter was not working.
Cogan accepted what he called the "innocuous explanation," and prosecutors did not raise any further concerns, according to a transcript of the conference.
However, prosecutors said in Tuesday's motion that their new claims were based on a review of footage from multiple courthouse surveillance cameras. Details about what that footage showed were redacted.
In the trial, expected to last up to four months, prosecutors are seeking to prove that Guzman sent massive shipments of cocaine, heroin, marijuana and methamphetamine into the United States as leader of Mexico's Sinaloa Cartel.
Guzman's lawyers have said they would prove their client was framed by another drug lord, Ismael "El Mayo" Zambada, and the government officials he had allegedly bribed.
(Reporting By Brendan Pierson in New York; Editing by Bernadette Baum)
This story has not been edited by Firstpost staff and is generated by auto-feed.
World
Reports suggest that they captured President Alpha Conde and dissolved the government, bust the ground situation remains unclear
News & Analysis
NEW YORK (Reuters) -The price of cryptocurrencies plunged and crypto trading was delayed on Tuesday, a day in which El Salvador ran into snags as the first country to adopt bitcoin as legal tender. Shares of blockchain-related firms also fell as crypto stocks were hit by trading platform outages. But the major focus was on El Salvador, where the government had to temporarily unplug a digital wallet to cope with demand.
News & Analysis
By Joseph White and Sanjana Shivdas (Reuters) -The head of Apple Inc's car project, Doug Field, is going to work for Ford Motor Co to lead the automaker's advanced technology and embedded systems efforts, a hiring coup for Ford Chief Executive Jim Farley.