U.S. promises action on any North Korea missile test: White House
By Doina Chiacu WASHINGTON (Reuters) - The United States would be very disappointed if North Korea tested a long-range or nuclear missile and would take appropriate action as a leading military and economic power, White House national security adviser Robert O'Brien said on Sunday. Washington has many 'tools in its tool kit' to respond to any such test, O'Brien said in an interview with ABC's 'This Week.' 'We'll reserve judgment but the United States will take action as we do in these situations,' he said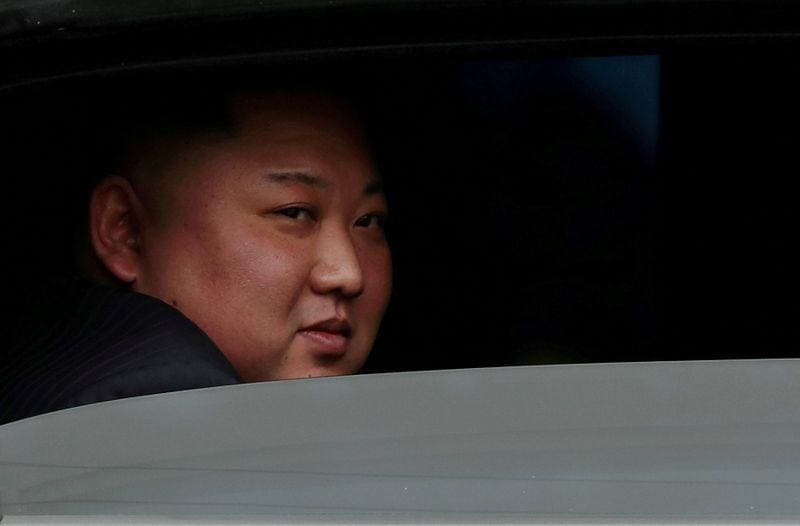 By Doina Chiacu
WASHINGTON (Reuters) - The United States would be very disappointed if North Korea tested a long-range or nuclear missile and would take appropriate action as a leading military and economic power, White House national security adviser Robert O'Brien said on Sunday.
Washington has many "tools in its tool kit" to respond to any such test, O'Brien said in an interview with ABC's "This Week."
"We'll reserve judgment but the United States will take action as we do in these situations," he said. "If Kim Jong Un takes that approach we'll be extraordinarily disappointed and we'll demonstrate that disappointment."
North Korea has asked Washington to offer a new initiative to iron out differences over Pyongyang's nuclear weapons program. It warned Washington this month that failure to meet its expectations could result in an unwanted "Christmas gift."
U.S. military commanders have said the North Korean move could involve the testing of a long-range missile - something North Korea has suspended, along with nuclear bomb tests, since 2017.
O'Brien said the United States and North Korea had open channels of communication but did not elaborate. He said Washington hoped North Korean leader Kim Jong Un would live up to his commitments to denuclearize the Korean Peninsula.
The United States was still the leading military power in the world and had tremendous economic power, said O'Brien. "There's a lot of pressure that we can bring to bear," he said.
North Korea threatened a Christmas surprise, despite the fact that Trump and Kim have engaged in personal diplomacy over the years and have a good personal relationship, O'Brien said.
"So perhaps he's reconsidered that," O'Brien added. "But we will have to wait and see. We're going to monitor it closely. It's a situation that concerns us, of course."
Kim convened a meeting of top ruling party officials on Saturday to discuss important policy matters ahead of the year-end deadline set by Kim for the United States, the state news agency said on Sunday.
Senator Ben Cardin, a Democrat on the U.S. Senate Foreign Relations Committee, said meetings between the two leaders have produced "very little" on denuclearization.
"So what I want to see, I want to see is the leader of North Korea, Kim Jong Un, make a full declaration of his nuclear weapons program and make a real commitment to start to dismantle that," he said. "We haven't seen any of that during the Trump administration."
(Reporting by Doina Chiacu; Additional reporting by Lindsay Dunsmuir; Editing by Rosalba O'Brien and Tom Brown)
This story has not been edited by Firstpost staff and is generated by auto-feed.
Find latest and upcoming tech gadgets online on Tech2 Gadgets. Get technology news, gadgets reviews & ratings. Popular gadgets including laptop, tablet and mobile specifications, features, prices, comparison.
Business
By John McCrank and Anirban Sen (Reuters) -The New York Stock Exchange said on Wednesday it will delist three Chinese telecom companies, confirming its latest reversal on the matter a day after U.S. Treasury Secretary Steve Mnuchin told the NYSE chief he disagreed with an earlier decision to reverse the delistings
Business
(Reuters) - Deal making among oil and gas producers was at its highest for the year in the fourth quarter of 2020 as the pandemic-driven fallout in commodity prices spurred a wave of consolidation between explorers looking to scale up and drive down costs, a report from analytics firm Enverus said. Oil and gas producers made deals worth $27.1 billion in the quarter, up from $21 billion in the third, helped by three multi-billion dollar acquisitions in the prolific Permian basin of West Texas and New Mexico. ConocoPhillips acquired Concho Resources for $13.3 billion, the biggest pure shale acquisition by any company since 2011, topping the list.
Business
By Ritvik Carvalho, Wayne Cole and David Randall NEW YORK/LONDON/SYDNEY (Reuters) - The growing chances of Democratic wins in two pivotal U.S. Senate contests triggered financial market moves Wednesday that mirror hopes of more COVID-19-related stimulus and increased regulatory scrutiny of tech companies