U.S. not pursuing regime change, collapse in Iran - Mattis
By Phil Stewart WASHINGTON (Reuters) - The United States has not instituted a policy of regime change or collapse in Iran, U.S. Defense Secretary Jim Mattis said on Friday, saying the goal was still to curb what Washington sees as Iran's threatening behavior in the Middle East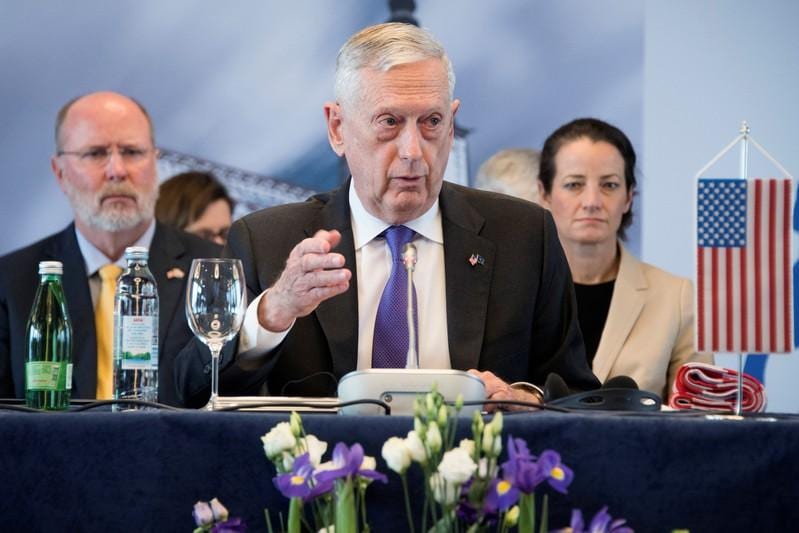 By Phil Stewart
WASHINGTON (Reuters) - The United States has not instituted a policy of regime change or collapse in Iran, U.S. Defense Secretary Jim Mattis said on Friday, saying the goal was still to curb what Washington sees as Iran's threatening behavior in the Middle East.
Mattis made his comments after days of back-and-forth bellicose rhetoric between Iranian and U.S. officials, with President Donald Trump promising dire consequences for Iran if it continues to make threats toward the United States.
Asked at the Pentagon whether the Trump administration had instituted a policy of regime change or collapse toward Iran, Mattis said, "There's none that's been instituted."
"We need them to change their behavior on a number of threats that they can pose with their military, with their secret services, with their surrogates and with their proxies," Mattis told reporters during an off-camera briefing.
Mattis' remarks were the most detailed by a senior administration official about U.S. policy toward Iran following high-level discussions at the White House on Thursday that included the topic of Iran.
Since Trump's decision in May to withdraw the United States from a 2015 nuclear agreement between Iran and world powers, Tehran's clerical establishment has been under increasing U.S. pressure and the prospect of possible sanctions.
As the tensions simmered, an Australian media report appeared to suggest military action was imminent, saying Australian officials believed Washington was prepared to bomb Iran's nuclear capability as early as next month.
Mattis on Friday dismissed the report as "fiction."
"I'm confident that it's not something that's being considered right now," Mattis told reporters, speaking at an on-camera event earlier in the day.
Washington aims to force Tehran to end its nuclear program and its support of militant groups in the Middle East, where Iran is involved in proxy wars from Yemen to Syria.
While the United States is pushing countries to cut all imports of Iranian oil beginning in November, Iran has warned of counter-measures and has threatened to block Gulf oil exports if its own exports are halted.
The week of heated rhetoric between Washington and Tehran that was kicked off by a warning from Iran's President Hassan Rouhani on Sunday that hostile U.S. policies could lead to "the mother of all wars."
On Sunday night, Trump said in a Twitter posting written in all capital letters directed at Rouhani: "Never, ever threaten the United States again or you will suffer consequences the likes of which few throughout history have ever suffered before. We are no longer a country that will stand for your demented words of violence & death. Be cautious!"
The harsh words evoked memories of Trump's warnings to North Korean leader Kim Jong Un last year over his nuclear weapons program, which raised fears of a major conflict. Those concerns have eased following a June summit between Trump and Kim.
Still, analysts warn that Iran is a far different challenge, and that stiff U.S. rhetoric could harden Iranian resolve.
Iran's Guards commanders have threatened to destroy U.S. military bases across the Middle East and target Israel, which Iran refuses to recognize, within minutes of being attacked.
On Thursday, Major-General Qassem Soleimani, who heads the Quds Force of Iran's elite Revolutionary Guards, warned Trump, "We are near you, where you can't even imagine."
(Reporting by Phil Stewart; Editing by Will Dunham)
This story has not been edited by Firstpost staff and is generated by auto-feed.
Find latest and upcoming tech gadgets online on Tech2 Gadgets. Get technology news, gadgets reviews & ratings. Popular gadgets including laptop, tablet and mobile specifications, features, prices, comparison.
Business
By Jessica Resnick-Ault NEW YORK (Reuters) - Oil prices strengthened on Wednesday, as OPEC and its allies were seen complying with a pact to cut oil supply in September, even as concerns loomed that recovery in fuel demand will be stalled by soaring global coronavirus cases. Early in the day crude was boosted by a bullish stock market. Even as equities whipsawed on pandemic worries, oil stayed higher, buoyed by expectations that OPEC could staunch a supply glut
Business
By Tina Bellon and C Nivedita (Reuters) - Tesla Inc will further cut the price of its Model S "Long Range" sedan in the United States to $69,420, the electric carmaker's chief executive, Elon Musk, announced in a tweet https://bit.ly/2H0JCP0 on Wednesday. The anticipated drop marks the second time this week Tesla has cut the price for the high-end sedan, following a 4% cut of the Model S's price in the United States on Tuesday to $71,990.
World
By Jeff Mason DES MOINES, Iowa (Reuters) - Under siege over his handling of the novel coronavirus pandemic, President Donald Trump on Wednesday cited what he said was his son's mild bout of the virus as a reason why American schools should reopen as soon as possible. Trump made the comment about his son, Barron, as the president swept into Iowa on a mission to shore up support in battleground states that he won in 2016 but is in danger of losing to Democrat Joe Biden barely three weeks before the election. First lady Melania Trump announced in a statement earlier in the day that the virus that struck both her and her husband had also infected their 14-year-old son