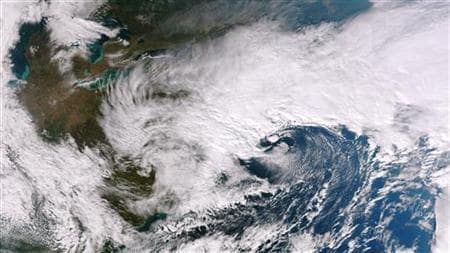 NEW YORK (Reuters) - New York City and much of the U.S. Northeast on Thursday dug out from a snowstorm that hammered a region still struggling to recover from the devastation of Superstorm Sandy, as local governments expanded gasoline rationing in the face of shortages that may last for weeks.
The unseasonably early winter storm dumped more than a foot (30 cm) of snow on parts of Connecticut on Wednesday and slapped the region with 50 mph (80 kph) winds, plunging 300,000 homes and businesses back into darkness.
Bitter cold, rain, snow and powerful winds added to the misery of disaster victims whose homes were destroyed or power was knocked out by Sandy, which smashed ashore on October 29 and caused widespread flooding, leading up to as much as $50 billion in economic losses.
The snowstorm created another commuting nightmare for a region whose transportation system was already under repair because of the hurricane. New York City Mayor Michael Bloomberg said the city would begin an indefinite program of gas rationing Thursday, modeled on one New Jersey implemented last week.
"It now appears there will be shortages for possibly another couple weeks," Bloomberg said, later adding "if you think about it, it's not any great imposition once you get used to it."
Neighboring counties would implement a similar program, he said, in an effort to cut down lines that ran for hours at local filling stations following Sandy. The city's iconic yellow taxis are exempt from the new regulation, which allows drivers to fill up on alternating days depending on their license plate number.
OUTRAGE GROWS
New Yorkers, never known for holding their tongues, let their exasperation with the bad weather show.
"God hates us!" the New York Post said in a front-page headline. Some 3 to 6 inches (8 to 15 cm) of snow fell on the city, which enjoyed dry, sunny weather on Thursday.
Residents at Waterside Plaza, an apartment complex built over the East River on the Manhattan shore, had their power restored on Wednesday - temporarily, anyway.
"Then the power went and failed one more time, then came back again, then failed in the evening, then came back again, then failed again this morning and hasn't come back," said Josh Bright, a 39-year-old photojournalist, as he climbed the stairs to his apartment on the 26th floor to feed his cats.
Sandy's death toll in the United States and Canada reached 121 after New York authorities on Wednesday reported another death linked to the storm in the hard-hit coastal neighborhood of the Rockaways, a barrier island facing the Atlantic Ocean.
"Can you believe this? Enough is enough," said Cindy Casey, whose Belle Harbor home one block from the beach in the Rockaways was swamped by Sandy, as she looked out at the snow blanketing the neighborhood devastated by flooding and fire.
Sandy surrounded Casey's home with six feet (two metres) of water and sparked a fire that destroyed at least 20 houses in the neighborhood before stopping short of her own.
"I said, 'I'm going to die,'" said Casey, who does not know how to swim but vows to learn. "It was non-stop. I just felt hopeless. There was nothing I could do. ... At least I still have a house."
The storms have also battered New Jersey's shore, a summer tourist haven where hundreds of beach-front homes were destroyed by Sandy's record storm surge.
"I thought I was lucky when power was restored last Thursday, but last night it went out again," said Michael Platt, 49, an electrician from Toms River, New Jersey, who estimated a foot of snow fell in his area. "The kids have been home for nearly two weeks and I'm not working, and when I'm not working I'm not making any money. This hasn't been easy."
'ENOUGH IS ENOUGH'
New York City on Friday will open a vehicle tunnel linking midtown Manhattan to Queens, which would restore all of Manhattan's bridges and tunnels except for the tunnel linking lower Manhattan to Brooklyn.
All of the region's major airports experienced canceled flights and delays on Wednesday from the storm. Four companies told the United States they intended to take advantage of a rare waiver allowing them to use foreign-flagged ships to transport oil products to the storm-hit region.
New York Governor Andrew Cuomo, who said estimates put the damage and economic loss for the region at $50 billion (including $33 billion in New York state), turned his ire on the power utilities, which he said had failed consumers by taking so long to restore electricity.
Some 715,000 homes and businesses in the region were without power, a net increase of nearly 43,000 from Wednesday night after the nor'easter knocked it out to more customers following those who had lost it from Sandy, the U.S. Energy Department said.
The storm damage exposed deep flaws in the structure and regulation of power utilities that will require a complete redesign, said Cuomo, who oversees the state-controlled utilities and appoints the members of the Public Service Commission, which regulates investor-owned utilities such as Consolidated Edison (ED.N).
"This is a 1950s system with these utilities that are regulated by the state theoretically. But they are bureaucracies that are in many ways a monopoly," said Cuomo, frequently mentioned as a possible presidential aspirant in 2016.
"It is nameless, faceless bureaucracy that is a monopoly that operates with very little incentive or sanction. ... They have failed the consumers."
(Additional reporting by Philip Barbara; Writing by Dan Trotta and Ben Berkowitz; Editing by Vicki Allen and Jackie Frank)
Updated Date: Nov 09, 2012 03:45 AM