U.S. lawmakers to quiz Trump-Russia probe overseer Rosenstein
WASHINGTON (Reuters) - Republican lawmakers will next week question Rod Rosenstein, the U.S. Justice Department official who oversees a special counsel's investigation of Russian interference in the 2016 election and links between President Donald Trump's campaign and Moscow, committee chairmen said on Thursday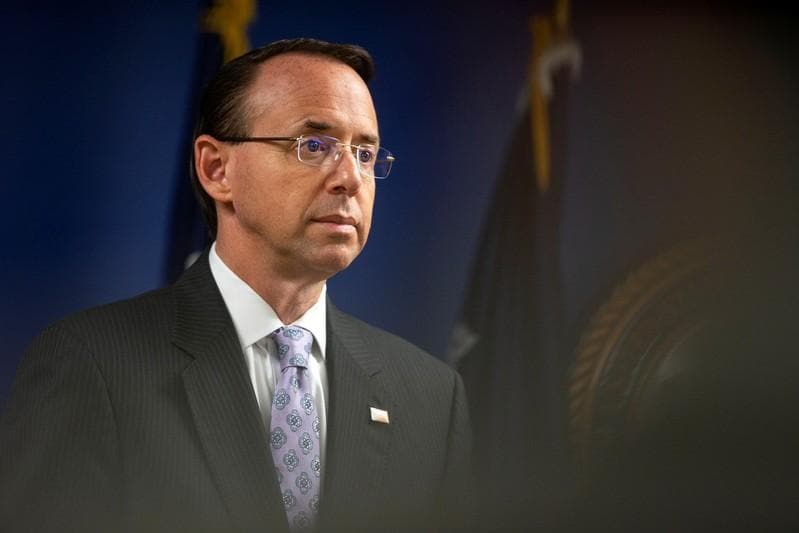 WASHINGTON (Reuters) - Republican lawmakers will next week question Rod Rosenstein, the U.S. Justice Department official who oversees a special counsel's investigation of Russian interference in the 2016 election and links between President Donald Trump's campaign and Moscow, committee chairmen said on Thursday.
The Republican chairmen of two U.S. House of Representatives panels have accused the Justice Department of withholding documents in the probe.
They have also wanted to interview Rosenstein, the deputy attorney general and No. 2 official at the Justice Department, about a New York Times report in September that he had discussed the idea of wearing a wire to record Trump and impeaching the president under a constitutional amendment.
Rosenstein said the report was inaccurate. The report led to speculation Trump would fire Rosenstein, but Trump, a Republican, said last week he had no plans to replace Rosenstein.
House Judiciary Committee Chairman Bob Goodlatte and House Oversight Committee Chairman Trey Gowdy said in a statement that Rosenstein would sit for the closed-door interview on Oct. 24.
Rosenstein appointed Special Counsel Robert Mueller to lead the Russia probe after Trump fired Federal Bureau of Investigation Director James Comey in May 2017.
For months now, Republicans have issued subpoenas and sought documents in connection with the investigation. Republicans say the FBI made missteps when it applied to a special court for a warrant to conduct surveillance on former Trump campaign adviser Carter Page and questioned the FBI's use of a confidential informant who reached out to several Trump campaign officials.
In addition to Goodlatte and Gowdy, the top Democrats on the Oversight and Judiciary panels, Representatives Elijah Cummings and Jerry Nadler, respectively, will also attend the interview.
The statement from Goodlatte and Gowdy said a transcript of the interview, which will be conducted under oath, would be publicly released after being reviewed by U.S. intelligence agencies.
Russia has denied interfering in the election and Trump denies any collusion, frequently describing the Mueller investigation as a political witch hunt.
(Reporting by Eric Beech; editing by Grant McCool)
This story has not been edited by Firstpost staff and is generated by auto-feed.
Find latest and upcoming tech gadgets online on Tech2 Gadgets. Get technology news, gadgets reviews & ratings. Popular gadgets including laptop, tablet and mobile specifications, features, prices, comparison.
Business
By Howard Schneider WASHINGTON (Reuters) - A rebounding stock market and massive federal aid payments pushed the net worth of U.S. households back to pre-coronavirus levels in the second quarter, the Federal Reserve reported on Monday, with savings accounts and equity portfolios both rising sharply despite the pandemic
Business
By Rodrigo Campos NEW YORK (Reuters) - Stocks across the world hit their lowest in seven weeks and other risk assets sold off on Monday on concerns over renewed lockdown measures in Europe and Britain, as well as the United States' inability to agree on fiscal stimulus that would support millions of unemployed. Oil prices fell nearly 5%, the dollar rallied and an index of emerging market currencies fell by the most in six months. The MSCI world equity index , which tracks shares in 49 countries, touched its lowest since Aug.
Business
By Rodrigo Campos NEW YORK (Reuters) - Stocks across the world hit their lowest in seven weeks and other risk assets also sold off on Monday on concerns over renewed lockdown measures in Europe and Britain, as well as the United States' inability to agree on fiscal stimulus that would support millions of unemployed. Oil prices fell more than 3%, the dollar rose against a basket of peers and an index of emerging market currencies fell by the most in six months. The MSCI world equity index , which tracks shares in 49 countries, ended at its lowest since Aug