U.S. lawmakers confer with intelligence officials on FBI Russia probe
By Sarah N. Lynch and Mark Hosenball WASHINGTON (Reuters) - Senior U.S. lawmakers attended classified briefings on Thursday on the FBI's probe of Russian meddling in the 2016 presidential election after President Donald Trump made unsubstantiated claims about a 'spy' being used against his campaign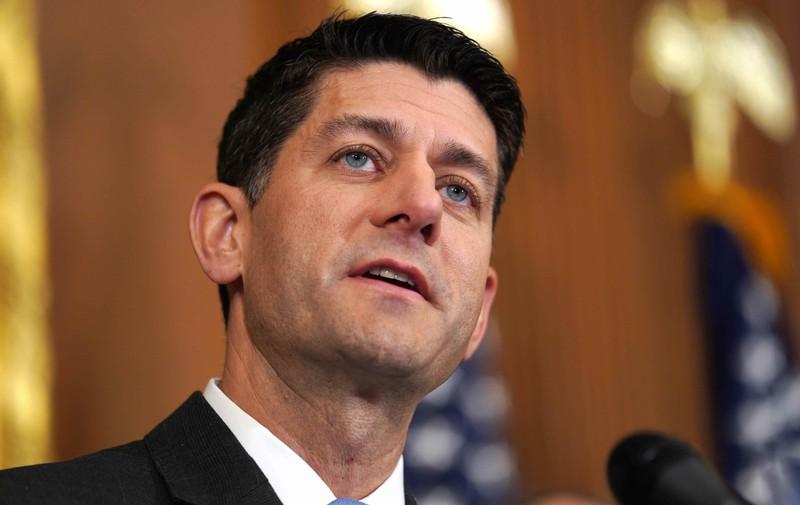 By Sarah N. Lynch and Mark Hosenball
WASHINGTON (Reuters) - Senior U.S. lawmakers attended classified briefings on Thursday on the FBI's probe of Russian meddling in the 2016 presidential election after President Donald Trump made unsubstantiated claims about a "spy" being used against his campaign.
An afternoon briefing on Capitol Hill followed an earlier session at the Justice Department, which did not provide details of what was discussed. Republican House of Representatives Speaker Paul Ryan was spotted entering the Justice Department for the session, as well as two Republican committee chairmen.
White House Chief of Staff John Kelly and lawyer Emmet Flood, who recently joined Trump's legal team, were also seen entering, as was Adam Schiff, the top Democrat on the House Intelligence Committee. Initial plans had called for a classified briefing with no Democrats present.
White House spokeswoman Sarah Sanders said Kelly and Flood made brief remarks to those attending the meetings but departed before the sessions officially started.
The second briefing was scheduled for Republican and Democratic leaders from the Senate and House, known as the Gang of Eight, to attend, a Justice Department spokeswoman said.
The briefings were convened to allow lawmakers to review classified information relating to Trump's unsubstantiated suggestion that the FBI under Democratic former President Barack Obama's administration "implanted" a spy for "political purposes" into his 2016 presidential campaign to help his Democratic rival Hillary Clinton.
The Republican president's claims about a "spy" followed media reports that the FBI sent an informant, an American academic who teaches in Britain, to talk to Trump campaign advisers after the agency had received evidence that the aides had suspicious contacts with Russia. The use of informants is commonplace in counterintelligence and criminal investigations.
The FBI at the time was investigating whether anyone in Trump's campaign worked with Russia to help tip the election in Trump's favour. Mueller was named by the Justice Department to take over that probe in May 2017 after Trump fired FBI Director James Comey.
As Mueller has pressed ahead with his investigation, Trump has lashed out repeatedly at the FBI, Justice Department and special counsel and has sought to discredit the Russia probe, calling it a "witch hunt."
Thursday's classified briefings stemmed from efforts by Trump's allies to focus attention on his persistent complaints about methods used by the FBI in the probe.
UNDER PRESSURE
Trump has come under mounting pressure during the Mueller investigation, which has already led to criminal charges against former Trump campaign aides, including former campaign chairman Paul Manafort, as well as Russian individuals and entities accused of carrying out a propaganda and hacking effort to help Trump win.
Mueller also is looking into whether Trump unlawfully sought to obstruct the Russia investigation.
FBI Director Christopher Wray, Director of National Intelligence Dan Coats and Deputy Attorney General Rod Rosenstein are attending both meetings, along with Kelly, according to the Justice Department.
Trump has referred to the matter as "Spygate," aiming to portray it as a scandal. "I hope it's not true. But it looks like it is," Trump said on Wednesday.
His closest conservative allies in Congress have been clamouring for access to classified documents on the FBI's probe and have accused the FBI and Justice Department of political bias against Trump in favour of Clinton.
Jerrold Nadler, the top Democrat on the House Judiciary Committee, said the leaking of the name of the confidential FBI informant who reached out to some of Trump's campaign associates was "reckless, stupid and dangerous."
A congressional source familiar with the matter told Reuters that leaders of the intelligence committees received a previous briefing about the FBI's decision to ask the Britain-based American academic to make contact with Trump's campaign.
Those contacts produced little information to confirm allegations of possible collusion with Russia, the source said.
(Reporting by Sarah N. Lynch; Additional reporting by Mark Hosenball and Doina Chiacu; Editing by Bernadette Baum and Will Dunham)
This story has not been edited by Firstpost staff and is generated by auto-feed.