U.S. judge rejects claim lawyer arranged contact between 'El Chapo,' wife
By Brendan Pierson (Reuters) - The judge presiding over the U.S. trial of Joaquin 'El Chapo' Guzman on Thursday rejected an accusation by prosecutors that one of Guzman's lawyers had facilitated unauthorised contact between the accused Mexican drug lord and his wife, Emma Coronel. Prosecutors made the claim in a filing late last month after a court security officer saw Coronel using a cell phone in the Brooklyn courtroom where her husband is on trial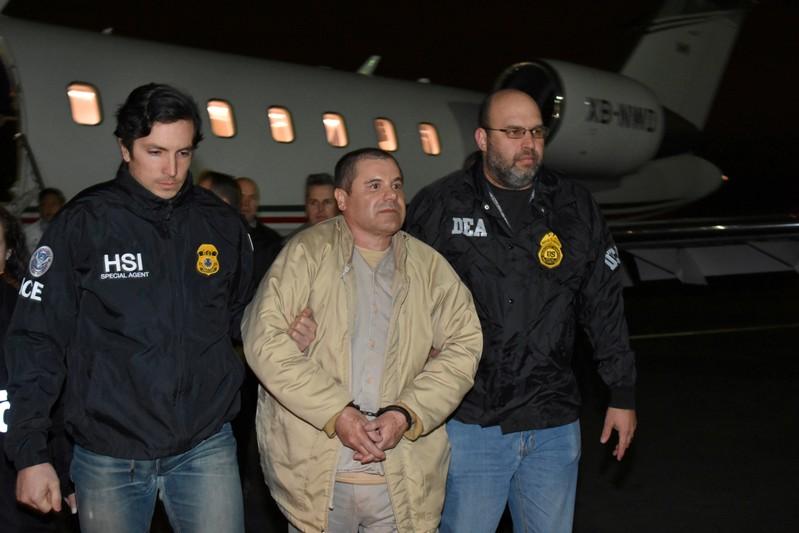 By Brendan Pierson
(Reuters) - The judge presiding over the U.S. trial of Joaquin "El Chapo" Guzman on Thursday rejected an accusation by prosecutors that one of Guzman's lawyers had facilitated unauthorised contact between the accused Mexican drug lord and his wife, Emma Coronel.
Prosecutors made the claim in a filing late last month after a court security officer saw Coronel using a cell phone in the Brooklyn courtroom where her husband is on trial. Only lawyers are allowed cell phones in the courtroom.
Because the filing was heavily redacted, it was not clear at the time which lawyer the prosecutors were accusing, or what evidence they had.
U.S. District Judge Brian Cogan revealed in an order on Thursday that prosecutors believed lawyer Mariel Colon had given the phone to Coronel so she could communicate with Guzman. They pointed to court security footage showing Coronel talking on a cell phone in the courthouse while Colon was alone with Guzman in the defence team's conference room, and the two women leaving the courthouse together soon after, according to Cogan's order.
Special security measures bar Guzman, who twice escaped from prison in Mexico, from communicating with his wife. The measures are so strict that he was not even allowed a brief hug at the beginning of the trial.
Cogan said the footage was "more consistent with a coincidence than with a scheme by defence counsel." Nonetheless, he said he believed Colon had given Coronel a phone, in violation of court rules, and barred Colon from bringing a phone into the courthouse in the future.
Colon declined to comment.
The order comes near the end of the sixth week of the trial, which is expected to last up to four months. Jurors have already heard days of testimony from former associates of Guzman who are now cooperating with the prosecutors.
The often dramatic testimony has included stories of multi-ton drug shipments by air, sea and through tunnels, deadly wars between rival cartels and brazen corruption of Mexican public officials.
Guzman was extradited to the United States in January 2017 on charges of trafficking massive quantities of cocaine and other drugs into the United States as leader of the Sinaloa Cartel. His lawyers have said he was set up as a scapegoat by another drug lord, Ismael "El Mayo" Zambada, who also faces U.S. charges but remains at large.
(Reporting By Brendan Pierson in New York; Editing by Tom Brown)
This story has not been edited by Firstpost staff and is generated by auto-feed.
Find latest and upcoming tech gadgets online on Tech2 Gadgets. Get technology news, gadgets reviews & ratings. Popular gadgets including laptop, tablet and mobile specifications, features, prices, comparison.
Business
By Jessica Resnick-Ault NEW YORK (Reuters) - Oil prices strengthened on Wednesday, as OPEC and its allies were seen complying with a pact to cut oil supply in September, even as concerns loomed that recovery in fuel demand will be stalled by soaring global coronavirus cases. Early in the day crude was boosted by a bullish stock market. Even as equities whipsawed on pandemic worries, oil stayed higher, buoyed by expectations that OPEC could staunch a supply glut
Business
By Tina Bellon and C Nivedita (Reuters) - Tesla Inc will further cut the price of its Model S "Long Range" sedan in the United States to $69,420, the electric carmaker's chief executive, Elon Musk, announced in a tweet https://bit.ly/2H0JCP0 on Wednesday. The anticipated drop marks the second time this week Tesla has cut the price for the high-end sedan, following a 4% cut of the Model S's price in the United States on Tuesday to $71,990.
World
By Jeff Mason DES MOINES, Iowa (Reuters) - Under siege over his handling of the novel coronavirus pandemic, President Donald Trump on Wednesday cited what he said was his son's mild bout of the virus as a reason why American schools should reopen as soon as possible. Trump made the comment about his son, Barron, as the president swept into Iowa on a mission to shore up support in battleground states that he won in 2016 but is in danger of losing to Democrat Joe Biden barely three weeks before the election. First lady Melania Trump announced in a statement earlier in the day that the virus that struck both her and her husband had also infected their 14-year-old son