U.S. judge orders accused Russian agent jailed pending trial
By Sarah N. Lynch WASHINGTON (Reuters) - A judge on Wednesday ordered an accused Russian agent jailed until her trial after U.S.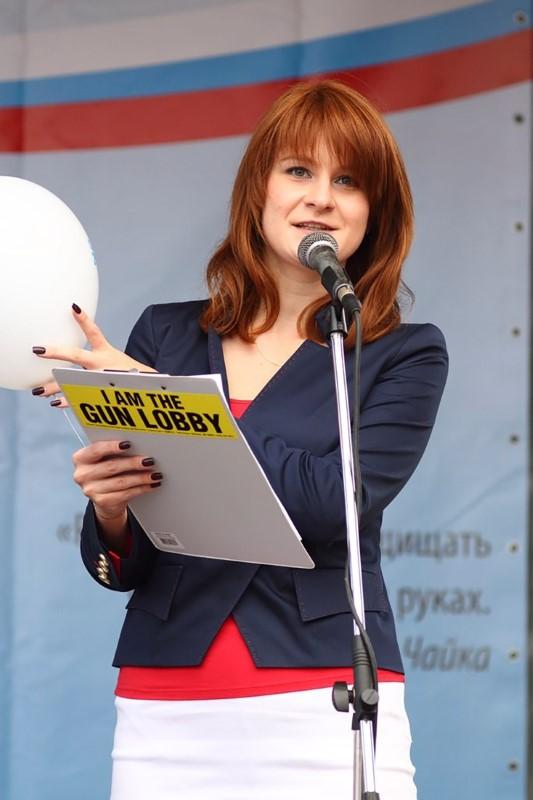 By Sarah N. Lynch
WASHINGTON (Reuters) - A judge on Wednesday ordered an accused Russian agent jailed until her trial after U.S. prosecutors argued she has ties to Russian intelligence and could flee the United States.
Prosecutors have not charged the agent they identified as Maria Butina with espionage, but said she had been in contact with Russian intelligence operatives and kept contact information for several Russian agents.
During a preliminary hearing in the U.S. District Court for the District of Columbia, the lead prosecutor in the case showed a photo of Butina in a Washington restaurant meeting with someone whom they believe is a Russian intelligence agent.
The 29-year-old former American University graduate student wore an orange prison jumpsuit in court and showed no emotion as her lawyer entered a not-guilty plea. Butina's next court appearance was scheduled for July 24.
The government also displayed a copy of a handwritten note uncovered by the FBI at Butina's apartment asking how to respond to an employment offer from a Russian intelligence agency, as well as a photo of her standing in front of the U.S. Capitol on the day Donald Trump was sworn in as president 18 months ago.
"We do not believe she was here ... just to attend American University," said Erik Michael Kenerson, the lead prosecutor, adding that Butina was engaged in a "covert influence campaign."
The case coincides with an investigation by U.S. Special Counsel Robert Mueller into whether members of Trump's 2016 election campaign coordinated with Russian officials. Butina's case, however, is being handled by the U.S. Attorney's Office and the National Security Division of the Justice Department.
Moscow denies U.S. allegations it interfered in the election and Trump denies any campaign collusion.
Butina's attorney, Robert Driscoll, said she is not a Russian agent and poses no flight risk. She was arrested on Sunday without warning.
In a statement to reporters after the hearing, Driscoll declared his client is innocent.
"While we respect the court, we strongly disagree that there were no conditions of release short of incarceration to detain an innocent student before trial," he said.
Butina has been accused of working with a high-powered Russian official and two unidentified U.S. citizens, trying to infiltrate a pro-gun rights organisation in the United States and influence the United States' foreign policy toward Russia.
The gun rights group was not identified. However, her social media accounts show she attended many National Rifle Association events and met with top officials of the lobbying group.
The unidentified Russian official appears to match the description of Alexander Torshin, a deputy governor of Russia's central bank who was sanctioned by the U.S. Treasury Department in April. The central bank has declined comment on the case.
Russia's Foreign Ministry said there were no grounds for Butina's arrest and that its embassy in Washington has requested a meeting with her.
Meanwhile, one of the two U.S. citizens, identified in court records as "U.S. Person 1," is facing a separate criminal fraud investigation by federal prosecutors in South Dakota, Kenerson said at Wednesday's hearing.
The description of "U.S. Person 1" in the hearing and in court records appear to match that of 56-year-old Paul Erickson, a conservative political activist who lives in South Dakota. He appears in photos with Butina on social media and started a corporation with Butina in 2016 called Bridges LLC.
In court filings, prosecutors said Butina viewed a relationship with the person as "simply a necessary aspect of her activities" and disdained living with him.
Driscoll referred to the South Dakota resident as Butina's boyfriend and said she had planned to move there to be with him, but then she was arrested.
He declined to comment on the separate fraud case, and Erickson has not returned several calls from Reuters for comment.
Driscoll repeatedly argued that Butina is not a flight risk and has cooperated with the government. Earlier this year, he said, she testified voluntarily about her activities during a non public hearing before the U.S. Senate Select Committee on Intelligence.
He also revealed that she had received and responded to an inquiry by the Federal Election Commission in March 2018 concerning donations to a political campaign. He did not elaborate on the details.
(Reporting by Sarah N. Lynch and Tim Ahmann; editing by Jonathan Oatis and Grant McCool)
This story has not been edited by Firstpost staff and is generated by auto-feed.
Find latest and upcoming tech gadgets online on Tech2 Gadgets. Get technology news, gadgets reviews & ratings. Popular gadgets including laptop, tablet and mobile specifications, features, prices, comparison.
Business
By Jessica Resnick-Ault NEW YORK (Reuters) - Oil prices strengthened on Wednesday, as OPEC and its allies were seen complying with a pact to cut oil supply in September, even as concerns loomed that recovery in fuel demand will be stalled by soaring global coronavirus cases. Early in the day crude was boosted by a bullish stock market. Even as equities whipsawed on pandemic worries, oil stayed higher, buoyed by expectations that OPEC could staunch a supply glut
Business
By Tina Bellon and C Nivedita (Reuters) - Tesla Inc will further cut the price of its Model S "Long Range" sedan in the United States to $69,420, the electric carmaker's chief executive, Elon Musk, announced in a tweet https://bit.ly/2H0JCP0 on Wednesday. The anticipated drop marks the second time this week Tesla has cut the price for the high-end sedan, following a 4% cut of the Model S's price in the United States on Tuesday to $71,990.
World
By Jeff Mason DES MOINES, Iowa (Reuters) - Under siege over his handling of the novel coronavirus pandemic, President Donald Trump on Wednesday cited what he said was his son's mild bout of the virus as a reason why American schools should reopen as soon as possible. Trump made the comment about his son, Barron, as the president swept into Iowa on a mission to shore up support in battleground states that he won in 2016 but is in danger of losing to Democrat Joe Biden barely three weeks before the election. First lady Melania Trump announced in a statement earlier in the day that the virus that struck both her and her husband had also infected their 14-year-old son