U.S. intelligence documents on Nelson Mandela made public
By Ed Stoddard JOHANNESBURG (Reuters) - Thousands of pages of U.S. intelligence documents on Nelson Mandela were made public on Wednesday, revealing that Washington continued to monitor the South African anti-apartheid hero as a potential Communist menace even after he was released from prison, a group that sued to obtain the papers said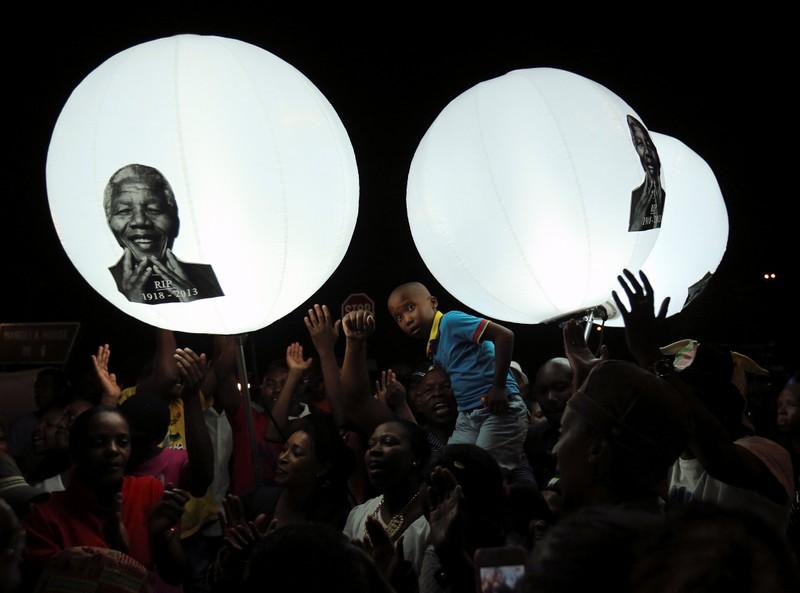 By Ed Stoddard
JOHANNESBURG (Reuters) - Thousands of pages of U.S. intelligence documents on Nelson Mandela were made public on Wednesday, revealing that Washington continued to monitor the South African anti-apartheid hero as a potential Communist menace even after he was released from prison, a group that sued to obtain the papers said.
The Washington-based group Property of the People released the papers to mark the 100th anniversary of Mandela's birth. It said it obtained them after years of litigation.
"The documents reveal that, just as it did in the 1950s and 60s with Martin Luther King Jr and the civil rights movement, the FBI aggressively investigated the U.S. and South African anti-apartheid movements as Communist plots imperilling American security," the group's president Ryan Shapiro said in a statement.
"Worse still, the documents demonstrate the FBI continued its wrong-headed Communist menace investigations of Mandela and the anti-apartheid movement even after U.S. imposition of trade sanctions against apartheid South Africa, after Mandela's globally-celebrated release from prison, and after the fall of the Berlin Wall."
South Africa's first black president, who died in 2013 and remains a global icon for his struggle against apartheid and message of reconciliation after 27 years in prison, was regarded with suspicion by Washington during the Cold War and remained on the U.S. terrorism watchlist until 2008.
Property of the People said its trove included documents from the major U.S. intelligence agencies, the FBI, CIA, DIA and NSA, most of which have never been seen by the public.
"The Mandela Files" can be found on its website https://propertyofthepeople.org.
Mandela's African National Congress (ANC) has been in power since the end of apartheid in 1994 and remains in a governing coalition with the South African Communist Party, which also resisted the white-minority government.
Southern Africa was a key Cold War battleground, as newly independent states in the region such as Angola and Mozambique aligned with Moscow.
Celebrations have been held across South Africa this week to mark Mandela's 100th birthday, including a rousing speech on Tuesday by former U.S. president Barack Obama, who said the world should resist cynicism over the rise of strongmen.
(Editing by Peter Graff)
This story has not been edited by Firstpost staff and is generated by auto-feed.
Find latest and upcoming tech gadgets online on Tech2 Gadgets. Get technology news, gadgets reviews & ratings. Popular gadgets including laptop, tablet and mobile specifications, features, prices, comparison.
World
By Andy Sullivan (Reuters) - Wednesday night's matchup between Vice President Mike Pence and Democratic challenger Senator Kamala Harris unfolded largely free of the chaos that marred last week's debate between President Donald Trump and former Vice President Joe Biden. Here are a few standout moments from the debate: PACKING THE COURT?
World
WASHINGTON (Reuters) - The United States on Thursday slapped fresh sanctions on Iran's financial sector, targeting 18 Iranian banks in an effort to further shut Iran out of the global banking system as Washington ramps up pressure on Tehran weeks ahead of the U.S. election. In an announcement posted on its website, the U.S
Business
ZURICH (Reuters) - Swiss drugs and diagnostics group Roche is shipping supplies from Germany to help Britain's National Health Service (NHS) fill gaps caused by a logistics glitch at a Roche warehouse in southern England, it said on Thursday. Roche, a main supplier of COVID-19 and other diagnostic tests to the NHS, told UK customers on Wednesday that a switch from an old warehouse to a new automated distribution centre had caused an unforeseen technical issue that hit processing capacity. "We are confident that the plans we have put in place will deliver significant improvements by the weekend to the supply of the tests affected by these logistical issues," Roche said on Thursday, reiterating its timetable from Wednesday.