U.S. in contact with ex-foe Sadr after shock win in Iraq poll - aide
By Michael Georgy and Babak Dehghanpisheh BAGHDAD (Reuters) - The United States has contacted members of a political bloc headed by former foe Moqtada al-Sadr after his parliamentary election victory put the Shi'ite cleric in a strong position to influence the formation of a new government, a top aide said.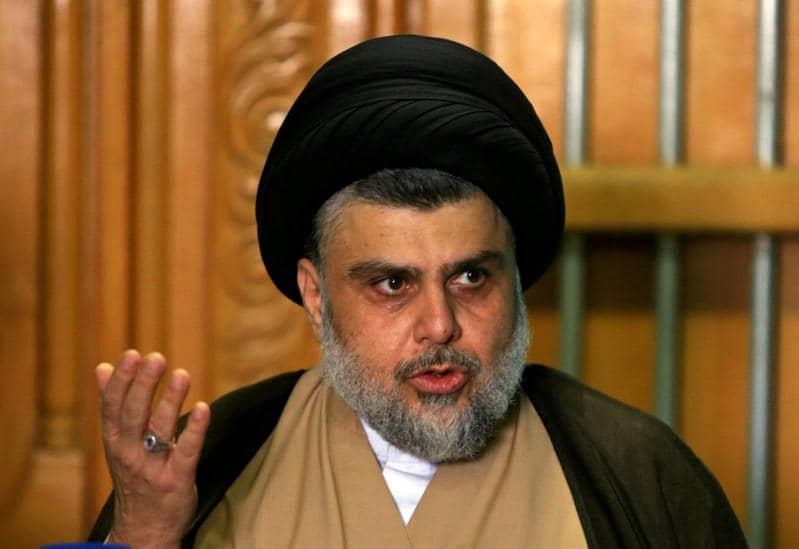 By Michael Georgy and Babak Dehghanpisheh
BAGHDAD (Reuters) - The United States has contacted members of a political bloc headed by former foe Moqtada al-Sadr after his parliamentary election victory put the Shi'ite cleric in a strong position to influence the formation of a new government, a top aide said.
Sadr's surprise win puts Washington in an awkward position. His Mehdi Army militia staged violent uprisings against U.S. troops after Saddam Hussein was toppled in 2003.
If Sadr has a strong say in picking a new prime minister, the United States may have to work with him to safeguard its interests in Iraq, one of its most important Arab allies, which also has close ties to Iran.
Dhiaa al-Asadi, a top Sadr aide, said there had been no direct talks with the Americans but intermediaries had been used to open channels with members of his Sairoon alliance.
"They asked what the position of the Sadrist movement will be when they come to power. Are they going to reinvent or invoke the Mahdi Army or reemploy them? Are they going to attack American forces in Iraq," he told Reuters.
"There's no return to square one. We are not intending on having any military force other than the official military force, police forces and security forces."
The United States is believed to have some 7,000 troops in Iraq now, though the Pentagon has only acknowledged 5,200 troops. They are mostly training and advising Iraqi forces.
Washington and Sadr, an Iraqi nationalist, are both opposed to Iran's deep influence in Iraq, where it arms, trains and funds Shi'ite militias and nurtures close ties with many politicians.
Sadr made his surprise comeback by tapping popular resentment towards Iran and what some voters say is a corrupt political elite in Baghdad that it backs.
IRAN UNDER U.S. PRESSURE
The United States has threatened "the strongest sanctions in history" against Iran unless it makes sweeping changes, including dropping its nuclear programme and pulling out of the Syrian civil war.
That will likely prompt Tehran to defend its interests fiercely in Iraq, where it vies with Washington for influence.
Sairoon extended an invitation to the Iranian ambassador in Baghdad to attend a meeting of senior diplomats last week. The envoy apologised and said he could not make it, said Asadi.
Sadr has been meeting the leaders of several blocs and setting conditions on his support for candidates for prime minister. He says he wants someone who rejects sectarianism, foreign interference and corruption in Iraq.
Sadr will not become premier as he did not run in the election.
His attempts to shape any future government could be undermined by Iran, which has skillfully manipulated Iraqi politics in its favour in the past.
Just days after election results were announced, Qassem Soleimani, head of the foreign operations branch of Iran's Revolutionary Guards, arrived in Baghdad to meet politicians.
"Soleimani came to weaken the blocs. He is working to break down the alliances," said an adviser to Iraq's government.
An Iraqi former senior official said Sadr would try to outfox Iran, but added that Tehran would not tolerate any threats to Shi'ite allies who have sidelined Sadr for years.
"There are limits on how far he can go. At the end they (the Iranians) can control him. They give him a lot of room to manoeuvre... But eventually, when he challenges the Shi'ites and their interests, I think they will be very tough. They (the Iranians) have very many tools to undermine him."
Sadr's bloc has not ruled out forming a coalition with the bloc headed by Iran's strongest ally, paramilitary leader Hadi al-Amiri, as long as he abandons what Asadi says are sectarian policies and becomes an Iraqi nationalist.
"We did not have an official meeting with them (the Iranians). Sometimes we receive some calls that are related to what's going on. But this cannot be considered a meeting or a discussion over any issue," said Asadi.
The election dealt a blow to incumbent Prime Minister Haider al-Abadi, whose Victory Alliance came in third. But Western diplomats and analysts say Abadi, a British-educated engineer, still has cards to play.
He appears to be emerging as a compromise candidate palatable to all sides because he has managed the competing interests of the United States and Iran - inadvertent allies in the war against Islamic State - during his term in office.
"As of yet, no one has yet emerged as an alternative, not in a serious way," said Ali al-Mawlawi, head of research at Baghdad-based Al-Bayan think-tank.
(Additional reporting by Raya Jalabi; Editing by Gareth Jones)
This story has not been edited by Firstpost staff and is generated by auto-feed.
also read
World
COPENHAGEN A South Korean woman wanted for questioning in connection with the scandal that brought down president Park Geun-hye has withdrawn her appeal against extradition from Denmark, the Danish state prosecutor said on Wednesday.
World
By Philip Pullella and Steve Holland | VATICAN CITY VATICAN CITY Pope Francis urged U.S.