U.S. imposes new sanctions on Iran airline over proliferation
By Daphne Psaledakis and Humeyra Pamuk WASHINGTON (Reuters) - The United States on Wednesday imposed new sanctions on Iran's biggest airline and its shipping network, accusing them of transporting lethal aid and weapons of mass destruction proliferation. The new sanctions come just days after a weekend prisoner swap between the historic foes, a rare act of cooperation since tensions escalated after U.S. President Donald Trump withdrew from the 2015 Iran nuclear accord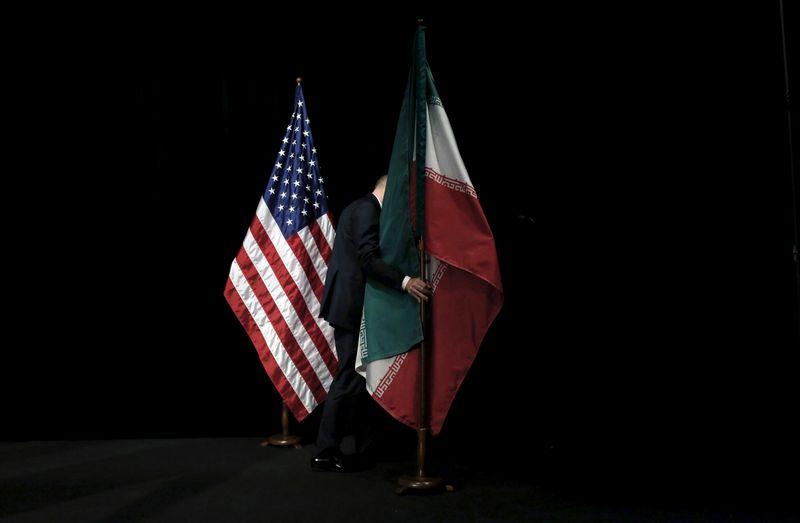 By Daphne Psaledakis and Humeyra Pamuk
WASHINGTON (Reuters) - The United States on Wednesday imposed new sanctions on Iran's biggest airline and its shipping network, accusing them of transporting lethal aid and weapons of mass destruction proliferation.
The new sanctions come just days after a weekend prisoner swap between the historic foes, a rare act of cooperation since tensions escalated after U.S. President Donald Trump withdrew from the 2015 Iran nuclear accord.
The U.S. State Department targeted Shanghai-based ESAIL Shipping Company, which U.S. Secretary of State Mike Pompeo said "knowingly transports illicit materials from Iran's Aerospace Industries Organization, which oversees all of Iran's missile industry" and has worked with Iranian organizations subject to U.N. sanctions.
The sanctions on ESAIL and additional sanctions on Islamic Republic of Iran Shipping Lines will take effect in June 2020.
Also blacklisted was an Iranian shipping network involved in smuggling lethal aid from Iran to Yemen on behalf of the Islamic Revolutionary Guards Corps (IRGC) and its elite foreign paramilitary and espionage arm, the Quds Force.
New sanctions were also imposed on Mahan Air and three of its general sales agents by the State Department and the U.S. Treasury Department over its alleged role in weapons of mass destruction proliferation, expanding on counterterrorism sanctions imposed in 2011 over support it provided to the IRGC forces, Pompeo said.
"These programs involved the siphoning of funds away from the oppressed Iranian people, and they augment the regime's campaign of terror and intimidation at home and throughout the world," Pompeo said.
Iranian U.N. mission spokesman Alireza Miryousefi denounced the new sanctions, saying in a Twitter post that Iranians "are never fooled by the U.S.'s crocodile tears."
"These sanctions are directly targeting ordinary Iranians' livelihood, but they will not be cowed by pressures by any foreign power," Miryousefi said.
In addition to the sanctions on the companies, Pompeo threatened additional sanctions on those who conduct illicit transactions with them.
Despite the latest round of sanctions, Pompeo said he hoped that the prisoner exchange on Saturday might lead to the release of other Americans held in Iran, though he cautioned against false optimism.
"I do hope that the exchange that took place will lead to a broader discussion on consular affairs. We still have Americans held in Iran, too many for sure. We are working to try and develop that, to expand that, to use this as an opportunity to continue that effort," he said.
(Reporting by Daphne Psaledakis and Humeyra Pamuk; Additional reporting by Michelle Nichols at the United Nations; Editing by Jonathan Oatis and Stephen Coates)
This story has not been edited by Firstpost staff and is generated by auto-feed.
Find latest and upcoming tech gadgets online on Tech2 Gadgets. Get technology news, gadgets reviews & ratings. Popular gadgets including laptop, tablet and mobile specifications, features, prices, comparison.
World
By Kate Holton LONDON (Reuters) - The post-Brexit woes facing Scotland's fishing industry deepened on Saturday as its biggest logistics provider, DFDS Scotland, said it would halt exports to the European Union through one of its main services until at least Wednesday. Previously the company had said it would take until Monday to resume its "groupage" export service - which allows exporters to ship multiple products in a single consignment - while it tries to fix IT issues, paperwork errors and a backlog of goods. DFDS's move represents another blow for Scottish fishermen who this week warned that their businesses could become unviable after Britain shifted to a less integrated trade deal with the EU at the turn of the year
World
VATICAN CITY (Reuters) - Pope Francis said on Saturday he planned to be vaccinated against COVID-19 as early as next week and urged everyone to get a shot, to protect not only their own lives but those of others.
World
By Rich McKay (Reuters) - A man photographed carrying off the Speaker's lectern during the Capitol Hill riots was arrested late Friday, while a top Democratic lawmaker on Saturday called on mobile carriers to preserve social media content related to the riots. Dozens of people have been charged following the storming of the Capitol on Wednesday, with the FBI asking the public for help identifying participants, given the proliferation of images of the riots on the internet.