U.S. immigration arrests up nearly 40 percent under Trump | Reuters
By Mica Rosenberg | NEW YORK NEW YORK U.S. arrests of suspected illegal immigrants rose by nearly 40 percent in the first 100 days of Donald Trump's presidency, following executive orders that broadened the scope of who could be targeted for immigration violations, according to government data released on Wednesday.The acting director of Immigration and Customs Enforcement (ICE) Thomas Homan said that arrests by his agency jumped to 41,318 between January 22 of this year and the end of April, up from 30,028 arrests in roughly the same period last year
By Mica Rosenberg
| NEW YORK
NEW YORK U.S. arrests of suspected illegal immigrants rose by nearly 40 percent in the first 100 days of Donald Trump's presidency, following executive orders that broadened the scope of who could be targeted for immigration violations, according to government data released on Wednesday.The acting director of Immigration and Customs Enforcement (ICE) Thomas Homan said that arrests by his agency jumped to 41,318 between January 22 of this year and the end of April, up from 30,028 arrests in roughly the same period last year. Of those arrested almost two-thirds had criminal convictions. But there was also a significant jump - of more than 150 percent - in the number of immigrants not convicted of further crimes arrested by ICE: 10,800 since the beginning of the year compared to 4,200 non-criminal arrests in the same period in 2016.That increase is a result of recent guidance given by Homeland Security Secretary John Kelly to implement Trump's executive orders on interior immigration enforcement and border security signed on Jan. 25, just days after the Republican president took office. "Those that enter the country illegally, they do violate the law, that is a criminal act," Homan said on the call, while emphasizing that immigrants who pose a threat to national security or have criminal records are still a priority for the agency.
He said ICE will continue to target people who have been issued a final order of removal by an immigration judge even if they have not committed another crime."When a federal judge makes a decision and issues an order that order needs to mean something," Homan said. "If we don't take action on those orders, then we are just spinning our wheels."
While President Barack Obama was also criticized for deporting a large number of immigrants, most of them were recent border crossers apprehended entering the country illegally. Deportations under Trump have actually fallen by 12 percent compared to the same period under Obama, Homan said, as more people arrested in the interior typically have more complicated cases that can get slowed down in the backlogged immigration court system. The number of people caught crossing the border with Mexico is down significantly since the begin of the year, according to data from U.S. Customs and Border Protection.
Immigration advocates and some cities with large immigrant populations have raised concerns about the stepped up enforcement in the interior of the country. On Wednesday, state attorneys general from New York, California, Oregon, Rhode Island, Washington state and Washington D.C., issued a report laying out why they have chosen to limit local law enforcement cooperation with federal immigration agents. A section of one of the president's executive orders aimed to cut off federal funding to so-called "sanctuary cities," was been blocked by a federal judge in California. (Reporting by Mica Rosenberg and Julia Edwards Ainsely; Editing by Alistair Bell)
This story has not been edited by Firstpost staff and is generated by auto-feed.
Find latest and upcoming tech gadgets online on Tech2 Gadgets. Get technology news, gadgets reviews & ratings. Popular gadgets including laptop, tablet and mobile specifications, features, prices, comparison.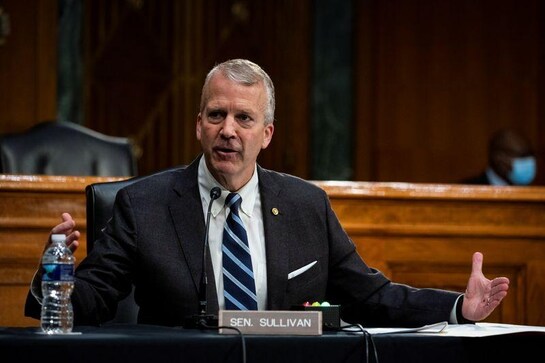 World
By David Morgan WASHINGTON (Reuters) - U.S.
World
LONDON (Reuters) - British Prime Minister Boris Johnson described his phone call with U.S. President-elect Joe Biden as a return to traditional issues in relations between Britain and the United States. "It was a kind of return to the kind of business that we're used to doing together: sticking up for democracy around the world, human rights, free trade, NATO, our joint security, the transatlantic alliance ..
World
By Nvard Hovhannisyan and Nailia Bagirova YEREVAN/BAKU (Reuters) - The fate of Armenia's prime minister hung in the balance on Wednesday after parliament agreed to discuss protesters' demands for his resignation over a ceasefire that secured territorial advances for Azerbaijan in Nagorno-Karabakh.