U.S. House to vote on $25 billion postal infusion, mail-in ballot safeguards
By David Shepardson and David Morgan WASHINGTON (Reuters) - U.S. House of Representatives Democrats unveiled on Wednesday legislation that would require same-day processing for mail-in ballots and give the cash-strapped Postal Service a $25 billion infusion while erasing changes pursued by the agency's new leader, an ally of President Donald Trump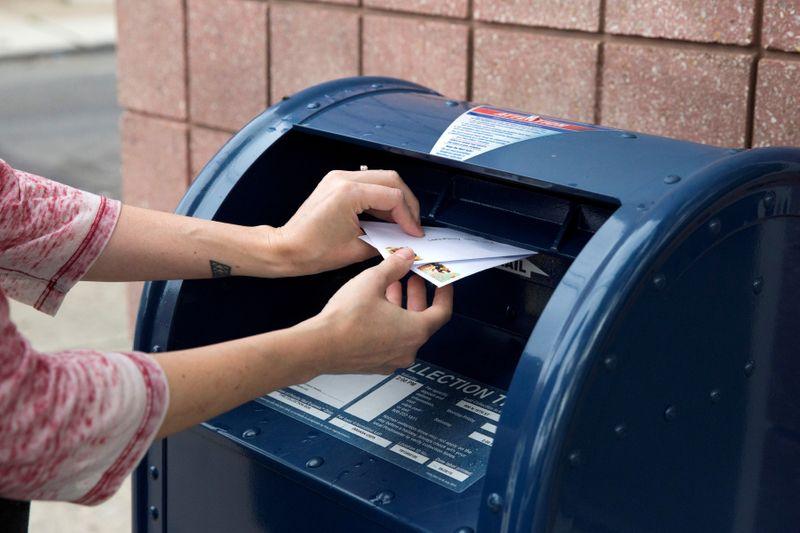 By David Shepardson and David Morgan
WASHINGTON (Reuters) - U.S. House of Representatives Democrats unveiled on Wednesday legislation that would require same-day processing for mail-in ballots and give the cash-strapped Postal Service a $25 billion infusion while erasing changes pursued by the agency's new leader, an ally of President Donald Trump.
The Democratic-led House is scheduled to vote on the legislation on Saturday, though there is little chance for passage in the Republican-led Senate. The bill would prevent the Postal Service from implementing policies to alter service levels that were in effect at the beginning of this year.
Democrats and other critics have accused the Republican president of trying to impair the Postal Service to suppress mail-in voting as he trails Democratic challenger Joe Biden in opinion polls ahead of the Nov. 3 election.
Under intense criticism, Postmaster General Louis DeJoy announced on Tuesday that he would put on hold until after the election cost-cutting moves at the Postal Service that Democratic lawmakers and state attorneys general argued could imperil mail-in voting. DeJoy said he suspended all "operational initiatives" through Election Day to "avoid even the appearance of any impact on election mail."
DeJoy, who has been a major political donor to Trump, assumed the job in June.
The Postal Service long has faced financial woes with the rise of email and social media, losing $80 billion since 2007, including $2.2 billion in the three months ending June 30.
Democrats want DeJoy to explain how he will reverse the changes he has made, including whether he will order the return of sorting machines already removed.
Separately, Senator Chuck Schumer, the top Senate Democrat, asked the Postal Service Board of Governors to release all materials related to the selection of DeJoy and for "additional information" regarding the role of Trump and Treasury Secretary Mnuchin in the search and selection process.
The board in May said it reviewed records of more than 200 candidates before narrowing the list to more than 50. The board then interviewed more than a dozen candidates in first round interviews, and invited seven candidates for follow-up interviews.
Trump has repeatedly and without evidence claimed that mail balloting is vulnerable to fraud. Voting by mail is nothing new in the United States, and Trump himself plans to vote by mail in Florida this year.
White House Chief of Staff Mark Meadows said the White House was not involved in the Postal Service changes. The Treasury Department and the Postal Service did not immediately respond to requests for comment.
(Reporting by David Morgan, Susan Cornwell and David Shepardson; Editing by Will Dunham)
This story has not been edited by Firstpost staff and is generated by auto-feed.
Business
By Pete Schroeder WASHINGTON (Reuters) - JPMorgan Chase & Co will resume making political donations to U.S. lawmakers but will not give to Republican members of Congress who voted to overturn President Joe Biden's election victory, according to an internal memo on Friday seen by Reuters. The bank was among many corporations that paused political giving following the deadly Jan
Business
(Reuters) - Fintech company Square Inc is considering making a hardware wallet for bitcoin, Chief Executive Officer Jack Dorsey said in a tweet https://twitter.com/jack/status/1400839179513339905 on Friday. As bitcoin and other crypto-currencies have gained in popularity, many companies have emerged to serve a growing need to protect these assets from online theft. Bitcoin wallets can be stored offline or online at cryptocurrency exchanges, venues where bitcoin can be bought and sold for traditional currencies or other virtual coins.
Business
By Foo Yun Chee BRUSSELS (Reuters) -The European Commission on Friday defined the scope of revised copyright rules adopted last year following criticism from governments, including France and Poland, but EU broadcasters and internet activists said there was a danger of censorship. The revamped copyright directive, the first overhaul in two decades, aimed to provide fair compensation for the bloc's $1 trillion creative industry and its 11.7 million employees. A central provision, Article 17, backed by the creative industry, would force Google-owned YouTube, Facebook's Instagram and other sharing platforms to install filters to prevent users from uploading copyrighted materials