U.S. House Speaker Pelosi urges Trump family 'intervention' with president
By Richard Cowan and Susan Cornwell WASHINGTON (Reuters) - U.S. House Speaker Nancy Pelosi said on Thursday that President Donald Trump threw a temper tantrum at a meeting with Democratic congressional leaders a day earlier and that she wished his family or staff would conduct 'an intervention' with him for the good of the country. In a second consecutive day of tough words about Trump by the Democratic speaker of the House of Representatives, Pelosi accused Trump of obstruction of justice, which she said is an impeachable offense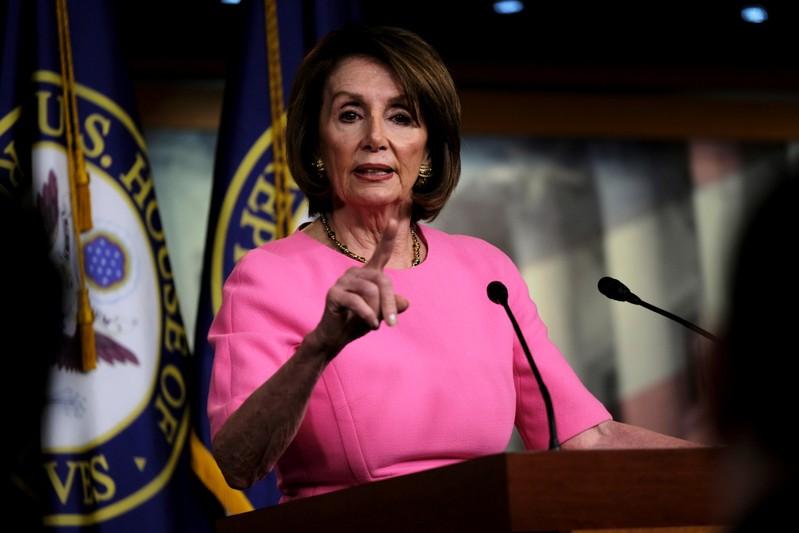 By Richard Cowan and Susan Cornwell
WASHINGTON (Reuters) - U.S. House Speaker Nancy Pelosi said on Thursday that President Donald Trump threw a temper tantrum at a meeting with Democratic congressional leaders a day earlier and that she wished his family or staff would conduct "an intervention" with him for the good of the country.
In a second consecutive day of tough words about Trump by the Democratic speaker of the House of Representatives, Pelosi accused Trump of obstruction of justice, which she said is an impeachable offense.
"Again, I pray for the president of the United States. I wish that his family, or his administration, or his staff would have an intervention for the good of the country," Pelosi told reporters.
On Wednesday, shortly before a previously scheduled meeting with Trump at the White House to discuss infrastructure investment legislation, Pelosi accused Trump of a "cover-up" in regard to investigations related to Russia's meddling in the 2016 U.S. elections.
Her remarks rankled Trump and prompted him to walk out of the infrastructure meeting after just three minutes, possibly sinking the legislation's prospects.
Trump said it was impossible to work on such legislation as long as Democrats were continuing their "phony" investigations of him.
At her weekly news conference on Thursday, Pelosi remained on the attack, repeating her contention from the previous day that Trump was incapable of working on complex legislative issues.
"I can only think that he wasn't up to the task of figuring out the difficult choices of how to cover the cost of ... the important infrastructure legislation that we had talked about three weeks before."
While she raised the issue of obstruction, Pelosi also said that House Democrats were not yet prepared to launch formal impeachment proceedings against Trump.
Even though Trump has indicated that he is not willing to engage in bipartisan work on legislation as long as House Democrats are investigating him, both Pelosi and Senate Democratic Leader Chuck Schumer on Thursday challenged Republicans in Congress to leave the Republican president behind and continue working on legislation without him if he is unwilling to engage.
Lawmakers are trying to put the finishing touches on a long-delayed disaster aid bill.
Meanwhile, Republican and Democratic leaders in Congress want to strike a two-year deal on federal spending levels and raising the U.S. Treasury Department's borrowing authority.
Both are needed to avert government shutdowns and a possible credit default later this year.
(Reporting by Richard Cowan and Susan Cornwell)
This story has not been edited by Firstpost staff and is generated by auto-feed.
World
ATHENS (Reuters) - Greek police used teargas and water cannon to disperse people who had gathered in central Athens on Saturday to protest against mandatory COVID-19 vaccinations. More than 4,000 people rallied outside the Greek parliament for a third time this month to oppose mandatory inoculations for some workers, such as healthcare and nursing staff.
World
ISTANBUL (Reuters) - Two Turkish soldiers were killed and two were wounded in an attack on their armoured vehicle in northern Syria, and Turkish forces immediately launched retaliatory fire, Turkey's defence ministry said on Saturday. "Our punitive fire against terrorist positions is continuing," the statement on Twitter on said. It did not specify where the attack occurred, but media reports said it was in the al-Bab area.
World
By Marcelo Rochabrun SAO PAULO (Reuters) - Protesters took to the streets in several Brazilian cities on Saturday to demand the impeachment of far-right President Jair Bolsonaro, whose popularity has fallen in recent weeks amid corruption scandals against the backdrop of the pandemic. This week, news broke that Brazil's defense ministry told congressional leadership that next year's elections would not take place without amending the country's electronic voting system to include a paper trail of each vote. Bolsonaro has suggested several times without evidence that the current system is prone to fraud, allegations that Brazil's government has denied