U.S. House rejects compromise bill on border family separations
By Richard Cowan and Jonathan Stempel WASHINGTON/NEW YORK (Reuters) - The U.S.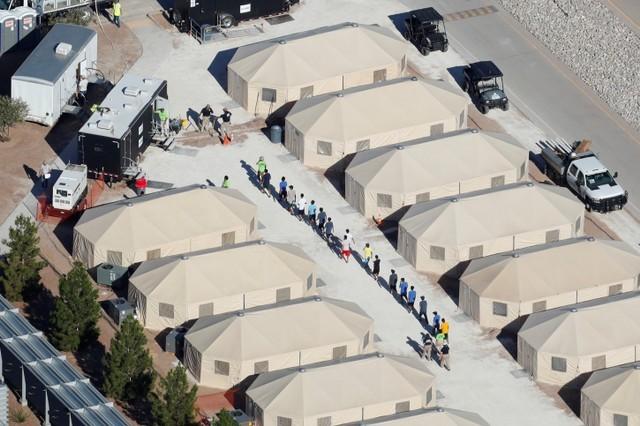 By Richard Cowan and Jonathan Stempel
WASHINGTON/NEW YORK (Reuters) - The U.S. House of Representatives rejected a broad "compromise" immigration bill on Wednesday, as expected, that would have addressed the crisis of families being separated at the U.S.-Mexico border.
The House could still vote as early as this week on a narrower measure that is still being developed and that would focus specifically on the family separations issue.
On a 121-301 vote, the Republican-controlled House rejected a bill that addressed the family separations, but also gave long-term protections to young "Dreamer" immigrants brought into the country years ago illegally as children, and provided funding for President Donald Trump's proposed U.S.-Mexico border wall.
Trump has demanded that Congress resolve the family separations with legislation, amid an uproar at home and abroad over the separation of more than 2,300 children from their parents that resulted from his administration's policy of "zero tolerance" toward illegal immigration.
Late on Tuesday, U.S. District Judge Dana Sabraw in San Diego blocked the administration from separating families at the border, and ordered that those who were separated be reunited within 30 days.
A Justice Department spokesman declined to comment on whether the administration would appeal. But he said the decision "makes it even more imperative that Congress finally act to give federal law enforcement the ability to simultaneously enforce the law and keep families together."
The separations occurred after the administration began seeking to prosecute all adults crossing the border without authorization, including those traveling with children, from early May.
Although Trump issued an executive order on June 20 to end the family separations, the American Civil Liberties Union, which brought the San Diego case, said the order contained "loopholes" and did little to fix the problem. Some 2,000 children remain separated.
Sabraw's preliminary injunction also requires the government to reunite children under the age of five with their parents within 14 days, and to let children talk by phone with their parents within 10 days.
The separations sparked widespread condemnation in the United States, including from within Trump's own Republican Party, and abroad. Sabraw, an appointee of former Republican President George W. Bush, sharply rebuked the administration.
"The unfortunate reality is that under the present system migrant children are not accounted for with the same efficiency and accuracy as property," he wrote.
"The facts set forth before the court portray reactive governance responses to address a chaotic circumstance of the government's own making," he added.
(Reporting by Jonathan Stempel and Alison Frankel in New York; Yasmeen Abutaleb, Julia Harte and Doina Chiacu in Washington, D.C.; Writing by John Whitesides; Editing by Kevin Drawbaugh and Frances Kerry)
This story has not been edited by Firstpost staff and is generated by auto-feed.
Find latest and upcoming tech gadgets online on Tech2 Gadgets. Get technology news, gadgets reviews & ratings. Popular gadgets including laptop, tablet and mobile specifications, features, prices, comparison.
World
By Paul Carrel BERLIN (Reuters) - European Union sanctions against 40 officials in Belarus are "a small victory" but should be widened, opposition leader Sviatlana Tsikhanouskaya said on Monday, adding she would press Germany's Angela Merkel to do more at a meeting on Tuesday. Tsikhanouskaya fled her homeland for Lithuania amid a police crackdown in Belarus following an Aug. 9 presidential election, which official results said incumbent Alexander Lukashenko won, but which Tsikhanouskaya's supporters say was rigged
World
WASHINGTON (Reuters) - White House Press Secretary Kayleigh McEnany said on Monday she tested positive for COVID-19, while several U.S. media outlets reported that a number of other White House staff members also were confirmed to have been infected with the novel coronavirus
World
WASHINGTON (Reuters) - U.S.