U.S. House panel chair subpoenas ex-White House counsel McGahn on Mueller inquiry
WASHINGTON (Reuters) - U.S.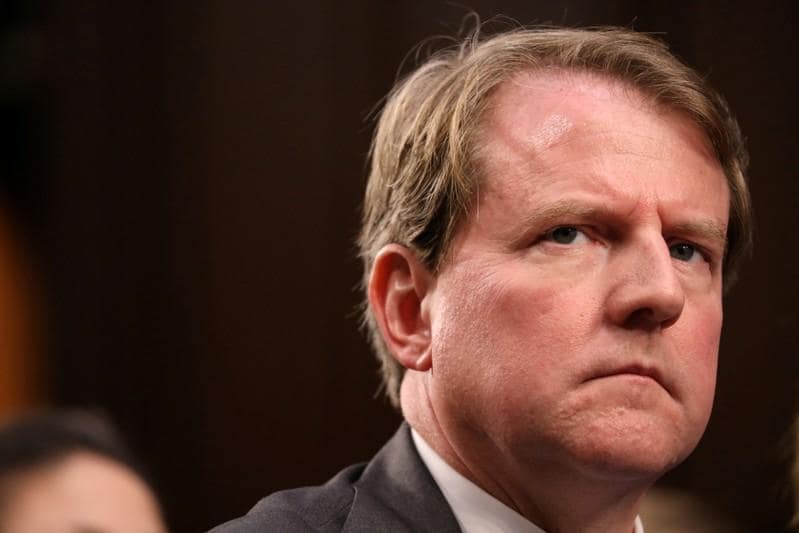 WASHINGTON (Reuters) - U.S. House of Representatives Judiciary Committee Chairman Jerrold Nadler on Monday subpoenaed former White House counsel Don McGahn to testify before the panel in its investigation of possible obstruction of justice by President Donald Trump.
In a statement, Nadler, a Democrat, said the committee had asked for documents from McGahn by May 7 and for him to testify on May 21. An attorney for McGahn was not immediately available for comment.
A report by Special Counsel Robert Mueller publicly released on Thursday by the Justice Department said Trump asked McGahn to fire Mueller as he was investigating suspected Russian interference in the 2016 U.S. election and possible coordination between Trump campaign members and Moscow officials.
"Mr. McGahn is a critical witness to many of the alleged instances of obstruction of justice and other misconduct described in the Mueller report," Nadler said.
Mueller's report said that the 22-month investigation did not establish that the Trump campaign conspired with Russians but Mueller did find "multiple acts by the president that were capable of exerting undue influence over law enforcement investigations."
The top Republican on the Judiciary Committee, Representative Doug Collins, said it was premature to issue a subpoena.
"Instead of looking at material that Attorney General Barr has already made available, Democrats prefer to demand additional materials they know are subject to constitutional and common-law privileges and cannot be produced," Collins said in a statement.
Nadler said Mueller's report "outlines substantial evidence that President Trump engaged in obstruction and other abuses."
He said "it now falls to Congress to determine for itself the full scope of the misconduct and to decide what steps to take in the exercise of our duties of oversight, legislation and constitutional accountability."
According to the Mueller report, Trump directed McGahn in June 2017 to tell the Justice Department's No. 2 official, Rod Rosenstein, that Mueller had conflicts of interest and must be removed. McGahn did not carry out the order.
(Reporting by Eric Beech and David Morgan; Editing by Mohammad Zargham and Grant McCool)
This story has not been edited by Firstpost staff and is generated by auto-feed.
Find latest and upcoming tech gadgets online on Tech2 Gadgets. Get technology news, gadgets reviews & ratings. Popular gadgets including laptop, tablet and mobile specifications, features, prices, comparison.
Business
By Foo Yun Chee BRUSSELS (Reuters) - The European Union's executive on Friday wrapped up preliminary talks with French drugmaker Sanofi aimed at securing its COVID-19 vaccine for the 27-country EU bloc, the latest deal with vaccine producers. Armed with an emergency fund of more than 2 billion euros ($2.4 billion), the European Commission wants to strike deals with up to six drugmakers for their vaccines for their 450 million citizens against the coronavirus that has killed 674,000 people worldwide
Business
By Lucia Mutikani WASHINGTON (Reuters) - U.S. consumer spending increased for a second straight month in June, setting up consumption for a rebound in the third quarter, though the recovery could be limited by a resurgence in COVID-19 cases and the end of expanded unemployment benefits.
Business
By Steve Holland and Daphne Psaledakis WASHINGTON (Reuters) - The United States intensified its economic pressure on China's Xinjiang province on Friday, imposing sanctions on a powerful Chinese company and two officials for what it said were human rights abuses against Uighurs and other ethnic minorities. The move, the latest blow to U.S.-China relations, came a week after U.S