U.S. House Democrats' views vary on action after Mueller report: Pelosi
WASHINGTON (Reuters) - U.S. House Democrats' views vary on how to proceed after last week's release of a redacted version of Special Counsel Robert Mueller's Russia probe, House Speaker Nancy Pelosi said on Monday.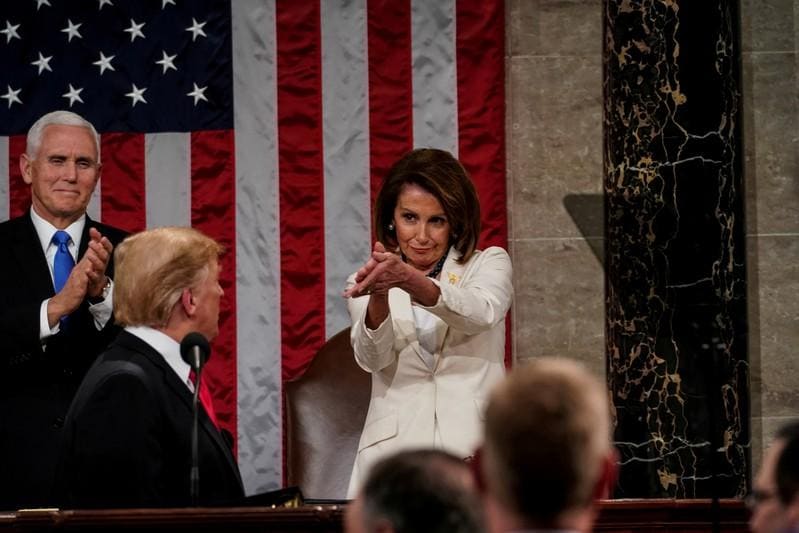 WASHINGTON (Reuters) - U.S. House Democrats' views vary on how to proceed after last week's release of a redacted version of Special Counsel Robert Mueller's Russia probe, House Speaker Nancy Pelosi said on Monday.
In a letter to fellow Democratic lawmakers, Pelosi said it is "important to know that the facts regarding holding the president accountable can be gained outside of impeachment hearings." She added that President Donald Trump engaged in highly unethical and unscrupulous behavior "whether currently indictable or not".
Top congressional Democrats have left the door open to pursuing the impeachment of Trump, a Republican, but have also said they would first need to complete their own probe into whether he obstructed justice in Mueller's investigation.
"While our views range from proceeding to investigate the findings of the Mueller report or proceeding directly to impeachment, we all firmly agree that we should proceed down a path of finding the truth," Pelosi said in her letter.
"As we proceed to uncover the truth and present additional needed reforms to protect our democracy, we must show the American people we are proceeding free from passion or prejudice, strictly on the presentation of fact," she wrote.
House Democrats will discuss their next steps in a conference call later Monday.
Pelosi and some other Democratic party leaders have been wary of impeachment just 18 months before the November 2020 presidential election, although prominent liberals have demanded the start of proceedings to remove Trump from office since the release of a redacted version of Mueller's report on Thursday.
House Judiciary Committee Chairman Jerrold Nadler, whose panel would spearhead any impeachment proceedings, said Sunday that Democrats would press ahead with investigations of Trump in Congress and "see where the facts lead us."
The redacted version of Mueller's report on Russian interference in the 2016 election outlined multiple instances where Trump tried to thwart the probe. While it stopped short of concluding Trump had committed a crime, it did not exonerate him. Mueller also noted that Congress has the power to address whether Trump violated the law.
(Reporting by Susan Cornwell in Washington; Editing by Chizu Nomiyama and James Dalgleish)
This story has not been edited by Firstpost staff and is generated by auto-feed.
Find latest and upcoming tech gadgets online on Tech2 Gadgets. Get technology news, gadgets reviews & ratings. Popular gadgets including laptop, tablet and mobile specifications, features, prices, comparison.
Business
By Diptendu Lahiri (Reuters) - Gold prices surged to their highest since October 2012 on Tuesday, driven by a weakness in the U.S. dollar and widespread monetary stimulus packages by central banks as a jump in coronavirus cases dents the economic outlook
Business
By David Shepardson WASHINGTON (Reuters) - India's ministry of civil aviation said on Tuesday it was considering allowing some international carrier flights to resume after Washington accused India of "unfair and discriminatory practices." The Indian ministry said in a statement posted on Twitter that as "we move from controlled and managed aviation evacuation of our citizens in different parts of the world and foreign nationals from India, we are now looking at the possibility of establishing bilateral arrangements." The U.S. Transportation Department issued an order Monday to require Indian air carriers to apply for authorization prior to conducting charter flights beginning in 30 days. The department sought "to restore a level playing field for U.S.
Business
By Devik Jain and Medha Singh (Reuters) - Wall Street's three major indexes rose on Tuesday as improving economic data and the prospect of more stimulus bolstered hopes of a swift recovery, while a jump in technology shares powered the Nasdaq to another record high. White House advisor Larry Kudlow said tax rebates and direct mail checks are on the table in the next coronavirus relief bill.