U.S. government executes woman for first time in nearly seven decades
By Bhargav Acharya and Jonathan Allen (Reuters) - The United States executed Lisa Montgomery, a convicted murderer and the only woman on federal death row, early on Wednesday, making her the first female prisoner to be executed by the federal government since 1953. Montgomery, 52, was convicted in 2007 in Missouri of kidnapping and strangling Bobbie Jo Stinnett, then eight months pregnant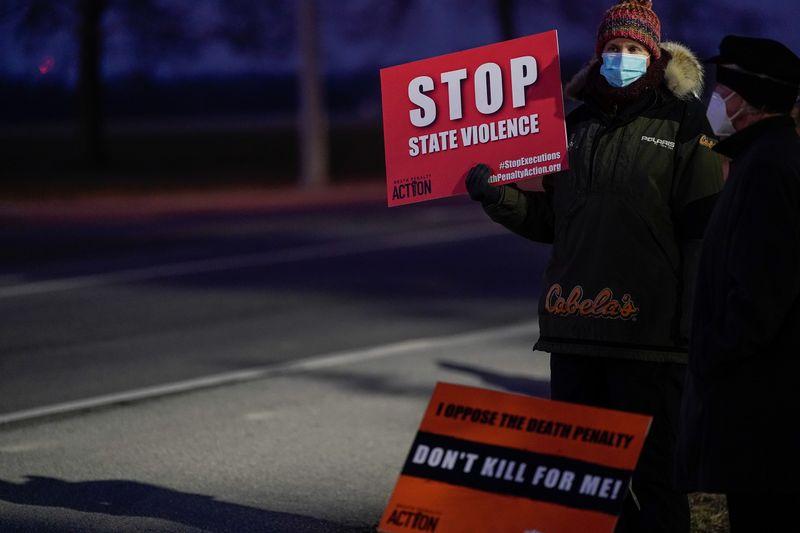 By Bhargav Acharya and Jonathan Allen
(Reuters) - The United States executed Lisa Montgomery, a convicted murderer and the only woman on federal death row, early on Wednesday, making her the first female prisoner to be executed by the federal government since 1953.
Montgomery, 52, was convicted in 2007 in Missouri of kidnapping and strangling Bobbie Jo Stinnett, then eight months pregnant. Montgomery cut Stinnett's fetus from the womb and tried to pass off the child as her own.
After Montgomery was strapped to a gurney in the government's death chamber, a female executioner asked if she had any last words. Montgomery responded in a quiet, muffled voice, "No," according to a reporter who served as a media witness.
Montgomery was put to death by lethal injection in the U.S> Justice Department's execution chamber at its prison in Terre Haute, Indiana.
Federal judges in multiple courts had delayed her execution to allow for hearings on whether she was too mentally ill to understand her punishment and whether the government had given insufficient notice of her execution date under law.
But around midnight the U.S. Supreme Court's conservative majority summarily dismissed the final obstacles, and Montgomery was pronounced dead at 1:31 a.m. EST (0631 GMT) at the Department of Justice's execution chamber at a prison in Terre Haute, Indiana. Some of Stinnett's relatives attended as witnesses but declined to speak with the media, the Justice Department said.
Montgomery's execution was opposed by United Nations human rights experts, several dozen former prosecutors, and multiple groups against violence to women, prompting debate over the role past trauma can play in some of the most horrific crimes prosecuted by the justice system.
The American Civil Liberties Union said the execution was "an indefensible use of government power," coming only a week before the presidential inauguration of Joe Biden, a Democrat who takes office on Jan. 20 and says he will seek to end the federal death penalty.
Montgomery was the 11th person executed on federal death row since the practice was resumed last year under outgoing President Donald Trump, a Republican and an outspoken proponent of capital punishment. Before Trump, there had been only three federal executions since 1963.
The European Union, whose 27 governments have banned the death penalty, condemned the execution. It said capital punishment was inhuman and no deterrent to crime. It appealed to the Trump administration not to carry out more federal-level executions during its last days in power.
Kelley Henry, Montgomery's lawyer, called the execution "vicious, unlawful, and unnecessary exercise of authoritarian power." Some doctors who examined Montgomery testified that her brain was structurally damaged and she suffered from psychosis, auditory hallucinations and other mental illness, exacerbated by the abuse and rapes she suffered at the hands of her mother and stepfather.
"No one can credibly dispute Mrs. Montgomery's longstanding debilitating mental disease — diagnosed and treated for the first time by the Bureau of Prisons' own doctors," Henry said in a statement. "Our Constitution forbids the execution of a person who is unable to rationally understand her execution."
Until this week, Montgomery had been held for many years at FMC Carswell in Texas, a federal hospital prison for female inmates with mental illness.
It was one of three executions the U.S. Department of Justice had scheduled for the final full week of Trump's administration. Two other executions scheduled for Thursday and Friday have been delayed, for now at least, by a federal judge in Washington, to allow the condemned murderers to recover from COVID-19
.
(Reporting by Bhargav Acharya and Kanishka Singh in Bengaluru and Jonathan Allen in New York; Editing by Kenneth Maxwell and Howard Goller)
This story has not been edited by Firstpost staff and is generated by auto-feed.
Find latest and upcoming tech gadgets online on Tech2 Gadgets. Get technology news, gadgets reviews & ratings. Popular gadgets including laptop, tablet and mobile specifications, features, prices, comparison.
World
(Reuters) -Moderna Inc said on Monday it would produce at least 600 million doses of its COVID-19 vaccine in 2021, up by 100 million doses from its previous forecast, as the United States continues to roll-out the vaccine. The company was working to invest and hire in order to deliver up to 1 billion doses this year, the higher end of its production forecast, it said
World
WARSAW (Reuters) - A skating rink owner in the Polish city of Szczecin believes he has found a way to keep his business open despite coronavirus restrictions - operate as a flower shop instead. His plan is simple - the customer has to purchase access to the flower "warehouse", then chooses from a box of flowers in the middle of the rink. "You can jump, crawl or go on all fours ..
World
By Reuters Staff SANAA (Reuters) - Paralysed and severely malnourished, seven-year-old Faid Samim lies curled up on a hospital bed in the Yemeni capital Sanaa, having barely survived the journey there.  "He was almost gone when he arrived but thank God we were able to do what was necessary and he started improving. He is suffering from CP (cerebral palsy) and severe malnutrition," said Rageh Mohammed, the supervising doctor of the Al-Sabeen hospital's malnutrition ward.