U.S. FAA says it will invite global Boeing 737 MAX pilots to simulator tests
By Tracy Rucinski and David Shepardson CHICAGO/WASHINGTON (Reuters) - The U.S. Federal Aviation Administration said on Thursday it would invite Boeing 737 MAX pilots from across the world to participate in simulator tests as part of the process to recertify the aircraft for flight following two fatal crashes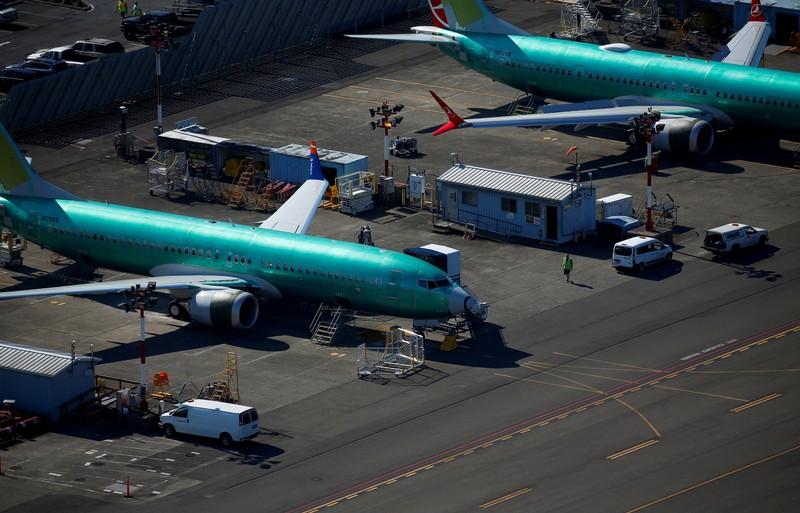 By Tracy Rucinski and David Shepardson
CHICAGO/WASHINGTON (Reuters) - The U.S. Federal Aviation Administration said on Thursday it would invite Boeing 737 MAX pilots from across the world to participate in simulator tests as part of the process to recertify the aircraft for flight following two fatal crashes.
Earlier, Reuters reported that the agency had asked the three U.S. airlines that operate the MAX to provide the names of some pilots who had only flown the 737 for around a year, including at least one MAX flight.
In a statement, the FAA said it had not specified the number of required hours of flight experience, but said the candidates would be a cross-section of line pilots and must have experience at the controls of the MAX.
Boeing Co's latest 737 narrow-body model, the MAX, was grounded worldwide in March after two crashes within five months in Indonesia and Ethiopia that killed 346 people.
Boeing has been reprogramming software for a stall-prevention system at the centre of both crashes, which the FAA must approve before the plane flies again commercially.
The FAA said it has not yet specified a firm schedule for the tests.
(Reporting by Tracy Rucinski in Chicago and David Shepardson in Washington; Additional reporting by and Eric M. Johnson in Seattle; Editing by Matthew Lewis and Peter Cooney)
This story has not been edited by Firstpost staff and is generated by auto-feed.
Find latest and upcoming tech gadgets online on Tech2 Gadgets. Get technology news, gadgets reviews & ratings. Popular gadgets including laptop, tablet and mobile specifications, features, prices, comparison.
World
By Rajendra Jadhav MUMBAI (Reuters) - India said on Sunday it was considering granting an emergency authorisation for a COVID-19 vaccine, particularly for the elderly and people in high-risk workplaces, as the country's number of reported infections passed 4.75 million. India, which has consistently reported over 1,000 COVID-19 deaths daily this month, has now recorded 78,586 fatalities from the disease. It lags only the United States globally in overall number of infections, but it has been adding more daily cases than the United States since mid-August
World
BERLIN (Reuters) - Germany's Christian Democrats were set for an election win in the western state of North Rhine-Westphalia on Sunday, an exit poll showed, but their share of the vote shrank, denting state premier Armin Laschet's ambitions to succeed Chancellor Angela Merkel. Laschet, who is positioning himself as the continuity candidate to succeed Merkel, had hoped to increase the Christian Democrats' share of the vote in the local elections to boost his standing ahead of a December party leadership showdown
World
By Marco Aquino LIMA (Reuters) - A bid by the opposition-led Congress to remove Peruvian President Martín Vizcarra appeared to falter on Sunday, after key political leaders rejected the ouster over fears the upheaval would plunge the country into a political crisis. César Acuña, head of the second-largest party in Congress and a possible candidate in 2021 presidential elections, said an ouster would "aggravate" the country's current situation, already fragile from the impact of the coronavirus crisis. Acuña's party had given key votes last Friday to start impeachment proceedings against Vizcarra over leaked audio tapes some lawmakers said showed the president trying to downplay ties to a singer being probed over government contracts