U.S. court upholds Harvard race-based admissions; Supreme Court appeal expected
By Nate Raymond and Jonathan Stempel BOSTON (Reuters) - A U.S. appeals court on Thursday upheld Harvard University's use of race in undergraduate admissions, rejecting a challenge by affirmative action opponents who said the Ivy League school's policy discriminates against Asian-Americans. Opponents of the decision, by the 1st U.S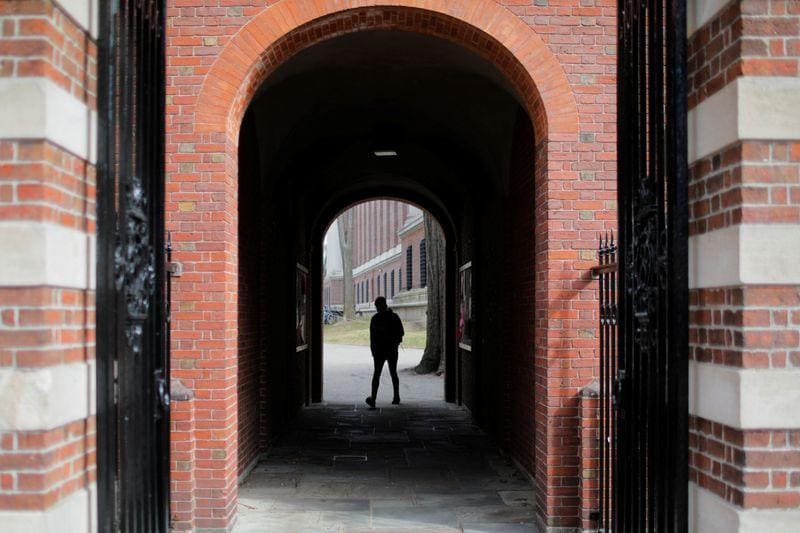 By Nate Raymond and Jonathan Stempel
BOSTON (Reuters) - A U.S. appeals court on Thursday upheld Harvard University's use of race in undergraduate admissions, rejecting a challenge by affirmative action opponents who said the Ivy League school's policy discriminates against Asian-Americans.
Opponents of the decision, by the 1st U.S. Circuit Court of Appeals in Boston, promised to appeal to the Supreme Court, where legal experts believe the 6-3 conservative majority could use the case to end more than 40 years of allowing race as a factor in higher education admissions.
The appeals court rejected claims by Students for Fair Admissions (SFFA), a nonprofit founded by anti-affirmative action activist Edward Blum, which drew support from Republican President Donald Trump's administration.
SFFA said Harvard engaged in impermissible "racial balancing" to make it easier for Blacks and Hispanics to win admission, and did not narrowly tailor its use of race.
It said this violated Title VI of the Civil Rights Act of 1964, which the school must comply with in order to receive federal funding.
U.S. Circuit Judge Sandra Lynch, however, said Harvard's use of race was not "impermissibly extensive" and was instead "meaningful," because it prevented diversity from plummeting.
"Harvard's race-conscious admissions program ensures that Harvard can retain the benefits of diversity it has already achieved," she said.
In a statement, Blum pledged to ask the Supreme Court "to end these unfair and unconstitutional race-based admissions policies at Harvard and all colleges and universities."
The Supreme Court has allowed race to be used in college admissions to promote diversity in the classroom.
Harvard President Lawrence Bacow said the university will continue defending its admissions practices.
"The consideration of race, alongside many other factors, helps us achieve our goal of creating a student body that enriches the education of every student," he said in a statement.
Thursday's 2-0 decision upheld an October 2019 ruling by U.S. District Judge Allison Burroughs in Boston. A third judge on the appeals court panel, Juan Torruella, died last month.
Burroughs had concluded that Harvard's admissions program was "not perfect" but that the school had no "workable and available race-neutral alternatives."
Lynch said the nature of Harvard's admissions process, including that applicants win approval from a 40-person committee before being offered admission, "offset any risk of bias."
In a "friend-of-the-court brief, the U.S. Department of Justice backed SFFA, saying Harvard "actively engages in racial balancing that Supreme Court precedent flatly forbids."
The Justice Department filed a similar lawsuit on Oct. 8 against Yale University, accusing that Ivy League school of discriminating against Asian and white applicants.
Yale said it "does not discriminate against applicants of any race or ethnicity," and would not change its admissions policies because of what it called the government's "baseless" lawsuit.
SFFA is also pursuing a similar case against the University of North Carolina at Chapel Hill challenging its consideration of race as a factor in its admissions process. A non-jury trial in that case began on Monday.
(Reporting by Nate Raymond in Boston and Jonathan Stempel in New York; Editing by Catherine Evans, Jonathan Oatis and Steve Orlofsky)
This story has not been edited by Firstpost staff and is generated by auto-feed.
Find latest and upcoming tech gadgets online on Tech2 Gadgets. Get technology news, gadgets reviews & ratings. Popular gadgets including laptop, tablet and mobile specifications, features, prices, comparison.
World
ADDIS ABABA/NAIROBI (Reuters) - Ethiopia's military is fighting battle-hardened troops in the northern Tigray region, threatening stability around the Horn of Africa. Here are some facts on the forces: THE NATIONAL MILITARY: THE ENDF The Ethiopian National Defence Force (ENDF) has around 140,000 active personnel, the vast majority of them in the army, according to the Janes security data group. Its troops have been tested by Islamist militants in Somalia and rebel groups in Ethiopia's border regions, as well as a two-year border war with Eritrea followed by an 18-year standoff that only ended in 2018.
World
ISTANBUL (Reuters) - Turkey's President Tayyip Erdogan said on Tuesday that the government will impose tighter measures to fight with the coronavirus and impose partial lockdowns on weekends across the country. Speaking after the cabinet meeting, Erdogan also said all schools will remain closed until the year-end and all restaurants will only work by delivery
World
BRASILIA (Reuters) - Brazilian President Jair Bolsonaro said on Tuesday his government in coming days will name countries that are importing wood illegally extracted from the Amazon. Addressing a BRICS summit of big developing economies, Bolsonaro said Brazilian police had developed a way of tracking wood exported from the Amazon using isotopes.