U.S.-bound Central American migrants on the move in Mexico
By Jose Cortes and Ana Isabel Martinez MAPASTEPEC, Mexico/MEXICO CITY (Reuters) - Thousands of Central American migrants began arriving at a town in southern Mexico on Wednesday on their march towards the United States, where President Donald Trump has declared them unwelcome and threatened to cut off aid to their home countries. Men, women and children, mostly from Honduras, had set out early on foot from the town of Huixtla in the southern state of Chiapas to continue their slog towards the U.S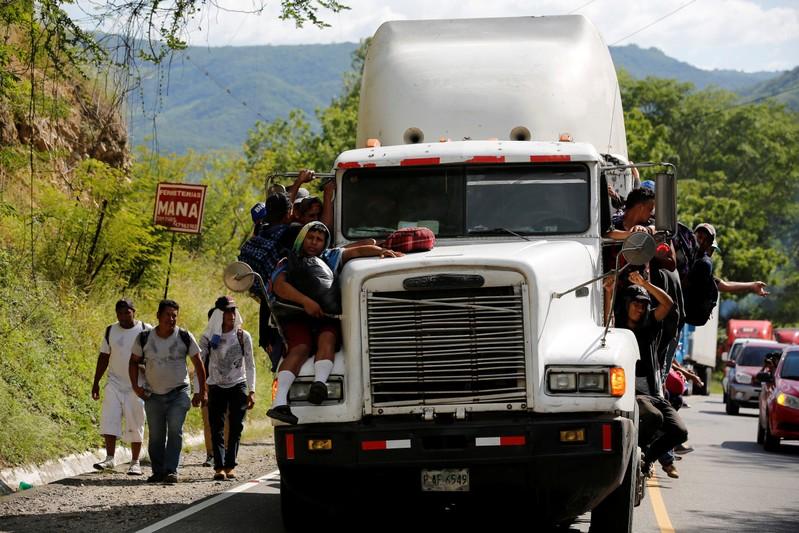 By Jose Cortes and Ana Isabel Martinez
MAPASTEPEC, Mexico/MEXICO CITY (Reuters) - Thousands of Central American migrants began arriving at a town in southern Mexico on Wednesday on their march towards the United States, where President Donald Trump has declared them unwelcome and threatened to cut off aid to their home countries.
Men, women and children, mostly from Honduras, had set out early on foot from the town of Huixtla in the southern state of Chiapas to continue their slog towards the U.S. border, more than 1,100 miles (1,770 km) away. They began arriving in the town of Mapastepec, about 35 miles to the northwest, by the afternoon.
Their trek has drawn the ire of Trump, who has used the migrant caravan to fire up support for his Republican party ahead of Nov. 6 congressional elections.
It has also prompted Washington to put pressure on the Mexican government to halt the migrants' progress.
The caravan, which began as a march of a few hundred people from the crime-wracked Honduran city of San Pedro Sula back on Oct. 13, has swelled into the thousands as it was joined by migrants from El Salvador, Nicaragua and Guatemala.
Mexican immigration authorities have told the migrants they will not be able to cross illegally into the United States, but private citizens have offered them supplies and rides.
Alex Mensing of Pueblo Sin Fronteras, a group that organised a previous migrant caravan that angered Trump in April, said on Wednesday the current caravan comprises about 10,000 people.
Pueblo Sin Fronteras is accompanying the caravan, which Mensing forecast would fragment in due course.
"It's very unlikely that 10,000 people will arrive together at a border city between Mexico and the United States," he told a conference call with reporters.
"There will be people who stay in Mexico, there will be people who go to different borders because everyone has their own plan and different support where they have family members."
In Huixtla, residents and religious groups donated clothes, and local authorities provided vaccines, water and food.
"The people of Mexico have given us much more than we expected," said Honduran migrant activist Argelia Ramirez, one of a shifting group of de facto speakers for the caravan.
Neris Wong, who had walked for days from her native Honduras, covered her face with her hands as a medical worker at Mapastepec's town square tended a blister on her foot.
"I walked so much that I hurt myself. I don't have the right shoes for walking," Wong said.
Mexican authorities have tried to walk a fine line between responding to Trump's demands to close its borders while also respecting migrants' rights.
Mexico's interior ministry said in a statement late on Tuesday that about 4,500 people reached Huixtla, around 30 miles (50 km) north of the Guatemalan border. Reuters could not independently verify how many people had assembled in Huixtla.
The migrants camped out in the open on Tuesday night under pouring rain, with many seeking shelter in doorways or under shop awnings and bedding down early to prepare for the hike.
A separate group of least 1,000 migrants, also mostly Hondurans, has been moving slowly through Guatemala towards Mexico. Some media put the number above 2,000.
(Additional reporting by Delphine Schrank in Huixtla; Writing by Michael O'Boyle and Daina Beth Solomon; editing by Jonathan Oatis and Tom Brown)
This story has not been edited by Firstpost staff and is generated by auto-feed.
Find latest and upcoming tech gadgets online on Tech2 Gadgets. Get technology news, gadgets reviews & ratings. Popular gadgets including laptop, tablet and mobile specifications, features, prices, comparison.
World
LONDON (Reuters) - Prince Harry and his wife Meghan have refunded British taxpayers 2.4 million pounds ($3.2 million), the cost of renovating their UK home, in line with a commitment they made after announcing in January they would step back from royal duties. The refurbishment of Frogmore Cottage, a house within the grounds of Queen Elizabeth's Windsor Castle west of London, had been criticised by some British media as too expensive. The repayment comes as Harry and Meghan, an American former actress, seek to forge new careers for themselves and attain greater financial independence.
World
FRANKFURT (Reuters) - Biotech firm BioNTech said on Monday it widened an ongoing pivotal global study of its COVID-19 vaccine candidate to include testing in its home country of Germany.
News & Analysis
COPENHAGEN (Reuters) - A rapid switch to electric cars to meet Denmark's ambitious climate targets will leave a massive gap in its finances, a government commission said on Monday.