U.S. backs NATO membership for Bosnia, dismisses Serb opposition
By Daria Sito-Sucic SARAJEVO (Reuters) - The United States supports Bosnia's ambition to join NATO, a senior U.S. official said on Monday, dismissing Bosnian Serb objections and adding Washington would react strongly to any threat to the stability of the country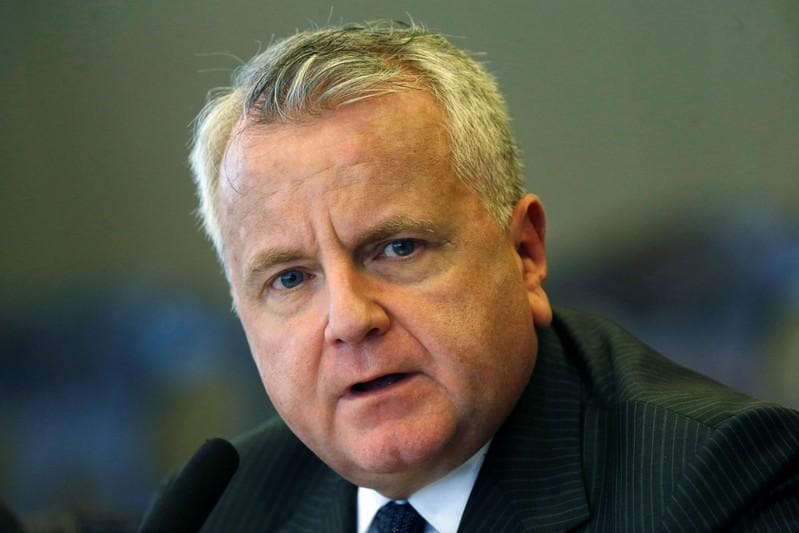 By Daria Sito-Sucic
SARAJEVO (Reuters) - The United States supports Bosnia's ambition to join NATO, a senior U.S. official said on Monday, dismissing Bosnian Serb objections and adding Washington would react strongly to any threat to the stability of the country.
Bosnia has long proclaimed integration with NATO and the European Union to be strategic goals. But the pro-Russian leader of Bosnia's autonomous Serb region, Milorad Dodik, has called for the country to remain neutral and stay out of the U.S.-led military alliance.
"We discussed the U.S. position which is as firm as it has ever been, supporting the decision that has been made by this government to pursue membership in NATO," U.S. Deputy Secretary of State John Sullivan said after meeting Bosnia's three-man inter-ethnic presidency.
NATO bombed dominant separatist Serb forces in Bosnia in 1995 to help bring an end to the war there, and the United States brokered the Dayton peace deal that followed.
This month NATO invited Bosnia to start working on a Membership Action Plan (MAP), which has been blocked for 10 years by the Serbs.
Dodik said he told Sullivan there was no consensus in the presidency regarding NATO membership. The Muslim Bosniak and Croat members support it.
Russia is strongly against the country's membership in NATO.
"We in the United States take that decision ... made by the government to pursue NATO membership very seriously," Sullivan said when asked about Dodik's reiterated objections.
"We don't want any country, any country to interfere with government of this independent sovereign country," he added.
"The U.S. government will always react strongly to any threats to the stability of Bosnia-Herzegovina."
The U.S sanctioned Dodik in 2017 for calling for the secession of Bosnia's Serb region.
"There is no change in his status under sanctions," Sullivan said. "We are committed to protect this country's sovereignty and territorial integrity in line with the 1995 Dayton agreement."
Sullivan said the United States would help Bosnia counter "external forces that actively seek to make Bosnia ever more vulnerable to internal instability". He declined to name those forces.
(Reporting by Daria Sito-Sucic; editing by Andrew Roche)
This story has not been edited by Firstpost staff and is generated by auto-feed.
Find latest and upcoming tech gadgets online on Tech2 Gadgets. Get technology news, gadgets reviews & ratings. Popular gadgets including laptop, tablet and mobile specifications, features, prices, comparison.
Business
By Jessica Resnick-Ault NEW YORK (Reuters) - Oil prices strengthened on Wednesday, as OPEC and its allies were seen complying with a pact to cut oil supply in September, even as concerns loomed that recovery in fuel demand will be stalled by soaring global coronavirus cases. Early in the day crude was boosted by a bullish stock market. Even as equities whipsawed on pandemic worries, oil stayed higher, buoyed by expectations that OPEC could staunch a supply glut
Business
By Tina Bellon and C Nivedita (Reuters) - Tesla Inc will further cut the price of its Model S "Long Range" sedan in the United States to $69,420, the electric carmaker's chief executive, Elon Musk, announced in a tweet https://bit.ly/2H0JCP0 on Wednesday. The anticipated drop marks the second time this week Tesla has cut the price for the high-end sedan, following a 4% cut of the Model S's price in the United States on Tuesday to $71,990.
World
By Jeff Mason DES MOINES, Iowa (Reuters) - Under siege over his handling of the novel coronavirus pandemic, President Donald Trump on Wednesday cited what he said was his son's mild bout of the virus as a reason why American schools should reopen as soon as possible. Trump made the comment about his son, Barron, as the president swept into Iowa on a mission to shore up support in battleground states that he won in 2016 but is in danger of losing to Democrat Joe Biden barely three weeks before the election. First lady Melania Trump announced in a statement earlier in the day that the virus that struck both her and her husband had also infected their 14-year-old son