U.S. approves $23.37 billion advanced arms sale to UAE - Pompeo
WASHINGTON (Reuters) - The Trump administration told Congress on Tuesday it had approved the U.S.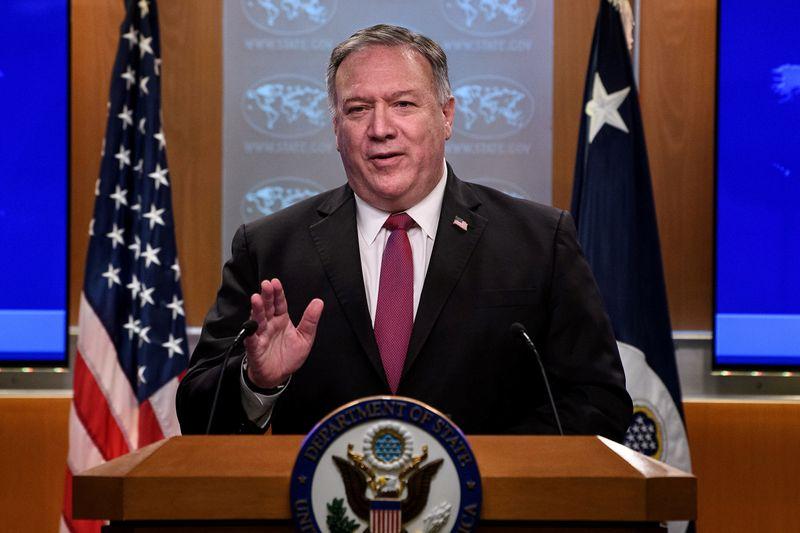 WASHINGTON (Reuters) - The Trump administration told Congress on Tuesday it had approved the U.S. sale of more than $23 billion in advanced weapons systems, including F-35 fighter jets and armed drones, to the United Arab Emirates, Secretary of State Mike Pompeo said.
The formal notification to lawmakers followed a U.S.-brokered agreement in September in which the UAE agreed to normalize relations with Israel, becoming the first of three Arab states to make such a move in recent months.
"This is in recognition of our deepening relationship and the UAE's need for advanced defense capabilities to deter and defend itself against heightened threats from Iran," Pompeo said in a statement.
The $23.37 billion package includes up to 50 F-35 Lighting II aircraft, up to 18 MQ-9B Unmanned Aerial Systems and a package of air-to-air and air-to-ground munitions, the State Department said.
The U.S. Senate Foreign Relations and House of Representatives Foreign Affairs committees - whose members have criticized UAE's role in civilian deaths in Yemen's civil war - review major weapons sales before the State Department sends its formal notification to the legislative branch.
Any deal the United States makes to sell weapons in the Middle East must satisfy decades of agreement with Israel that the U.S.-made equipment must not impair Israel's "qualitative military edge," guaranteeing U.S. weapons furnished to Israel are "superior in capability" to those sold to its neighbors.
(Reporting by Matt Spetalnick and Pete Schroeder; Editing by David Gregorio)
This story has not been edited by Firstpost staff and is generated by auto-feed.
Find latest and upcoming tech gadgets online on Tech2 Gadgets. Get technology news, gadgets reviews & ratings. Popular gadgets including laptop, tablet and mobile specifications, features, prices, comparison.
World
ADDIS ABABA/NAIROBI (Reuters) - Ethiopia's military is fighting battle-hardened troops in the northern Tigray region, threatening stability around the Horn of Africa. Here are some facts on the forces: THE NATIONAL MILITARY: THE ENDF The Ethiopian National Defence Force (ENDF) has around 140,000 active personnel, the vast majority of them in the army, according to the Janes security data group. Its troops have been tested by Islamist militants in Somalia and rebel groups in Ethiopia's border regions, as well as a two-year border war with Eritrea followed by an 18-year standoff that only ended in 2018.
World
ISTANBUL (Reuters) - Turkey's President Tayyip Erdogan said on Tuesday that the government will impose tighter measures to fight with the coronavirus and impose partial lockdowns on weekends across the country. Speaking after the cabinet meeting, Erdogan also said all schools will remain closed until the year-end and all restaurants will only work by delivery
World
BRASILIA (Reuters) - Brazilian President Jair Bolsonaro said on Tuesday his government in coming days will name countries that are importing wood illegally extracted from the Amazon. Addressing a BRICS summit of big developing economies, Bolsonaro said Brazilian police had developed a way of tracking wood exported from the Amazon using isotopes.