U.S. and allies meet in Geneva to flesh out Syria plan | Reuters
WASHINGTON/GENEVA The United States and allies from the Middle East and Europe met in Geneva on Tuesday to coordinate efforts toward a new ceasefire in Syria, senior U.S. officials and Western diplomats said, as Russia unexpectedly announced it had halted air strikes over the besieged city of Aleppo.A Western diplomat said 'like-minded nations' had agreed to create a 'working group to see how to see how we could separate (Al Qaeda-linked group) Nusra from the moderate opposition. The first meeting is today in Geneva.'The meeting was made up of experts from the United States, Saudi Arabia, Qatar, France, Turkey and Jordan
WASHINGTON/GENEVA The United States and allies from the Middle East and Europe met in Geneva on Tuesday to coordinate efforts toward a new ceasefire in Syria, senior U.S. officials and Western diplomats said, as Russia unexpectedly announced it had halted air strikes over the besieged city of Aleppo.A Western diplomat said "like-minded nations" had agreed to create a "working group to see how to see how we could separate (Al Qaeda-linked group) Nusra from the moderate opposition. The first meeting is today in Geneva."The meeting was made up of experts from the United States, Saudi Arabia, Qatar, France, Turkey and Jordan. The talks did not include Russia, which on Monday announced an eight-hour pause in Russian and Syrian government air attacks on the city of Aleppo on Thursday to allow civilians and rebels to leave the city and then on Tuesday suddenly halted all air strikes, two days ahead of time. Two Western diplomats said Russia would join the talks on Wednesday. Russia's state Rossiya 24 channel showed Defence Minister Sergei Shoigu as saying that military experts would meet in Geneva on Wednesday to begin work separating "terrorists" from Syria's opposition.
U.S. officials said it was too soon to tell whether Russia's softer stance on Aleppo was part of something more lasting or a gesture by Moscow before it joins the Geneva talks.The latest effort among countries with influence over the warring parties in Syria followed two failed attempts by the United States and Russia to stop the violence there. The last ceasefire agreement fell apart in September after Washington accused Russia of bombing a U.N. aid convoy and suspended bilateral relations over Syria.
The allies are trying to figure out ways to separate moderate opposition groups in Aleppo backed by the United States, Saudi Arabia and Qatar, from al-Qaeda linked militants from the Nusra Front, which are also fighting to oust Syrian President Bashar al-Assad. The opposition fighters and Nusra militants have become intermingled in Aleppo amid a relentless air campaign from Russia and the Syrian government.
There are concerns, however, that as Western allies try to separate the opposition from Syrian rivals in Aleppo, that Russia and Syrian government forces will use the opening to seize Aleppo.           (Additional reporting by John Irish in Paris and Stephanie Ulmer-Nebehay in Geneva; Reporting by Lesley Wroughton; Editing by Alistair Bell)
This story has not been edited by Firstpost staff and is generated by auto-feed.
World
European Commission president Ursula von der Leyen has come out in support of France saying "one of our member states has been treated in a way that is not acceptable"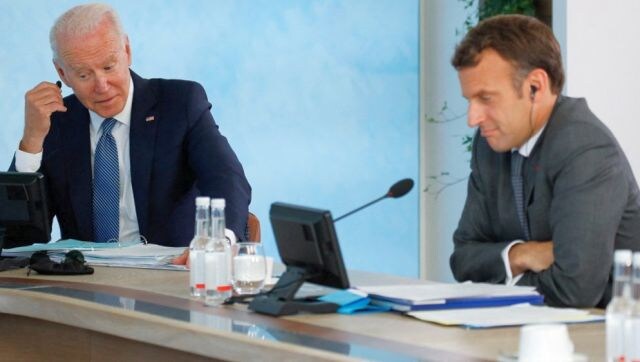 World
Paris is livid with its foreign minister saying the decision by Australia to get nuclear-submarines from America instead felt like a stab in the back
World
Nuclear negotiations between Washington and Pyongyang have stalled since the collapse of a second Trump-Kim meeting in 2019