U.N. warns of huge Syria battle, Syria claims right to fight terrorism
By Tom Miles GENEVA (Reuters) - The U.N.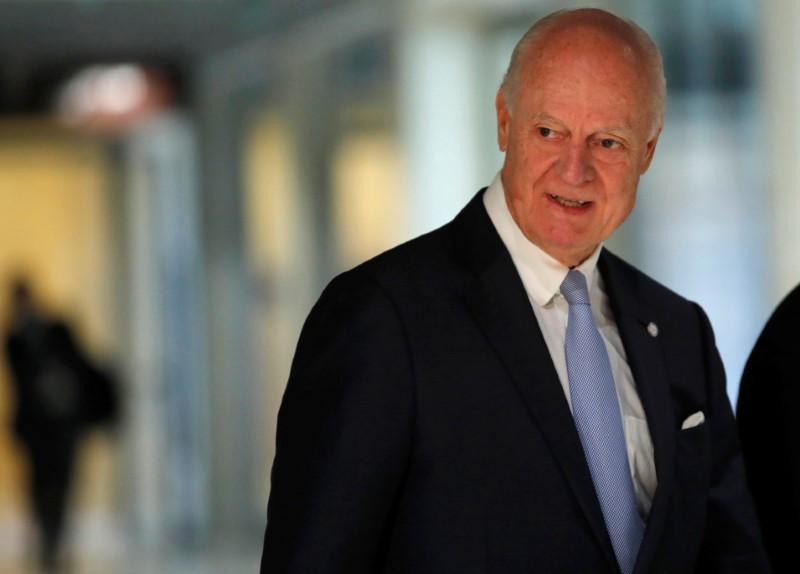 By Tom Miles
GENEVA (Reuters) - The U.N. Syria envoy warned on Wednesday of a full-scale battle in the country's southwest, an area covered by a "de-escalation" ceasefire agreement, but President Bashar al-Assad's ambassador said it was the army's duty to fight terrorism anywhere.
Envoy Staffan de Mistura, briefing the United Nations Security Council on setting up a Syrian constitutional committee, said the modest political achievement risked being overtaken by the escalation in fighting.
"We see a full-scale ground offensive and aerial bombardment, as well as exchanges of fire from both sides," he said, speaking by videolink from Geneva.
He warned that the battle could affect a population and an area similar to the total affected by the battles for eastern Ghouta and Aleppo combined, naming perhaps the two biggest and bloodiest campaigns of the seven-year war.
The Security Council could not allow another battle of such magnitude, he added.
Syrian Ambassador Bashar al-Ja'afari accused de Mistura of making a dangerous statement by telling the Council what it would allow. "Is this within the mandate of the special envoy, your excellencies?" he asked diplomats in the chamber.
De Mistura had neglected the fight against terrorism, Ja'afari said, adding that Islamic State fighters were still present in Syria "under the protection of the Americans". The banned Nusra Front group was similarly still in Syria, protected by "the Americans, the Israelis and others", he said.
Ja'afari blamed terrorists for attacking residential areas in the south of the country, and said it was the Syrian army's duty to respond to the attack to protect hundreds of thousands of civilians.
Russian Ambassador Vasily Nebenzia supported him. "The cities of Deraa and Sweida, as well as residential areas that have embraced de-escalation, are being subjected to shelling by jihadis," he said.
U.S. Deputy Permanent Representative Jonathan Cohen said the predominant opposition force in the area was the Free Syrian Army, not terrorists and not a permitted target designated by the U.N.
Russia had launched air strikes in recent days, supporting Assad's forces in an offensive that was taking a significant toll on civilians, breaking a year-long calm due to a de-escalation agreement in the area, he said.
"To be clear, the unilateral operations underway by the Assad regime and Russia in southwest Syria represent a violation of the ceasefire arrangement reaffirmed by President Trump and President Putin," Cohen said.
(Reporting by Tom Miles, editing by Stephanie Nebehay and David Stamp)
This story has not been edited by Firstpost staff and is generated by auto-feed.
Find latest and upcoming tech gadgets online on Tech2 Gadgets. Get technology news, gadgets reviews & ratings. Popular gadgets including laptop, tablet and mobile specifications, features, prices, comparison.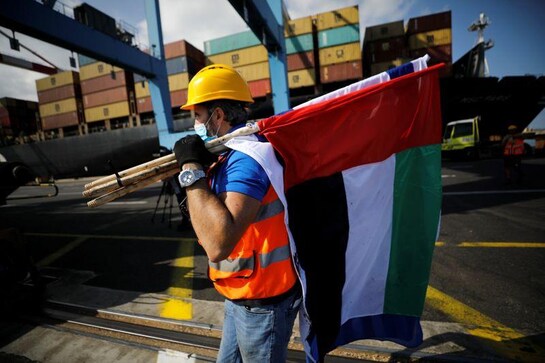 Business
By Rami Amichay HAIFA, Israel (Reuters) - The ship-to-shore crane paused above the cargo ship just arrived from Dubai, then set its load down on the pier in Israel.
Business
By Noor Zainab Hussain, Carolyn Cohn and Ludwig Burger LONDON/FRANKFURT (Reuters) - The world is racing towards a vaccine in record time, stirring public concerns about safety to the extent that nine leading developers have felt compelled to issue a pledge to uphold scientific standards and testing rigour. Yet, while more than 40 experimental COVID-19 vaccines are being tested on humans, the insurance companies with decades of experience in assessing the risks of clinical trials don't see anything to be unduly concerned about.
Business
By Huw Jones LONDON (Reuters) - The European Union's securities watchdog said it expects to make a statement soon on where shares listed in the bloc must be traded after Britain's full departure from the European Union in December.