U.N.'s North Korea sanctions monitors hit by 'sustained' cyber attack | Reuters
By Michelle Nichols | UNITED NATIONS UNITED NATIONS United Nations experts investigating violations of sanctions on North Korea have suffered a 'sustained' cyber attack by unknown hackers with 'very detailed insight' into their work, according to an email warning seen by Reuters on Monday.The hackers eventually breached the computer of one of the experts on May 8, the chair of the panel of experts wrote in an email to U.N. officials and the U.N
By Michelle Nichols
| UNITED NATIONS
UNITED NATIONS United Nations experts investigating violations of sanctions on North Korea have suffered a "sustained" cyber attack by unknown hackers with "very detailed insight" into their work, according to an email warning seen by Reuters on Monday.The hackers eventually breached the computer of one of the experts on May 8, the chair of the panel of experts wrote in an email to U.N. officials and the U.N. Security Council's North Korea sanctions committee, known as the 1718 committee. "The zip file was sent with a highly personalized message which shows the hackers have very detailed insight into the panel's current investigations structure and working methods," read the email, which was sent on May 8."As a number of 1718 committee members were targeted in a similar fashion in 2016, I am writing to you all to alert you to this heightened risk," the chair of the panel of experts wrote, describing the attack as part of a "sustained cyber campaign."
A spokesman for the Italian mission to the United Nations, which chairs the 1718 sanctions committee, said on Friday that a member of the panel of experts had been hacked.No further details who might be responsible were immediately available.North Korea's deputy United Nations envoy said on Friday "it is ridiculous" to link Pyongyang with the hacking of the U.N. panel of experts or the WannaCry "ransomware" cyber attack that started to sweep around the globe more than a week ago.
Cyber security researchers have found technical evidence they said could link North Korea with the WannaCry attack.Reuters reported on Sunday that North Korea's main spy agency has a special cell called Unit 180 that is likely to have launched some of its most daring and successful cyber attacks, according to defectors, officials and internet security experts.
The U.N. Security Council first imposed sanctions on North Korea in 2006 and has strengthened the measures in response to the country's five nuclear bomb tests and two long-range rocket launches. Pyongyang is threatening a sixth nuclear test.A second email by the U.N. sanctions committee secretary to the 15 Security Council members on May 10 said the U.N. Office of Information and Communications Technology was "conducting an analysis of the affected hard drive." "Increased vigilance relating to 1718 Committee-related correspondence is therefore advised until data analysis and related investigations are completed," the email read. (Reporting by Michelle Nichols; Editing by Alistair Bell)
This story has not been edited by Firstpost staff and is generated by auto-feed.
Find latest and upcoming tech gadgets online on Tech2 Gadgets. Get technology news, gadgets reviews & ratings. Popular gadgets including laptop, tablet and mobile specifications, features, prices, comparison.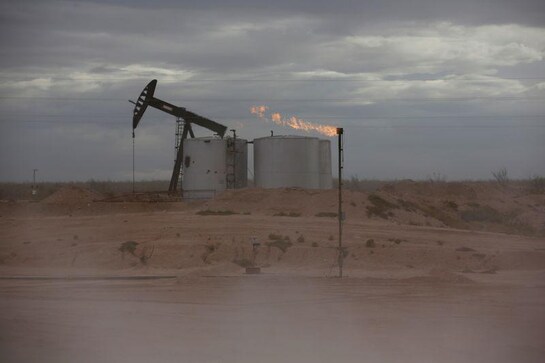 Business
By Laila Kearney NEW YORK (Reuters) - Oil prices hit 11-month highs and were on track for a weekly gain on Friday, supported by Saudi Arabia's pledge to cut output and strong gains in major equity markets.
Business
By Joshua Franklin (Reuters) - Portable toilets vendor United Site Services Inc is exploring a sale that could value it at around $4 billion, including debt, as its hand wash stations business sees strong demand during the pandemic, people familiar with the matter said on Friday. Platinum Equity LLC, the buyout firm which owns United Site Services, has hired investment bankers to advise it on a sale process, the two sources said, requesting anonymity as the matter is confidential. United Site Services was valued at just $1.15 billion when Platinum Equity acquired the Westborough, Massachusetts-based company four years ago, according to credit ratings agency Moody's Investors Service Inc
Business
By Brenna Hughes Neghaiwi and John Revill ZURICH (Reuters) - Credit Suisse said it will sink to a fourth-quarter loss after setting aside hundreds of millions of dollars more than previously expected on Friday for a legal dispute over property debt in the United States. Chief Executive Thomas Gottstein, who took the helm at Switzerland's second-biggest bank last February, said in December he wanted to start the new year with a "clean slate" on legacy matters and has set aside some $850 million to address disputes dating back to the financial crisis. The bank had already set aside $300 million in connection to a decade-long dispute with New York-based municipal bond insurer MBIA regarding a U.S.