U.N. chief was 'inept' on peacekeeper sex abuse - key U.S. senator | Reuters
UNITED NATIONS The chairman of the U.S. Senate Committee on Foreign Relations on Wednesday accused United Nations Secretary-General Ban Ki-moon of ineptitude for failing to halt sexual exploitation and abuse by blue-helmeted peacekeepers. The criticism from Senator Bob Corker, a Republican from Tennessee, comes as candidates to replace Ban when he leaves the post after two 10-year terms have been holding town hall meetings with diplomats from U.N
UNITED NATIONS The chairman of the U.S. Senate Committee on Foreign Relations on Wednesday accused United Nations Secretary-General Ban Ki-moon of ineptitude for failing to halt sexual exploitation and abuse by blue-helmeted peacekeepers.
The criticism from Senator Bob Corker, a Republican from Tennessee, comes as candidates to replace Ban when he leaves the post after two 10-year terms have been holding town hall meetings with diplomats from U.N. member states this week.
Ending U.N. peacekeeper abuse has been a major topic of discussion during the meetings at U.N. headquarters in light of a slew of rape allegations levelled against international peacekeepers in Central African Republic.
Corker asked a committee hearing on ending sexual abuse by U.N. peacekeepers why some recommendations included in a 2005 report on the problem to the U.N. General Assembly were only now being implemented.
"What is wrong with the secretary-general of the U.N.?" Corker told the hearing, which was broadcast live. "This report ... the one that you refer to, is 10 years old."
"How do we put up with such inept leadership at the United Nations?" he added.
Ambassador Isobel Coleman, who oversees U.N. management and reform issues at the U.S. mission to the United Nations, said countries that contribute troops to the United Nations were often unwilling to hold troops who commit abuses accountable.
"I don't think it's ineptitude," Coleman said. "I think it is a reluctance to take on the opposition of troop contributing countries that don't want to deal with this issue in the transparent way that it must be dealt with."
She added that the United States was monitoring follow-up actions in troop-contributing countries to ensure people accused of sexual abuse are prosecuted.
Republicans are traditionally more critical of the United Nations than Democrats. The United States contributes 27 percent of the United Nations' $8.3 billion peacekeeping budget.
The United Nations did not have an immediate response to Corker's criticism, but it has pledged to crack down on allegations of abuse to avoid a repeat of past mistakes.
The United Nations has started to "name and shame" countries whose troops are accused of sexual abuse. The previous head of the U.N. mission in Central African Republic, Babacar Gaye, resigned last August and some 800 Congolese peacekeepers were repatriated earlier this year over alleged sex crimes.
In December, an independent review panel accused the United Nations and its agencies of grossly mishandling allegations of child sexual abuse by international peacekeepers in Central African Republic in 2013 and 2014.
(Reporting by Louis Charbonneau; Editing by Alistair Bell)
This story has not been edited by Firstpost staff and is generated by auto-feed.
World
Armed drone attacks, normally targeting US troops or US interests in Iraq, have become common in recent months
World
This comes a day after the US Special Presidential Envoy for Climate John Kerry launched the Climate Action and Finance Mobilization Dialogue in New Delhi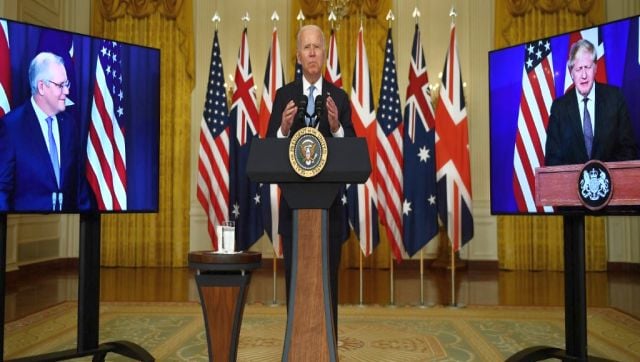 World
It is obvious that China's military aggressiveness, bullying of the nations in Indo-Pacific necessitated a response, and the 'historic' security alliance is aimed at mitigating the challenges