Two Seattle protesters hit by car on highway, one critically injured
(Reuters) - Two protesters were injured, one critically, in Seattle early on Saturday, when the women were hit by a speeding car that drove past other stopped vehicles into a crowd demonstrating on an interstate highway, police said. The driver of the car, a 27-year-old Seattle man, was arrested at the scene of the incident, which occurred at about 1:30 a.m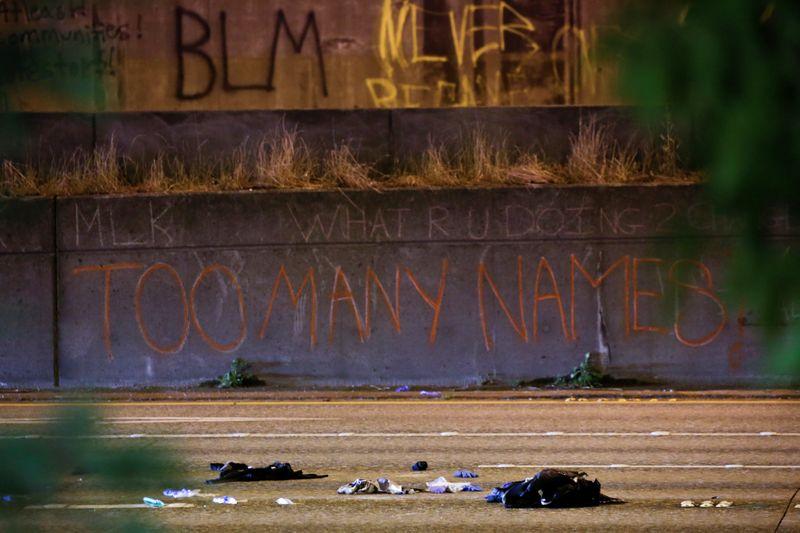 (Reuters) - Two protesters were injured, one critically, in Seattle early on Saturday, when the women were hit by a speeding car that drove past other stopped vehicles into a crowd demonstrating on an interstate highway, police said.
The driver of the car, a 27-year-old Seattle man, was arrested at the scene of the incident, which occurred at about 1:30 a.m. PDT (0830 GMT), and faces multiple felony charges, Washington State Patrol Trooper Chase Van Cleave said by phone.
"He was placed in custody when troopers arrived on scene," Van Cleave said by phone. "The investigation is still ongoing. At this time we're not suspecting drugs or alcohol as a factor in the crash."
Police did not identify the suspect or the victims, both women, one of whom is in her 30s and hospitalized in serious condition. The other woman, who is in her 20s, sustained life-threatening injuries and was listed in critical condition, Van Cleave said.
Investigators do not know whether the driver intended to hit the demonstrators, he said. Seattle has been the scene of numerous demonstrations, some of them on interstate highways, since the May 25 killing of George Floyd on a Minneapolis street while he was in police custody, which was captured on video.
A video of the Seattle incident shared on social media shows a lone white car speeding up Interstate-5, swerving to avoid a van that was parked to block the roadway and heading toward a small group of panicked protesters who tried to scurry away.
The car can be seen striking two individuals near the side of the roadway, both of whom were flipped over the car's roof before landing on the pavement.
(Reporting by Peter Szekely in New York; editing by Diane Craft)
This story has not been edited by Firstpost staff and is generated by auto-feed.
Find latest and upcoming tech gadgets online on Tech2 Gadgets. Get technology news, gadgets reviews & ratings. Popular gadgets including laptop, tablet and mobile specifications, features, prices, comparison.
Business
By Supantha Mukherjee (Reuters) - Microsoft Corp's professional networking site LinkedIn said on Tuesday it would cut about 960 jobs, or 6% of its global workforce, as the coronavirus pandemic is having a sustained impact on demand for its recruitment products. California-based LinkedIn helps employers assess a candidate's suitability for a role and employees use the platform to find new job. Jobs will be cut across sales and hiring divisions of the group globally.
Business
By Nivedita Balu (Reuters) - Coca-Cola Co said on Tuesday demand for its beverages was improving after reporting a 28% slump in sales in the "most challenging" quarter of the year due to coronavirus-led closures of restaurants, theaters and sports venues.
Business
PARIS (Reuters) - French Finance Minister Bruno Le Maire said on Tuesday that France would not ban China's Huawei from investing in the country, in contrast to Britain which has decided to purge the firm's equipment from its 5G network by 2027. Le Maire told France Info radio there was "no blanket ban" on Huawei in France, but that sensitive locations would be protected. "We won't ban Huawei from investing in 5G, we will protect our national security interests," Le Maire said, adding that he had reaffirmed France's position to Chinese authorities on Monday